UEFA president Michel Platini's suspension upheld by CAS
Suspended UEFA president Michel Platini will not be present for Saturday's Euro 2016 draw after the 90-day ban imposed on him by FIFA was upheld on Friday following an appeal to the Court of Arbitration for Sport.
Platini took a case to CAS after being banned for 90 days by the ethics committee of world football's governing body in October. Platini and outgoing FIFA president Sepp Blatter were both provisionally suspended over a two million Swiss franc (£1.35m) payment made to the UEFA chief in 2011 for work said to have been carried out more than nine years previously.
The timing of the payment raised suspicions in that it was made only a few months before Blatter was standing again for the FIFA presidency.
Blatter was accused of making a "disloyal payment" to Platini, but both denied any wrongdoing. They had acknowledged that there was no written contract for the extra salary, but said there was a verbal agreement made when Platini started working as FIFA's technical advisor in 1998.
The court in Lausanne delivered its verdict on Friday morning, judging that the provisional ban from all footballing activity should remain in place. CAS also ruled that FIFA is not able to extend the 90-day ban placed on Platini.
Platini's lawyer Thibaud d'Ales told reporters that his client "remains confidant in the substance and the solidity of his case," adding: "Michel Platini knows that he will ultimately be found innocent."
D'Ales said he was happy that CAS had "partially" responded favourably to his request by preventing FIFA from increasing his provisional ban.
The decision means Platini will be unable to attend the draw for the Euro 2016 group stage in Paris on Saturday as he had hoped and it could also damage his bid to stand as a candidate in the Feb. 26 FIFA presidential election.
His suspension runs until Jan. 5 and FIFA said it would not consider his eligibility until it has expired. Platini was an early favourite to replace Blatter as the head of FIFA until Swiss authorities began investigating both men over the payment.
Speaking in Paris after the verdict was announced, French Football Federation (FFF) president Noel Le Graet told reporters: "I'm disappointed. I regret that Michel won't be able to be there for the draw because he deserved to be there for the draw for Euro 2016.
"I'm really very upset. I find it's a real shame. It's not a good sign, obviously."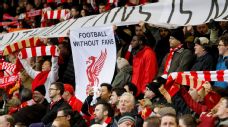 A statement from CAS confirmed the provisional ban had been upheld.
"The CAS panel... determined that maintaining the provisional suspension for the remainder of the 90 days does not cause irreparable harm to Michel Platini at this point in time," it read. "Indeed, the CAS panel has noted that, at the hearing of Dec. 8, 2015, FIFA's representatives confirmed FIFA's assurances expressed earlier that the FIFA ethics committee would render its final decision on the merits [of the case] on or before Jan. 5, 2016, ie. before the provisional suspension comes to an end.
"The CAS panel also emphasised that, even if the ban were lifted at this time, such measure would not give any guarantee to Michel Platini that the FIFA ad hoc electoral committee would validate his candidature for the FIFA presidential election before Jan. 5, 2016.
"However, the CAS panel considered that the situation would change if FIFA were to extend the provisional suspension for any period up to 45 days, on the basis of "exceptional circumstances."
"The panel found that such an extension would constitute an undue and unjustified restriction of Michel Platini's right of access to justice, cause irreparable harm to him and also tip the balance of interest test in his favour. As a consequence, the CAS panel ordered FIFA not to extend the current provisional suspension imposed on Michel Platini."
Blatter and Platini both had their appeals against the 90-day bans for alleged financial wrongdoing rejected by FIFA's appeals committee last month.
After the decision, Platini said he would take his case to CAS. Blatter could also choose to take his case to CAS.
Next week's FIFA Ethics Committee hearing could impose lifetime bans on both Platini and Blatter if corruption is proved, and shorter bans for lesser offences.
Information from the Press Association was used in this report.