Panathinaikos vs. Olympiakos lives up to its tag as the 'eternal enemies' derby
The next in our ESPN FC derbies series involves the two biggest teams in Greek football. Olympiakos recently clinched their fifth straight Greek Super League title, the 42nd in club history. Michael Yokhin went to see them play Panathinaikos in February, the latest chapter in their contentious rivalry.
Everyone in Greece told me I was crazy. Why would I go to the Athens derby between Panathinaikos and Olympiakos? It will be a dangerous adventure, everyone said.
As I approached the old Apostolos Nikolaidis stadium -- affectionately nicknamed "Leoforos" ("The Avenue") by everyone because it is situated on one of the most important central roads in the city -- four hours before the long-awaited "Derby of the Eternal Enemies" on Feb. 22, 2015, the police were everywhere, their behaviour polite in the extreme.
After a few sunny days in Athens, rain started falling, getting stronger with every minute. A journalist and Panathinaikos beat reporter remarked: "That is a good weather. Maybe the rain will stop the ultras [the hardcore element of the Panathinaikos support] from executing their plans."
On the face of it, nothing even suggested there were any. Thousands of fans waited around the stadium but their order was almost exemplary, even near Gate 13, the place where ultras gather. They were there since the early hours of the morning, arriving not just from Athens but also far-off places like Thessaloniki and Crete. Five supporters who live in New York even flew across the Atlantic. I counted 22 Rapid Wien ultras, who arrived from Austria and enjoy close relations with Panathinaikos fan groups.
The atmosphere was surprisingly relaxed; even derogatory songs about Olympiakos were sung with smiles. Countless beer cans were passed around, the smell of barbecue lingered. Fans greeted me warmly but I had to politely refuse tastes of homemade raki many had brought with them in mineral water bottles.
Nevertheless, before being allowed to enter the stadium, two of the ultras gave me their final message: "You are writing about us in English? That is great! You should write that we are the best hooligans in the world! This game will not end. Wait and see!"
The visitors' bus drove nonstop from Piraeus with a heavy escort, ignoring red lights. Olympiakos coach Vitor Pereira entered the stadium about 90 minutes before kickoff and headed straight over to the Gate 13 stand. As fans started shouting and insulting him, he responded by inviting them to come and get him.
"I wanted to show them that I am not afraid. Why should I be afraid of them? I am a man!" Pereira said after the match, but naturally Gate 13 saw his actions as a provocation.
That's when all hell broke loose.
Tens of ultras jumped from the stands onto the pitch, their faces covered with green-and-white masks, sticks in their hands. Immediately they were met by police. Numerous firecrackers were thrown onto the pitch. Pereira had wanted to show that he wasn't afraid, but he was. He turned and ran. For a few minutes, it looked like the game would be cancelled before police managed to make the fans retreat to their stands.
It's an all-too-familiar state of affairs, but how did things get so bad?
VIOLENCE IS SADLY SUCH an enormous problem in Greek sports that the fixture is treated as a nuisance rather than the biggest event in the calendar. Panathinaikos vs. Olympiakos should be a game eagerly anticipated by everyone, but it is not; people now expect crowd trouble rather than a football spectacle. Over the decades, crowd troubles and fights began to overshadow the most important fixtures and by 2004, it was decided to ban away fans from the biggest games.
"It is difficult to put a finger on the specific incident that led to that decision," Yiannis Fileris, chief journalist at Sport24.gr, told me. "It was just impossible to see a game without violence, especially in the 1990s. Maybe the 2003 derby had to do a lot with that -- Olympiakos fans threw every object imaginable onto the pitch, and the atmosphere was full of terror."
ESPN FC'S DERBY SERIES
- River Plate vs. Boca Juniors, by Sam Kelly
- Man City vs. Man United, by Iain Macintosh
- Celtic vs. Rangers, by Chris Jones
- Benfica vs. Sporting, by Lee Roden
- Everton vs. Liverpool, by Jeff Carlisle
- Olympiakos vs. Panathinaikos, by Michael Yokhin
- Borussia Dortmund vs. Schalke, by Uli Hesse
- Red Star vs. Partizan, by Andy Mitten
- Steaua vs. Dinamo, by Nick Ames
- Roma vs. Lazio, by Paolo Bandini
That is why there were no Olympiakos supporters at Leoforos for the derby I visited, but such a solution is highly unpopular. For once, former stars from Panathinaikos and Olympiakos can agree on something.
"Each fan has a right to follow his team everywhere," Stelios Giannakopoulos, who played for Olympiakos from 1996-2003, told me. "Here in Greece, we can't manage having both sets of fans in the same place for security reasons, and the administration must solve out that issue."
Panathinaikos legend Angelos Basinas, who spent a decade at the green club between 1995 and 2005, concurs. "Keeping away fans out of the game is bad for football. The atmosphere is much better when there are two sets of fans, and I have no doubt that everyone should be allowed to support his team."
Themis Kessaris, chief editor of the Contra.gr website, argues that the law is actually counterproductive. "Originally, ultras from both sides fought against each other. Now the home fans don't have an enemy inside the stadium, so they have to target someone else," he said. "Their aggression is now targeted at the visiting players, coaches and administrators, as well as the police. The situation is only becoming worse."
Examples are easy to find. Panathinaikos' French striker Djibril Cisse was assaulted and abused by Olympiakos fans in 2011, while in 2012 the derby hosted by Panathinaikos had to be abandoned with the guests leading due to countless missiles thrown at the police.
Regular fans don't want to take part in that mayhem, as they are truly concerned about their personal safety.
"My son is playing for Panathinaikos youth basketball team, and they have training at Leoforos on Sunday morning. There is absolutely no way I am letting him go there. He will stay at home. It's too dangerous over there. Anything can happen," a man I met on Lycabettus Hill overlooking Athens told me a day before the game. Another fan, whom I wished good luck for the match, simply replied: "No, good luck to you. You are the one who is going to that stadium. I am just watching the game on TV. I will be fine for sure."
I was told that only reporters who are fervent Panathinaikos fans were going to cover the game; Olympiakos journalists were scared to come close to the stadium on matchday. Just two reporters from the red and white half of Athens were expected to go, and they were considered true heroes by their colleagues. Eventually, there turned out to be more of them in the booths.
"It takes talking to a foreign reporter to fully understand what a mad situation we are in. We are all too used to it, so we don't notice the craziness anymore. But it is crazy." Kessaris said.
PANATHINAIKOS WERE ESTABLISHED IN 1908; Olympiakos entered the scene in 1925, and the two clubs have not managed to agree on anything since, not even on where their hatred began.
The popular view is that it was because Panathinaikos fans used to come from Athens' middle-class and high society; Olympiakos were supported by poor workers from Piraeus port, just south of the capital. Since the towns grew, there is no clear border between the two today, and Piraeus can be regarded as a district of Athens.
Panathinaikos fans will tell you that the societal clash above is not true. "Everyone was poor those days," one told me. "Why do they say that the sailors led harder lives than the blue-collar workers from the capital? They just want to present themselves as underdogs."
In June 1930, some Olympiakos fans arrived at the derby carrying green coffins, full of confidence that they would win and stage an improvised funeral for their rivals. Panathinaikos thrashed them 8-2 -- the biggest derby win to date -- and the victors proceeded to dismantle the coffins and beat their rivals with the boards.
In June 1964, an infamous cup semifinal was abandoned as both sets of fans destroyed Leoforos, pulling down the goals, smashing everything imaginable and setting parts of the stadium on fire. Quite amazingly, with the authorities reluctant to stage a replay, the trophy went to AEK Athens without even playing the final.
Over the past two decades, however, the rivalry has been overshadowed by Olympiakos' clear dominance on the pitch. The Red-and-whites have won 16 of the last 18 league titles since 1997, leaving Panathinaikos with just two triumphs. One was the league and cup double in 2004 against the odds; the other was achieved in 2010 with an expensive squad that almost brought it to bankruptcy shortly after.
Such Red-and-white success has caused the inevitable accusations that Olympiakos are the favourites of the Greek Football Association, even though nothing has been proved. Indeed, part of the narrative fueling the animosity is the perception that Olympiakos gets all the breaks from the refs.
"It is not enough to have a good team in order to win the title. You have to be part of the system," a journalist who covers Panathinaikos told me. "Every year there are decisions in Olympiakos' favour and nobody can do anything about it. Everything is decided before the season starts."
Yet Olympiakos fans are tired of such accusations. "It is always the same with them. They are always talking about referees. The truth is that we are the best team in Greece. They can go on with their conspiracy theories if that makes their suffering easier. We don't care," a fan, Thanassis, told me.
Yiannis Fileris believes that Olympiakos have earned their success. "Olympiakos are the best-run club in Greece," he says. "They make the biggest investments, buy the best players, and that is the reason behind their titles. Other teams want to win without putting in the necessary funds, and it doesn't work that way. As for the referees, sometimes they favour the bigger team, but it happens all over the world, not only in Greece."
OLYMPIAKOS PRESIDENT EVANGELOS MARINAKIS is the man who has come to symbolize Olympiakos' power. That is why the announcement that he intended to visit Leoforos with his team for the very first time for the derby was seen as sensational.
Marinakis used to attend the derby when Panathinaikos hosted it at the Olympic stadium but he'd never been to the compact stadium in the very heart of Athens since 1922. The sense of disbelief among the journalists over his attendance is palpable: why would he make an already volatile situation even worse?
It was expected that the Green ultras would prepare an extremely hostile reception. Indeed, when Marinakis took to the field 35 minutes before kickoff, everyone was furious. Instead of going to the bench, he decided to walk around. He did not seem to directly provoke the Greens in the stands but the stadium (especially Gate 13) went completely wild with rage. With fireworks and smoke everywhere, bottles were thrown in Marinakis' direction. Fortunately, there were no more pitch invasions, but very rarely have I witnessed such hatred towards one single person. When Marinakis disappeared under the stands, however, everything settled down.
Believe it or not, the game started on time.
VIOLENCE IN THE GREEK DERBY
- June 1964: Fan fighting during the Greek Cup semifinal at Apostolos Nikolaidis stadium led to ruining the stadium, crashing all the stands and setting part of it on fire. The Greek FA were so reluctant to arrange a replay that the tie was completely abandoned. AEK Athens lifted the trophy without playing in the final.
- March 2002: Following an extremely tense 1-1 draw, Panathinaikos fans stormed the pitch, striking and bloodying referee Makis Efthimiadis.
- May 2003: Panathinaikos players claimed to have been beaten and abused by fans and bodyguards upon arriving to Rizoupoli stadium on the penultimate day of the season. Olympiakos needed to win by two clear goals to leapfrog their rivals in the championship race. They won 3-0.
- January 2008: One Olympiakos fan was stabbed to death and another seriously wounded when celebrating the 4-0 win over Panathinaikos in the Cup.
- March 2010: A security guard lost parts of two fingers when hit by a firework thrown by Panathinaikos fans at Olympic stadium.
- February 2011: Panathinaikos players, including French stars Djibril Cisse and Sidney Govou were attacked and hit by Olympiakos fans after the derby at Karaiskakis stadium.
- March 2012: Significant crowd troubles delayed the start of the second half at the Olympic stadium by almost an hour. The game was eventually abandoned after 81 minutes and awarded to Olympiakos as Panathinaikos fans set fire to parts of the stadium, throwing missiles and flares on the pitch.
WITH ALL THE HYPE surrounding the violence, it is easy to forget how important the derby once was from a pure footballing point of view. In the first months of the season, PAOK were fighting for the title, but they faded away in 2015 leaving the two traditional rivals to fight again. Ahead of the crunch clash at Leoforos on Feb. 22, Olympiakos held a six-point lead over Panathinaikos; a win would make the title all but certain for the Red-and-whites.
However, the Greens sensed opportunity. Olympiakos' popular Spanish coach Michel had been unexpectedly fired in early January and most fans were highly critical of his replacement, Vitor Pereira. By February, the team was on the verge of a potential crisis. A 1-1 home draw with AEK in first leg of the Greek Cup quarterfinals was bad enough; Pereira, failing to understand their strength and the importance of the fixture for the fans, had fielded a weakened team against second-division rivals.
Three days before the derby, Olympiakos meekly lost 2-0 to Dnipro Dnipropetrovsk in the Europa League's second round despite putting out a full-strength team. Suddenly, Panathinaikos were seen as the most consistent team in Athens, with young coach Yannis Anastasiou (only in charge since 2013) impressing and preparing sweet revenge for the 1-0 defeat at their rivals' Karaiskakis stadium.
In Piraeus, Olympiakos fans were rather cautious about the outcome. "I would be OK with a draw. Our team is not playing well," said Giannis Koulis, owner of Coffee Time cafe at Karaiskakis stadium. I asked him whether he would go to Leoforos if allowed: "Of course not. I would be afraid to go. If you make a wrong movement there, all the Panathinaikos fans will be angry at you. As a matter of fact, I am worried for our players. The atmosphere will be very violent."
On the other hand, it was absolutely impossible to find a Panathinaikos fan who was ready to lose. For them, this was the most important game of the season. Their only chance of glory.
"Every year they steal our title. We love our team, we go everywhere to support it, we do everything possible to help the club, but in the end we are cheated. This is so unfair. But today is our day. Today we are gonna show them and that bastard Marinakis who is better," a Panathinaikos ultra told me with passion near the stadium.
AFTER THE INITIAL UNREST, Gate 13 behaved well during the first half. Anastasiou sent out his strongest possible lineup, while Pereira surprisingly left Argentinian Chori Dominguez, the team's star playmaker, on the bench. The desire and passion of the players was obvious; a foul by Olympiakos captain Giannis Maniatis, the most hated player as far as Panathinaikos fans were concerned, was greeted with whistles and demands to show him a yellow card. Referee Anastasios Sidiropoulos decided otherwise. From that moment on every fan around me appeared certain that Panathinaikos were having the age-old problems with the men in black again.
At the half, the Panathinaikos' ultras of Gate 13, who sport their "War Zone" banner at every game, added a second, even more outrageous, banner. As Marinakis himself strode onto the pitch again, he was greeted with tens of firecrackers in his direction; one of them hit Olympiakos substitute Pajtim Kasami, injuring his hand.
I couldn't even notice that from where I was standing, while fans shouted and whistled loudly around me. The atmosphere was electric. With police helpless to stop the onslaught, Sidiropoulos called both sets of players together and for a few moments, it looked like the game might be abandoned. Once more, though, the ultras settled down, and the match resumed.
TO FULLY UNDERSTAND THE meaning of the derby, talking to the biggest stars who took part in it is essential. Nobody is bigger than the legendary goalkeeper Antonios Nikopolidis, whose move in 2004 can be compared to the sensational transfer of Luis Figo from Barcelona to Real Madrid.
Nikopolidis spent 15 years at Panathinaikos, having joined them in 1989 as an 18-year-old, but only started playing regularly in 1997, just as Olympiakos' era of domination started. Nikopolidis made himself a hero for the green part of Athens but when contract negotiations turned sour, he was benched in 2004 and had to watch his team win a historic title from the sidelines. Shortly after he helped Greece to an incredible triumph at Euro 2004, he joined Olympiakos. Panathinaikos fans have treated him as a traitor ever since.
The goalkeeper doesn't harbor hard feelings towards his former club, except for the people who drove him out. "They sent me to the bench and put my whole career at risk. I wasn't playing ahead of Euro 2004," the goalkeeper told me in an exclusive interview at his villa. "I was 33, and at that age you are considered old in Greece. I didn't expect Olympiakos to offer me a contract, but they did. Naturally, I took it because I wanted to prove to everyone, including the Panathinaikos board, that I am still the best goalkeeper in the country."
Ever since his controversial move, the derbies are a very hot topic for him.
"I came to Olympiakos as a national hero after winning the European championships, and that helped their fans to accept me," he says. "But Panathinaikos fans will never understand my reasons. I am just a professional, and I had to do what is best for my career, but they will always see it differently.
"For me, the biggest problem in the games against Panathinaikos was playing against my old friends. As for the fans, I never felt guilty. I went to face them with a clean conscience and clear heart, and never made any provocations."
Giannakopoulos, one of the brightest stars of the great Olympiakos side that won seven championship titles in a row between 1997 and 2003 before playing in the Premier League with Bolton Wanderers, understands it too. He is a Red-and-white legend, even though his father played for Panathinaikos and Stelios himself supported the Greens as a kid.
"The derbies are the most important games of the season. Those are the games that fans remember long afterwards and keep talking about them," he told me. "That's where you can write your name in history."
"[My] first derby was very exciting and I will never forget it. I will also always remember my last derby in May 2003, when we had to win by two goals to take the title. I scored twice and we won 3-0. That was the perfect finale for my Olympiakos career before moving to England."
"The atmosphere is difficult, but many players get extra motivation because of it. That's why I liked it so much. A full stadium, especially in away games at Panathinaikos, made me play better. In 1998, we came back from 2-0 down to beat them 4-2. That was a superb feeling."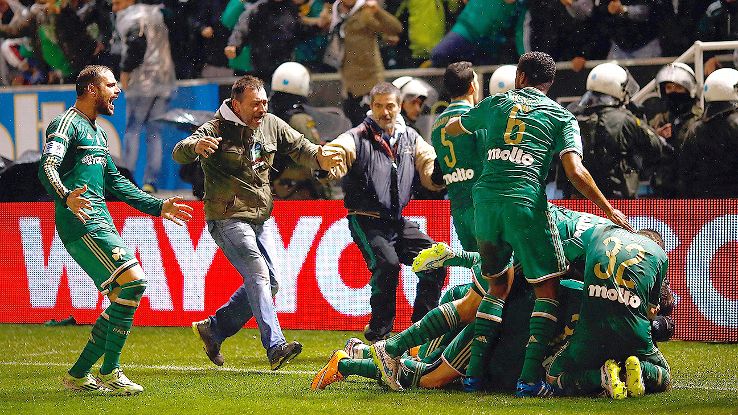 WOULD THERE BE SUCH drama this time round after the goalless first half? During the break, the Panathinaikos fans were rather pessimistic. "It feels like we can lose," one of them told me. "This game will be decided by a single goal, and it might well be against us," another added.
Indeed, events nearly took a turn for the worse for the fans as Jimmy Durmaz was handed a golden chance in front of the goal. While the stadium held their collective breath, the Swede fired wide and the fans erupted with joy.
Then, a breakthrough. Danijel Pranjic delivered a cross from the left and promising young Olympiakos defender Arthur Masuaku scored a clumsy own goal. The poor Frenchman was consoled by his teammates while Panathinaikos celebrated wildly; Gate 13 went totally mad, resuming their unrepeatable songs about Marinakis.
The game burst into life as the rain continued to pour. Green attacks came one after another with tireless captain Zeca central to proceedings. Nikolaos Karelis was visibly unhappy to have been substituted, while the fans reacted furiously when Swedish striker Marcus Berg was caught offside, and then went quiet when Kostas Mitroglou headed marginally wide at the other end.
With their recent trip to Ukraine taking its toll, Olympiakos were getting more and more tired. Maniatis was handed a long-overdue yellow card; fans responded with derogatory songs about the Reds' captain. Then with 12 minutes to go, Panathinaikos made it 2-0. Veteran Croatian striker Mladen Petric received the ball after a mistake in defence, and fired an unstoppable shot past Roberto.
"Pet-ric! Pet-ric! Pet-ric!" The whole of Leoforos trembled.
Exhausted but still combative, Olympiakos came forward and won a corner right beneath Gate 13. Durmaz went to take it and it proved too much for the ultras. Hundreds of objects were thrown in the Swede's direction and something hit him in the face. Had such an event taken place in Germany or England, that would have been a big story, but in Greece it was just a minor affair. Durmaz was substituted; the game continued as if nothing happened.
After all the stoppages and trouble, the referee added five minutes' injury time and Panathinaikos went close to making it 3-0, but substitutes Abdul Ajagun and David Mendes missed their chances. As time ran out, Zeca was asking Sidiropoulos to blow the final whistle; seven minutes into injury time Olympiakos were awarded a dangerous free kick. Dominguez curled it into the far corner, reducing the arrears to 2-1. It was the last kick of the game and the Argentinian star ran into the dressing room with his teammates, fireworks falling on them from Gate 13.
Police swiftly ran onto the field to protect the players but with Olympiakos gone, they were not really needed. Hundreds of fans hugged their idols and congratulated them on their achievement. The Greens were now just three points behind their rivals. Nevertheless, the goal by Dominguez was of huge importance. Having won 1-0 at home, Olympiakos now held a head-to-head advantage, and despite their success, Panathinaikos would need to avoid finishing level on points with their great rivals if they were to win the title.
"I think we can do it," Alexia, a young fan, told me in the rain after the game. "We won, even though the referee was on their side. He showed six cards to us, and only three to them. He added too much time at the end and waited for them to score. But I want to believe we can make it." She was immediately contradicted by Alexander, who stated: "We stand no chance. They will get the points they need."
The fans left the scene and disappeared into the rainy night. Marinakis and Panathinaikos president Giannis Alafouzos were interviewed for TV but neither one thanked his team for the great effort shown on the pitch. Instead they accused each other of misbehavior, and tensions grew even higher later on as Marinakis reportedly threw a glass of water at Alafouzos during a meeting of Super League officials.
A few days after the game, deputy sports minister Stavros Kontonis announced that the Greek league would be suspended indefinitely. A day later he changed his mind. The press eagerly discussed the developments, while Alafouzos and Marinakis took centre stage, football seemingly secondary to their agendas. Panathinaikos fans' fears became reality when the league decided to deduct the three points they earned, making their title dream nearly impossible.
Fans and journalists are so tired of the big Athens derby though it is a pity they can only see it that way. For me, the experience was quite different. Eventually, I returned to my hotel safely. People told me that the game might be dangerous, but I never felt threatened. I was part of an exciting spectacle, played by dedicated players in front of passionate fans, and I enjoyed it immensely.
Michael Yokhin is ESPN FC's European football writer. Follow him on Twitter: @Yokhin