Man United questions remain for Louis van Gaal despite club backing
There have been a lot of questions asked at Old Trafford throughout the past few weeks, but one still takes precedence: How is Louis van Gaal still in the Manchester United job?
Without a win in eight games before the 2-1 defeat of Swansea last weekend, it had been hard to find people around the club who believed the Dutchman would be manager in 2016. But he is.
Sources have told ESPN FC that the majority of the players were unhappy with his coaching methods, while many Old Trafford officials had raised real doubts about his future. Of course, official messages from people at United were slightly different: some said Van Gaal was being judged on a game-by-game basis, others insisted he had been given three games to prove he should stay. Either way, the bottom line was always the same: a near-unanimous verdict that Van Gaal would not be Manchester United manager in 2016.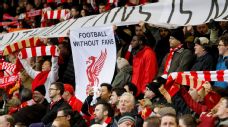 Meanwhile, Jose Mourinho's camp have been pushing heavily for the job. Indeed, sources told ESPN FC that his representatives contacted Old Trafford officials within 24 hours of the Portuguese's sacking by Chelsea.
Mourinho is certainly frustrated at the current situation, but the 52-year-old is one indirect reason that Van Gaal remains at Old Trafford. The timing might have felt right for the Portuguese to take the role he has long wanted, given that he was suddenly available at a time when United were in such strife, but the reality is there are still too many influential figures at the club who don't think that Mourinho is the right candidate for the job. Some still don't want him anywhere near Old Trafford.
Sources have told ESPN FC that stance had been tested in the past few weeks, as some argued that United absolutely needed to appoint Mourinho now more than ever -- especially if they are to miss out on Pep Guardiola to Manchester City.
The overriding feeling, however, is still that Mourinho wouldn't get the job if Van Gaal leaves. The big question is, who exactly would be a suitable -- and available -- replacement? United would obviously prefer to install a manager who would be there for the long-term, but that kind of figure is a lot more difficult to come by in December.
The obvious stand-in would be club legend and assistant Ryan Giggs, but there remain reservations about his lack of experience, particularly from executive vice-chairman Ed Woodward.
Woodward wants to continue the process of making the club a truly international institution, moving it away from a core group of figures from the Sir Alex Ferguson era, even if he is still keen to keep that history a key part of the club. That process would obviously be better served by appointing a manager of global stature, rather than an untried coach.
One crucial constant, though, is that Woodward has always backed Van Gaal. Sources have told ESPN FC that he has been determined to keep the Dutchman, despite so many arguments -- and results -- indicating he should sack Van Gaal. That is why the verdict to sack him was never going to be unanimous.
The man who mattered most -- beyond the Glazer ownership -- thought otherwise. The reason? Van Gaal was Woodward's personal choice. It would reflect so much better on him if Van Gaal is a success, especially after this crisis. Woodward is also mindful of wider financial concerns -- from payoffs to the implications of failure to qualify for the Champions League.
So far Woodward has had the final say, therefore Van Gaal is going nowhere. That decision has been taken despite figures at the club briefing British newspapers that Van Gaal himself felt he couldn't fix the situation, and offered to resign in late December -- an offer which was not accepted by Woodward.
Since then, sources have told ESPN FC that the manager has showed himself to be much more open to suggestions from others on how to fix this crisis, particularly those of Giggs.
Van Gaal has been more willing to acquiesce, to compromise on tactics, and that could be seen in United's play during the 0-0 draw with Chelsea, when the side were much more proactive and willing to take risks than recently. Despite the fact the game was goalless, United had plenty of chances and there was a traditional vibrancy to them. Afterwards, the players seemed more content and it could well be the turning point in terms of the manager's relationship with them.
There have been differing viewpoints over just how much that squad had turned against Van Gaal. Some reports have claimed the players were just frustrated with his unmoving nature; others maintained they were close to "mutiny" and many wanted Van Gaal out.
It is certainly true there was widespread dissatisfaction. It's also true that good results help heal almost any situation, especially if they come within an approach that feels more natural to the players. That is what has happened in the past two games. United have not been great, but they have been better, and breaking their eight-game winless run against Swansea on Saturday has naturally made the players happier.
Sources have told ESPN FC that Woodward is hopeful that this positive energy will help get the club back on course for the remainder of the season. He is also willing to back Van Gaal in the transfer market again, and United will look to bring in a left-back, a thrusting midfielder and another attacker.
The problem is that the same questions will still stay. Even if Van Gaal gets the more creative players the team needs, will there be any way to avoid him curbing their individualism in order to absorb them into his overall "philosophy"?
While he has temporarily compromised his beliefs in order to fix this crisis, will he really be so willing to deviate from everything he knows in the long-term? If he doesn't, will we see the same cycle played out again? Will another defeat or dull game bring United back to where they started?
What is clear is that Van Gaal has to continue to win games to avoid the negativity of recent weeks. With Mourinho and perhaps Guardiola waiting in the wings, there are plenty of questions still being asked around Old Trafford. The big one is whether or not Van Gaal will still be around to answer them in the coming months.
Miguel Delaney covers the Premier League and Champions League for ESPN FC. Twitter: @MiguelDelaney.