Mesut Ozil stars, Nemanja Matic fails in Premier League Heroes & Villains
Iain Macintosh reviews the best and worst of the Premier League's second set of post-Christmas fixtures and finds two goalkeepers and a German playmaker leading the way...
HEROES
Had it not been for Thibaut Courtois and David De Gea, one of Manchester United or Chelsea would be experiencing a very uncomfortable New Year right now. There may be deficiencies all over both teams but at least they're both well set between the sticks. United were the better side but Chelsea would have taken the points had it not been for De Gea. As for Courtois, his incredible reactions prevented United from taking a second half lead in the eventual 0-0 draw. Both these teams need to be rebuilt but whoever lands the construction contract certainly won't have to worry about changing the custodians between the posts.
Arsenal appeared to make a group decision to move on as swiftly as possible from the awful 4-0 thrashing at Southampton on Boxing Day and poor Bournemouth paid the price. The Cherries fought hard, but no fight would have been enough to negate the effect of Mesut Ozil. Another assist in the Gunners' 2-0 win means that he's now created more goals on his own this season than the entire Aston Villa squad, but it was the manner in which he operated that must have demoralised the visitors. The flicks, the reverse passes, the movement -- he's absolutely unstoppable right now.
Three wins on the bounce and Tottenham are back in the weirdest title race in recent memory. Mauricio Pochettino has rotated his players carefully this Christmas and they was just enough in the tank to see off a spirited Watford side, 2-1, at Vicarage Road. No one expected the Argentine manager to produce a title challenge this season but with neither Arsenal nor Manchester City able to find consistency, there's no reason why a team like Spurs shouldn't be considered serious contenders. And that status alone means Pochettino deserves huge credit.
Another manager who can look back upon the festive period with great satisfaction is Mark Hughes. Just two days after his Stoke City side smashed another nail in Louis van Gaal's coffin with a 2-0 win, an unchanged XI went to Goodison Park and came out on top, 4-3, in an exhilarating encounter. You only need to look at the names of the Stoke front four to see what Hughes has done here. You only have to watch Ibrahim Afellay. Marko Arnautovic, Xherdan Shaqiri and Bojan Krkic to imagine how far he could still take this club.
It is a measure of the progress at the King Power stadium that Tuesday's 0-0 draw with Manchester City might have seemed like a poor result to some. Nine months ago, they would have considered that a great result. A year ago, they would have been obliterated. Now they can match one of the most expensively assembled teams in the world. Who knows what 2016 will bring for Leicester City but for now, let's salute them for what they've done in 2015. From Nigel Pearson's incredible recovery to Claudio Ranieri's extraordinary charge to the top of the table, they've given every smaller team hope.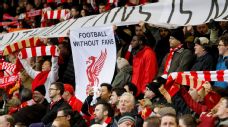 VILLAINS
It's very easy to forget that Chelsea were the champions of one of the most competitive leagues in the world earlier this year. Right now, there's very little fight in them at all. They went to Old Trafford in meek mood, daring to attack only when their hosts inadvertently left themselves open. For most of the night they sat deep, stood off and simply hoped that they would be able to hold out. Guus Hiddink's plan worked to an extent, but it's not the mentality you expect of champions. At the halfway stage, they are just three points clear of the drop zone and it's easy to see why.
There must have been several moments this season when Nemanja Matic has concluded that things really couldn't get any worse, and yet he always finds new depths to plumb. A crushing disappointment in defensive terms this season, Matic mixed it up on Monday night with a display of spectacular uselessness at the other end, blazing high and wide when he was put clean through on goal. Sixty seconds later, he was granted a chance to make amends, only to drag his second shot well wide. Maybe 2016 will turn out better.
In so many ways, Everton are a marvellous football team. They've spent their relatively limited resources well, they've been brave enough to blood their youngsters and they play football in a manner that's as easy on the eye as it is hard to execute. And yet when it comes to the small matter of actually winning football matches, they're profoundly irritating. Roberto Martinez's side have managed just one win in their last six games, a bad enough record at the best of times but appalling given that the opposition were Bournemouth, Crystal Palace, Norwich, Leicester, Newcastle and Stoke. They should be in the top six by now.
How swiftly those back-to-back victories over Liverpool and Spurs have passed into memory. Newcastle United are deep in the drop zone again after a pointless post-Christmas period. Owner Mike Ashley was right to back Steve McClaren earlier in the season when it was far too early to assess his performance, but we're at the halfway stage of the season now and with no discernible improvement. He must find a way to coax better performances out of these players. Ashley likes money and there's plenty of it on the way via the new TV deal. This would not be a good time to be relegated.
Heaven helps those who help themselves and so the angels will have little time for Aston Villa in 2016. What was Micah Richards doing when he left Jonny Howson clear for the first goal? What was everyone doing when Dieumerci Mbokani was able to gallop into acres of space for the second goal? What was going on when... oh you know what? Forget it. There's no point. They're done. If Remi Garde has any sense, he'll sneak out in the middle of the night, edit his CV accordingly and do his best to pretend that this never happened.
Iain Macintosh covers the Premier League and Champions League for ESPN FC. Follow him on Twitter @IainMacintosh.