Proper corners, better fan banners: football's New Year's resolutions
With 2015 almost behind us and the Premier League season providing plenty of entertainment, we asked Adam "Football Cliches" Hurrey for his New Year's resolutions for 2016. Can't say we disagree with these, either.
Stop being surprised by more than four minutes of injury time
Among football's subtly brilliant soundtrack is the underrated swell of noise from the fans of a team chasing a desperately needed goal when the fourth official holds up his digital board to confirm the amount of added-on time.
Despite all the things that can hold up the progress of a football game, it seems to take something significant for it to extend beyond 94 minutes. Two added minutes? That's acceptable if it's 6-0 and one side is begging to be put out of its misery. Three added minutes? Four? Fairly standard. But five?
Five added minutes to get a crucial goal (or, god forbid, concede one) is apparently too long for the human nervous system to handle. The obligatory injury-time roar of the crowd, urging one last throw of the dice plus the proverbial kitchen sink, is peppered with incredulous queries of "FIVE MINUTES?!" as if anything more than four opens up a portal to the underworld where the team will spend eternity hanging on to a one-goal lead.
Work on your signs
2015 draws to a close with a barely legible reminder that home-made placards remain a part of the football fan's arsenal. Indignant Chelsea fans targeted their felt-tip pens at individual players who they suspected of sabotaging Jose Mourinho's tumultuous second spell at Stamford Bridge, before one Stoke City supporter waited patiently for the beleaguered Louis van Gaal's visit to unfurl a giant approximation of his P45 on Boxing Day.
This is not the time or place to judge the sign-bearers, though. Tempting as it is to ridicule the "grown adult" holding aloft two pieces of paper stuck together at a football match, there are plenty of things grown adults do in the name of football that, in isolation, are quite odd (the act of booing, for example.)
What deserves more attention is how outdated it all is. In 2016, surely we should expect the rise of iPad-based banners, offering the most indecisive of fans the real-time capability of targeting whichever over-paid under-performer disappoints them the most.
Start beating the first man with corners on a regular basis
It's a strange feeling when your team earns a corner. At first, there's a rush of optimism at this possibility to launch the ball, almost entirely uncontested and at the taker's own pace, into a packed penalty area where the opposition's set-piece anxieties can be exploited to their fullest. Soon after that rush -- and this perhaps only happens after you've endured enough football over the years -- you start to ponder the futility of pinning your hopes on a mere corner, to the point where you consider it to be a waste of precious seconds at the end of a match where an equaliser is being desperately sought.
Anyway, it's a corner: all the big men are up, possibly even the keeper if it's a special occasion. The opposition full-backs are both clutching on to a post with trepidation, and the taker has wisely turned down the offer of taking it short (no one wants the short corner, for goodness' sake.) The taker hasn't been randomly selected, either. This is a player with a particular set of skills related to crossing a ball in from approximately 25 yards away in the corner of the pitch.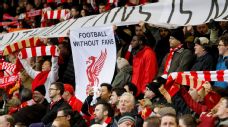 After all that, you generally see the ball arcing pathetically toward a reluctant midfielder stationed in front of the near post -- basically, the one player who couldn't be trusted to mark an opponent -- who happily heads away for an even more harmless throw-in. Crucially, this has the ability to annoy not just the fans of the team involved but also any neutrals who have the expectation that a professional footballer should be able to kick a ball over the head of another one standing just yards away.
Perhaps this is unfair. Modern football is decided by thin margins and the finest details. It could be that the corner taker (Mesut Ozil, Willian, Phil Jones, whoever) is trying to hit a precise moving target identified in the ultra-specific prematch tactical plan. Unfortunately, it seems that no amount of clipboards, GPS monitors or video analysis will ever be able to grasp just how annoying it is when a corner fails to clear the first defender.
End the micro-madness of "Handshake-gates"
Football's high-stakes goldfish bowl contains many ills, but neglecting to shake someone's hand perhaps isn't one of the most pressing concerns. The lengthy clinch and sharing of secret pleasantries between two managers before kick-off is already a curiously over-significant moment, but the real drama seems to arrive after 90 minutes of pressure and injustice.
Managers should perhaps stick together more than ever given the volatile job market, but the distinctly Premier League obsession with postmatch handshakes is all a bit unnecessary. In 2016, there are fears that the finger-wagging disapproval toward managers who don't shake hands will be extended further to include those who don't visit their opposite number's office for a glass of red wine. Oh, the humanity.
Find a cure for Second Season Syndrome
Sports science has been welcomed into football -- even Sam Allardyce swears by its benefits -- but it has yet to determine an effective cure for the ruinous Second Season Syndrome, which claims the careers of several apparently overachieving footballers every year. Promoted teams, whose earnest manager, progressive style of play and general everyman pluckiness are deemed to be a "breath of fresh air" in the murky Premier League, suddenly display acute symptoms of being "found out."
Similar sophomore issues affect goal scorers who make an unexpected step up to the Premier League level, but there are signs of progress here. Harry Kane, whose 2014-15 exploits would have surprised even him, scored just once in 13 games for Tottenham at the start of this season, but just as an SSS diagnosis seemed certain, the 22-year-old forward has bounced back with 12 goals in as many games since. Not content with establishing himself as English football's new hero, Kane appears to have defied (fictional) medical science. There is hope after all.
Adam Hurrey analyses the language of football. You can follow him on Twitter: @FootballCliches.