Man United's reckoning, Jose Mourinho fights for his job: UCL W2W4
With the Champions League heading into a crucial Matchday 6, ESPN FC takes a look at the key topics ahead of this week's matches.
1. A reckoning for Man United and Louis van Gaal
To avoid both elimination and humiliation in the Champions League, Manchester United are going to do something they have been avoiding for the majority of Van Gaal's time at the club: they're actually going to have show some urgency and initiative in the attack from the start of a game.
Tuesday's trip to Wolfsburg is a game United know they must win because they cannot take the risk of CSKA Moscow winding up with any result other than defeat at PSV Eindhoven. Yet this game may not just be about saving United's Champions League campaign. There may well also be something deeper happening. Despite recent British newspaper reports from high-level Old Trafford sources about how they are willing to back Van Gaal, there are some around the club who think that, in reality, the situation is much more complicated. They feel that, if he does get knocked out in the group stage of the Champions League, it could change the discussion about his future.
This is a huge game, not least because a side like United -- who have spent so much money in the last two years -- should not be going out at the group stage. Despite all of that, Van Gaal is going to have to try and get the goals needed to win this game with a threadbare squad. Wayne Rooney is still out, and there are expected to be a lot of youth graduates on the bench. United need all their experience to count here so they can get back to old ways: actually winning.
Wolfsburg were beaten at home at the weekend, but that was by Borussia Dortmund, a team who have scored 78 goals this season. United, by contrast, have spent a quarter of that season failing to score: six of their 24 games have been 0-0. A repeat could well put them out.
2. Arsenal need a miracle
Just like with Manchester United, it really shouldn't have come down to this for Arsenal. They shouldn't need to be trying to win 2-0 away from home on the last day in a group with Olympiakos and Dinamo Zagreb. Unlike Manchester United, though, Arsenal are at least scoring goals. That should give them hope on this otherwise tricky trip to the Greek champions.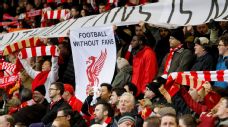 At the very least, they will have to be a lot sturdier at the back than they were in the 3-2 home defeat to Olympiakos -- a result that put them in this trouble -- in order to give them the base to get the two-goal win required to go through. That is all complicated, however, by another common strand with United: injuries. Alexis Sanchez is still out, and they're still trying to restructure the midfield after medium-term injuries to the previous duo of Francis Coquelin and Santi Cazorla. That is the kind of thing that can really disrupt attacking rhythm, although they did hit three against a resilient Sunderland on Saturday.
One worry is whether they do the usual Arsenal job in such situations: score one to give the perception of hope and defiance, but ultimately fall short. It's time to stand up.
3. Can Mourinho keep Chelsea in the Champions League ... and keep his job?
At Chelsea, there have been no ultimatums and it's not quite being seen as the last days, but the prospect is there in people's minds and being talked about in private. If Jose Mourinho's side do lose to FC Porto, then all bets could be off. Roman Abramovich values the Champions League as a competition so much that an early exit could see his strong support for the Portuguese instantly evaporate.
There would also be huge elements of symmetry and poetry if were to be Porto -- the club who launched Mourinho as a manager -- that ended his time at Chelsea, and potentially his career at the genuinely top tier clubs. It would certainly be the most ignominious way for an intensely poor spell to end.
This is the bigger issue for Chelsea beyond the dimensions around this particular game. They have been beaten at home this season by far weaker sides than Porto, and one of them came just a few days ago with Bournemouth, the result that has plunged the club back into doubt after it seemed that Mourinho had overcome the crisis. The effects of that are hard to know.
Prior to that 1-0 defeat, it did seem like Mourinho had fixed their defensive resilience only to concede so calamitously to Glenn Murray. Will that instantly erode all the assurance built up in the last few weeks, or is it just a blip? The reality is they need that backline back to its strongest, because they still struggle to score goals with only one in the last three. That won't matter so much in this match because they only need a draw to go through.
If it is level going into the last 15 minutes, though, this is likely to be a very nervy affair -- and one that could test Roman Abramovich's mindset.
4. Can Gary Neville's first "proper" game result in a proper last stand?
It is arguably a task more daunting than a first game against Barcelona, if only because of the potential consequences. Having watched Valencia's 1-1 draw with the Catalans on Saturday from the stands, Gary Neville makes his managerial debut with their home match against Lyon and has to win to have any chance of going through to the last 16. All the while, he will be hoping Zenit St. Petersburg (who have won five of five) can do Valencia a favour by claiming at least a draw away to Gent.
Neville being Neville, though, he will preach to his own team that they can only do their job to the fullest. He doesn't quite have a full side given the injury situation but the first side he does select will be telling, and Alvaro Negredo is expected to return after being frozen out by previous manager Nuno. All Neville can really do for this game is ensure his side are fired up and have a bit of organisation about them.
In that, it's also something of a free game despite the stakes. Failure won't have any bearing on perceptions of him as a manager given that he isn't responsible for this situation. Qualification, though, would be the perfect start to his time in the job.
5. Can AS Roma stay single-minded in three-team fight?
Beyond the groups involving the English sides and one new English manager (which reflects a bigger discussion about this Champions League season) the only other group in which qualification for the round of 16 is still up for grabs is in Barcelona's. While the Catalans are clean through, it is anything but clean underneath them.
Roma are second on five points but must host a BATE Borisov in fourth on four points, confident of doing something historic. In between, Bayer Leverkusen will hope to take advantage of any Barca laxness at the Camp Nou given that they are through. Even if the Germans do that, though, results against each other mean it will be rendered irrelevant if Roma can beat BATE.
The Italians know victory will be enough. They also know, however, how bad their defence has been this season. It is someway remarkable that a side that has conceded 16 goals in five games -- even if seven were against Barca -- have a chance of getting through. Rudi Garcia's side just need to outscore BATE. This group has already been one of the most entertaining in the competition, and these added stakes could make this one of the most entertaining nights.
Miguel Delaney covers the Premier League and Champions League for ESPN FC. Twitter: @MiguelDelaney.