Zlatan Ibrahimovic and Nicklas Bendtner -- the 10 greatest moments
Over the course of the next seven days, Sweden and Denmark will clash in the standout fixture of the Euro 2016 playoffs for a place at next summer's continental championship in France. The draw not only ensures a renewal of the most heated rivalry in Scandinavia but also a meeting of two of the region's biggest egos. Top Tenner takes a look at the best moments from Zlatan Ibrahimovic and Nicklas Bendtner.
10. Bendtner promises to be the Premier League's top scorer
The opening few years of Bendtner's spell at Arsenal featured a flurry of high points. Debuting for the Gunners first team as a mere 17-year-old in 2005, he went on to score 13 goals on loan at Birmingham City in his first full season as a professional. After returning to the Emirates in 2007, he soon offered further evidence of his flourishing quality: Most obviously, he scored the fastest goal ever by a substitute in English football when he came off the bench and headed the ball past Paul Robinson in the space of 1.8 seconds in a North London derby.
In that context, Bendtner's words in an October 2009 interview with the Guardian seem less fanciful than they do now. Never short on confidence, he told the publication:
"Within five years I want to be the top scorer in the Premier League and be known as a world-class striker. And it will happen. Trust me, it will happen. I'm sure people will think, 'What is he talking about?' But as I have done before and as I will do again, I will sit at the other end and and laugh at those people when it is all done."
Little did Bendtner know that he had already completed his highest-scoring season in the Premier League. The Dane's nine goals from 2008-09 were never bettered in four further seasons in England. Not for the last time, reality didn't quite match up to his ambitions.
9. Ibrahimovic doesn't do auditions
Like Bendtner, Ibrahimovic had plenty of self-confidence in his youth, and if things had worked out different they may even have ended up at the same club. The Swede's breakthrough season with Malmo came in 2000, when he fired them to promotion to the Allsvenskan, and that inevitably led to outside interest. Within a month of the end to the Swedish competitive year, he was invited to visit Highbury by Arsene Wenger, and what happened next has gone down as one of football's greatest missed opportunities.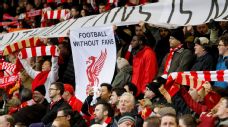 "Arsene gave me the famous red and white jersey, the No. 9 shirt with 'Ibrahimovic' on it, and I was so pleased I even posed for a picture wearing it," the striker recalled. "So then I waited for him to convince me that I should join Arsenal, but he didn't even try. He never actually made me a serious offer, it was more, 'I want to see how good you are, what kind of player you are. Have a trial.' I couldn't believe it. I was like, 'No way, Zlatan doesn't do auditions.'"
Rejecting Arsenal at 19 was a huge gamble for a budding young professional, but in Ibrahimovic's case, self-confidence was married with a good work ethic and exceptional talent. He would soon flourish elsewhere.
8. Bendtner matches an Olympic medalist
A curiosity of Bendtner's career is that his form for club and country rarely coincide. So it was that in March 2015, in the midst of a season in which he scored only one Bundesliga goal for Wolfsburg, the striker produced an outstanding individual display for Denmark that put him on a level with one of the nation's all-time greatest strikers.
In a friendly with the U.S., Bendtner twice drew Denmark level, scoring a tap-in for his first and a volley for his second. With only seconds left on the clock, he had time to go one step further. In added time, the No. 9 latched onto a Christian Eriksen pass and thumped it into the net on the half-volley, sealing the win and his first international hat trick.
Those three strikes meant he matched Olympic silver medalist Henning Enoksen's 29 career goals in a Denmark shirt. For some perspective on that feat, Bendtner is the only active Denmark international who places in their top 10 all-time scorers ranking. Next in his sights is Michael Laudrup's tally of 37 goals for the Danes, and you wouldn't bet against it.
7. Stephane Henchoz goes off to buy a hot dog
Ibrahimovic is clearly no slouch as a finisher himself, but in the early years, what really set him apart was his dribbling skills. Just ask Stephane Henchoz.
Only weeks after arriving at Ajax in the summer of 2001, Ibrahimovic was handed minutes in a preseason Amsterdam Tournament friendly against Liverpool, and that meant squaring off with the Swiss international. The poor defender was given a torrid time by the youngster, including ending up on the receiving end of an Elastico.
Ibrahimovic's description of the trick was almost as good as the move itself, and helped immortalise it. "First I went left, and so did he. Then I went right, and so did he. Then I went left again ... and he went off to buy a hot dog."
6. 'I'll be better than Zlatan'
Similarly outspoken natures mean comparisons have inevitably been drawn between Bendtner and Ibrahimovic, and one person to weigh in on the theme is the Dane himself. In 2009, he boldly promised that "in about three years I'll be better than Zlatan," adding that the Swede was about to pass his best. He didn't stop there.
"He's older than me and has reached his peak as top scorer in Serie A, but I have a plan, I believe in it and I'm ready. Next season I'll finally make my breakthrough and then I still have two years to become better than him. And I will."
Conclusions on who really is the better of the two are of course subjective, but it is possible to take an objective look at the duo's respective numbers at the end of Bendtner's three-year plan that he outlined in the interview. In the 2012-13 season, Bendtner scored zero goals in 11 games for Juventus, while Ibrahimovic found the net 35 times in 46 appearances for Paris Saint-Germain. When Swedish paper Aftonbladet asked the Dane about his promise this week, he claimed to have no recollection of it.
5. 'Take care of Sweden until I come home'
It is hard to overstate just how important Ibrahimovic is in Sweden. He's plastered across newspapers, billboards and TV shows on a daily basis, and his status is so high that the nickname "Kung Zlatan" (King Zlatan) is not uncommon. Especially after one particular incident in 2014.
In December of last year, King Zlatan met the real king and queen of Sweden in Paris as part of their state visit to the French capital. The striker was on his best behaviour, but after showing them around the Parc des Princes, he finally broke off for some parting advice.
"Take care of Sweden until I come home again," he asked of them.
4. Lord Bendtner takes down Bayern
Bendtner has earned a royal title of his own thanks to a relationship with former Danish baroness Caroline Fleming, and even if the "Lord Bendtner" moniker is used mostly in jest, the Dane really did go toe-to-toe with footballing royalty earlier this year. And he won.
With Wolfsburg trailing Bayern Munich 1-0 in the German Super Cup in August, coach Dieter Hecking opted for his last roll of the dice, introducing Bendtner as a substitution in the 70th minute. It proved to be a wise move. First, the striker scored in the 89th minute to take the game to penalties. He then went one better, scoring the decisive spot kick to earn Wolfsburg their first ever Super Cup. For one day at least, German football's most successful team cowered at Lord Bendtner's feet.
3. The kid from Rosengard becomes Sweden's top scorer
Bendtner's own attempts to climb the record books have been addressed, but he'll do well to match Ibrahimovic, who has already topped them in Sweden. At one time questioned for what was perceived to be an un-Swedish outspokenness and flashy playing style forged in the impoverished Malmo suburb of Rosengard, Ibrahimovic became the country's greatest ever striker, scoring his 50th goal for the nation in September 2014.
A trademark back-heel against Estonia meant Ibrahimovic broke Sven Rydell's 82-year record and ensured he will go down as the defining Swedish player of an era. With more goals than Henrik Larsson, Tomas Brolin and Gunnar Nordahl, Ibrahimovic had to topple many of the country's most iconic forwards and national heroes along the way. "Who would have thought that the kid from Rosengard would break Sweden's record?" he asked pointedly.
2. Bendtner outshines Ronaldo ... but pays the price
Bendtner may not be on Ibrahimovic's record-breaking level just yet, but the transformation he undergoes while wearing a Danish shirt has been strong enough for him to outshine some of the world's best on occasion. That was certainly the case when Denmark faced Portugal in the Euro 2012 group stage.
In that contest, a half-fit Cristiano Ronaldo missed several chances as he laboured around the pitch in a fruitless search to score his first goal of the tournament. Bendtner, by contrast, was clinical, taking a brace and leaving a lasting impression for a number of reasons.
In the 41st minute, the Dane's header dragged his nation back into the game and cut into Portugal's initial two-goal lead. With 10 minutes left on the clock, he cut it entirely, applying a headed finish to Christian Eriksen's cross. The striker wheeled away in jubilation to celebrate with his teammates, but not before exposing his underwear, which happened to feature the name of a certain betting company.
Portugal grabbed a late winner, and Bendtner was fined €100,000 for his troubles. The incident summed up the best and worst of the striker, who no doubt has quality but also loves controversy a touch too much for his own good.
1. Magic
Yes, it was only a friendly, but as a whole package that highlights his skill, variety of finishing, inventiveness and way with words, Ibrahimovic's showing against England in November 2012 sums him up better than any other game.
For a number of years, sections of the English media had questioned the forward's true quality, so going into the inaugural match at the Friends Arena in Stockholm, he had extra motivation. Ibrahimovic's response was to bring out the whole bag of tricks. Opening the scoring with a poacher's finish from a rebound, he doubled his tally with a chested volley, then completed a hat trick with a driven, 30-yard free kick. On any other night, that goal would have stood out above the rest, but what happened next became one of modern football's most iconic moments.
In the first minute of added time, the Malmo native sped toward a hopeful long ball into the England half. Spotting the danger, Joe Hart attempted to make a headed clearance but failed. Ibrahimovic quickly repositioned himself, leaping into the air to dispatch a 30-yard bicycle kick that echoed around the world. A special goal that capped off a special performance, and after the final whistle, Swedish TV4 asked Zlatan what was going through his head at that moment. "Magic, magic," he replied.
Lee Roden is a European football writer based in Barcelona. Follow him on Twitter: @LeeRoden89.