Newcastle's early struggles have Steve McClaren's team nearing crisis
"There's more pain to come, absolutely," said Steve McClaren before Newcastle's defeat to Watford at the weekend. "Don't think it's going to be rosy all the way. It has sometimes been one step forward and two steps back. It's tough and it's painful, but we expected this. You have to go through it."
As it turns out, he wasn't kidding. They're used to pain at Newcastle, to headlines about the negative goings on at St James' Park, but in previous years they've largely been a rather tragi-comic club, providing amusement for those who enjoy a little light schadenfreude. They were the football equivalent of a man being hit in the head by a plank of wood in a slapstick comedy.
Newcastle United

Watford
Game Details
The thing is, there's not much comic about Newcastle these days. In a straightforward, rather boring and quite sad way, they're just not very good.
The defeat to Watford at the weekend meant they have collected just two points so far this season, losing four and scoring just three goals in their six games. In this calendar year they have played 25 Premier League games, winning three, drawing six and losing the other 16. Extrapolated over a season that would get them 23 points. While that sort of logic is obviously not perfect, no team has ever survived with that total in the three points for a win era, no team has ever not finished bottom of the table with that projected haul.
If the team's recent record doesn't look especially clever, their manager's doesn't either. Eyebrows were raised, to say the least, when Steve McClaren was given a job at a Premier League club, straight after being sacked by one in the Championship. McClaren had guided Derby to the brink of automatic promotion before a heinous collapse in the closing months of last season, during which they found new and interesting ways to lose every week, and subsequently dropped out of the playoffs altogether. McClaren's record since the end of February reads: played 19, won two, drawn eight, lost nine, with a goal difference of minus 16.
Of the many odd decisions that Mike Ashley has made while at Newcastle, appointing a manager who'd just presided over a calamitous few months to fix a club that had done much the same is among the strangest.
McClaren's career is a constant curiosity. For every success, there has been failure not far behind, and examples of the former are starting to fade with time. He won the League Cup for Middlesbrough then took them to the UEFA Cup final, then came the England debacle. He won the Dutch league with FC Twente, then was sacked by Wolfsburg. An abortive spell at Nottingham Forest was followed by failure back at Twente, then he came within seconds of actually going up with Derby, after they dominated the playoff final against QPR but were beaten by a late Bobby Zamora goal. Then there was the collapse last season. It's virtually impossible to gauge how good a manager he actually is.
Still, if he manages to turn things around at Newcastle, it would be a big tick in the positive column for him, because things look exceedingly grim at the moment. They seem confused in defence, anonymous in midfield and completely unthreatening up front.
That last point is perhaps the most concerning. With Papiss Cisse looking like a total passenger, they are essentially relying on Aleksandar Mitrovic -- a man who looked like a walking red card until he was actually given a red card -- curbing his "enthusiasm" and firstly staying out of disciplinary trouble, then scoring some goals. Mitrovic only turned 21 last week, and his pedigree extends to a couple of good seasons in Belgium -- hardly a cast-iron guarantee of success. Not much help is coming from elsewhere either; when Daryl Janmaat is your best attacking threat, as he was at the weekend, it's probably time to get concerned.
Of course, Newcastle are only a few games removed from them gaining a very creditable point at Manchester United, but there has been little sign of the fortitude they showed then in their more recent encounters.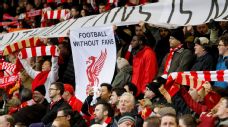 Indeed, at West Ham on Monday they seemed to be lacking even the basics, specifically organisation and simple teamwork. They would swarm around the pitch as one, meaning that when they pushed forwards they were even more susceptible to West Ham's rapid counter-attacks, from which came one goal and several other close shaves. McClaren conceded after the Watford game that Newcastle were still a team looking for an identity, and of course it should be noted that he is new to the job and there are talented players in their squad, some of whom require time to bed in. But if these struggles continue for much longer, they could find themselves in an irretrievable mess.
Perhaps the most depressing thing about all of this for supporters is that it's not a surprise. Newcastle have been tumbling towards something like this for a few seasons, short bursts of inspiration and good results separated by long stretches of ennui. Surely nobody could have thought that last season, when they saved themselves from relegation on the final day, was anything but a lucky escape -- sticking plaster over a wider problem.
Clearly McClaren and his players are not the biggest problem at Newcastle. It's owner Ashley who takes that prize, as he has achieved the seemingly impossible feat of making perhaps the most enthusiastic crowd in the Premier League seem thoroughly apathetic about their club. But still, losing games will hardly help their mood, and McClaren has overseen plenty of that in his brief time in charge.
"No, no, no, no, no, no, no way," was McClaren's response when asked if Newcastle were in a crisis on Saturday, but things aren't about to get any easier. Their next two league games are against Manchester City and Chelsea, and before that they have to negotiate a rather ticklish encounter with Sheffield Wednesday in the Capital One Cup. Lose all three and it will become impossible for McClaren to deny a crisis with such certainty.
Nick Miller is a writer for ESPN FC, covering Premier League and European football. Follow him on Twitter @NickMiller79.