Man United, Chelsea and Liverpool lose as smaller clubs impress
After a drama-filled week, the weekend's Premier League action was packed with much of the same. Iain Macintosh reviews the best and worst of the weekend.
HEROES
Forget for a moment the pages and pages of analysis that will be devoted to Manchester United and focus for a moment on Swansea, who were brave and calm at the back, lightning quick on the break and deadly on the counter. They are an excellent football team and it is only familiarity that has dulled the magnitude of what has been achieved at the Liberty Stadium. They don't have the strength in depth to sustain much more than a push for the Europa League places, but even that is an astonishing achievement. What's also remarkable is Sunday wasn't even Swansea at their best...
Like the Swans, it is not the fact that Crystal Palace beat Chelsea which should impress you. It is that they deserved to beat Chelsea. Alan Pardew's team, constructed at agreeable rates and way ahead of schedule, could even have scored more at Stamford Bridge. They are not going to win the league and any aspirations for European football are likely to prove as misplaced as those held by West Ham last season. However, make no mistake that this a good, balanced and exciting team that is spirited and combative, strong and swift. Chelsea will not be the last team Palace humiliate this season.
For all the doubts over the wisdom of Raheem Sterling's move to Manchester City, it seems to be working out pretty well for him. The 20 year-old-opened his account against Watford, but judging him on goals seems a little redundant when you consider everything else he offers. That £49m price tag could have weighed him down, but he's up for everything. He works hard, he runs hard and, even when he's not on the ball, his movement frees up space for whoever is. Sterling is a major part of City's excellent start to the campaign.
West Ham are weird. Either side of getting beaten at home by Leicester and Bournemouth, they have gone to Arsenal and Liverpool and won. Credit where it's due; On Saturday at Anfield, manager Slaven Bilic restored confidence to his players, went with a game plan and made it work. And then he took the "parked the bus" cliche and ran with it, adding a clause about leaving the handbrake off which should give it new life, albeit while implying that he's pretty slack on health and safety regulations.
Everyone will focus on the Harry Kane miss at White Hart Lane, but it was really the Tim Howard save. Kane, who is still yet to score this season, didn't do a lot wrong. He kept his nerve and the shot was deft and on target. But when a goalkeeper is brave and composed enough to hold his body shape, and quick enough to react, it makes it far harder for the striker than it can seem. Howard was criticised for his performance against Manchester City last week. This week, he was Everton's man of the match.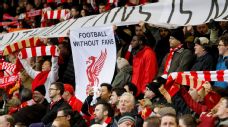 VILLAINS
So, what's going on, Louis van Gaal? It's been 50 games and hundreds of millions of pounds, but it's not getting significantly better. Manchester United are slow in the build-up, weak up front and the uncertainty over David de Gea has given Sergio Romero a status beyond his abilities. Van Gaal, once of Bayern Munich and twice of Barcelona, knows all about pressure and he's under it now. Transition is fine. Processes are fine. But there has to be evidence of improvement and, at the present time, it's hard to find. The last two days of the transfer window will be critical.
This isn't a blip for Chelsea now, it's a slump. You could put Swansea down as a slip-up. You could Manchester City down as a bad day. You could take great solace from the character displayed at West Bromwich Albion. But losing at home to Crystal Palace? It's the second-worst start to a Premier League season by the reigning champions and something has gone seriously awry. Jose Mourinho's men have conceded nine goals already, which is more than a quarter of the total -- 32 -- they conceded in the entirety of last season. Everyone at Stamford Bridge needs to spend this international break having a long, hard think about what they've done.
Oh, Dejan Lovren. What happened? It was all looking so positive. After an utterly miserable first season at Liverpool, you'd completely reinvented yourself over the summer as some kind of reasonably competent centre-back. And now this. Needlessly messing around on the ball deep in your own half, freaking out, losing it and then hanging your head in shame as the net ripples and everyone shouts at you. Next time, just kick it away. Kick it miles and miles away. No-one will mind. Now come here and hug it out.
We tried to warn Aleksandar Mitrovic, but clearly he's not a regular reader. Enthusiasm is good. Desire is good. Tenacity is good. Planting your studs into the shins of your enemies when the ball is in another time zone? Not so good. We don't know what Mitrovic does to prepare for a game, but we suspect it involves energy drinks, very loud music and repeated viewings of the final battle scene in "300". We would like to recommend that he tries camomile tea, Bach's unaccompanied cello suites and that nice film with Morgan Freeman and the penguins.
Speaking of which, this was another exceptional weekend for the reputation of Sunderland's Lee Cattermole, who gave away the crucial spot-kick that allowed Aston Villa back into the game. Saying that there was certainly contact in the box doesn't quite do the job in this instance. At one point, Scott Sinclair appeared to be wearing Cattermole like some kind of niche market novelty rucksack. And then Cattermole had the nerve to throw his arms up in the air and protest the award of the penalty! There's no-one quite like him. We shall only truly recognise his greatness when he retires.
Iain Macintosh covers the Premier League and Champions League for ESPN FC. Follow him on Twitter @IainMacintosh.