Barcelona fatigue and the impact of Bale's switch among the talking points
The new league season in Spain kicks off this weekend. Sid Lowe looks ahead.
Can Barcelona win six trophies in 2015 ... and does it really matter?
They made it four out of four with an epic UEFA Super Cup win over Sevilla, but Barcelona's pursuit of six trophies in the calendar year ended when they were soundly beaten by Athletic Bilbao while chasing number five in the Spanish Super Cup. The FIFA Club World Cup is also on the horizon, but the questions remain, especially now that there will be no sextuple. It's not so much "Can they?" but "Does it matter?" Does it really, really matter? Indeed, might these extra challenges make winning the trophies that actually matter -- or matter more -- harder? Could that be the greatest challenge Barca face this season?
A team that had already been on a preseason U.S. tour finished the UEFA Super Cup at almost 1 a.m. in Georgia and did not arrive back in Spain until 8 a.m. They had played 120 minutes. Three days later, they looked fatigued and were beaten 4-0 in the Spanish Super Cup first leg. Three days after that, they played the return game. From Dec. 10-20, having already played Athletic Bilbao, Atletico Madrid, Sevilla, Real Madrid and Valencia away from home as part of their first seven games on the road, they must travel to the Club World Cup in Japan.
To facilitate, a league game against Sporting will be moved. The good news, if it ultimately proves to be good news, is it will be moved to February, rather than squeezed in before Christmas. Even so, it won't be easy, especially given new signings Arda Turan and Aleix Vidal cannot play until January due to the club's ongoing transfer ban, which means resources will be stretched (all the more so if Pedro leaves).
The past season, Madrid won the Club World Cup while racking up a run of 22 straight wins. They won the European Super Cup too. But the season is often referred to as trophy-less because it is the league, the cup and the Champions League that matter most. By the end of 2014-15, Barcelona came flying past their great rivals: fitter and faster. This season, Barca are still the favourites, with a frightening front three and a system and starting XI that are stable. The aim is to replicate their form from the past season, but that might not be easy. "When we're not at 100 percent. We're not as good," manager Luis Enrique said.
Is Gareth Bale a No. 10?
Soon after Real Madrid were knocked out of the Champions League by Juventus the past season, Gareth Bale's agent, Jonathan Barnett, met with the club's president, Florentino Perez. During the meeting, at which he reassured Madrid that Bale's intention was to continue at the club but noted he had many suitors, Barnett told Perez his client wanted to play behind the striker, in what essentially amounts to a free role. The president agreed; he wanted Bale to play there too. When Rafa Benitez took over as manager, he set about restructuring the Madrid attack with the Welshman as a No. 10.
Bale admitted as much after a preseason win over his former club, Tottenham. Reading them again, his comments were remarkably honest and surprisingly clear, said with the confidence of a man who knows he is now supported in his desire to play as a No. 10.
"It is my best position," Bale said. "When I played there for Tottenham, I played my best football, and when I play for Wales, I play there and I play my best football. I am able to go out to the left and to the right, and that is what I do for Wales. It is great to have the support of the manager and the president, and hopefully I can repay them with goals and trophies."
Now the question is: Is No. 10 the best position for Bale? Is Bale at No. 10 the best thing for Madrid? Barnett had previously complained that teammates were not passing the ball to Bale, a sentiment he backed with statistics -- James Rodriguez, Isco and Karim Benzema all gave almost twice as many passes to Cristiano Ronaldo as to Bale -- and one with which the president agreed. But was a move into the middle the solution? Definitive conclusions should not be drawn from preseason, but so far, there are doubts.
Madrid have shifted their formation to the kind of 4-2-3-1 Benitez tends to prefer and which theoretically suits Bale. However, playing with freedom behind the striker in England is different from playing there in Spain, where there tends to be less space and the game is not so quick. It is a different kind of task. Bale tends to be at his best with freedom, yes, but also with space to run into. How well does it fit other players, both tactically and temperamentally? Bale thinks it suits him. Whether it really does is another matter. Whether it suits Ronaldo, Benzema, James and Isco is too.
Can Atletico, Sevilla or Valencia challenge?
For the title? Probably not. Not in the case of Sevilla and Valencia. Possibly in the case of Atletico. But one thing is for sure: It's going to be fun to watch all of them try. It was impossible not to warm to Sevilla as they took on Barcelona in Tiblisi, and if Valencia can build on the aggressive, dynamic performances they produced the past season, particularly against the bigger sides, they will compete -- in those games, at least.
The doubt for Valencia will be the games against theoretically weaker rivals and their ability to manage the squad across domestic and European competition -- something they did not have to do the past season. The addition of Santi Mina makes them even more attractive. As for Atletico, Oliver Torres is back, Koke looks like taking a more central role and Yannick Carrasco brings real dynamism. Plus, just look at that forward line: Antoine Griezmann, Jackson Martinez and Luciano Vietto.
Who's going down?
D, L, L, L, L, L, L, L, L, D, L, W, L, L, L, L, L, L, D, W. Those are the results of Eibar's past 20 games in the first division: two wins, two draws and 16 losses. Eibar picked up just eight points from a possible 60, and three of those came on the final day against Cordoba, who had been relegated the week before and made to travel 797 kilometers by bus to the match, as punishment for being so awful and no longer seeming to care.
Eibar won, but they were relegated anyway, with coach Gaizka Garitano walking away saying he had failed to achieve the objective. Soon, though, Eibar were reinstated, with Elche sent down instead because of their financial crisis. It was a matter of justice, Eibar said, and not without reason.
"We could have brought stars and not paid them, but that would have devalued the competition," president Alex Aranzabal said.
The question is whether Eibar can survive again. With another record such as that, the answer would be no. They are not a team that would expect to survive; they have just made the most expensive signing in their history, but Gonzalo Escalante's purchase still only accounts for €500,000. Meanwhile, there is work underway to increase the club's stadium capacity to the regulation 15,000, even if that is largely pointless in a town of 27,000 and with a tiny club for which the previous 5,000 capacity was big enough. There have been changes in the squad, and new manager Jose Luis Mendilíbar tends to like his teams to play high up the pitch, which can be great when it works and disastrous when it does not. Mendilíbar was the manager the only other time Eibar had been close to reaching the first division, back in 2004-05. Garitano was a player then, as was David Silva.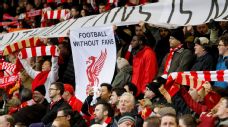 Granada and Depor were the teams that survived on the final day of the past season, but both might feel they are better equipped to be safe sooner this season. Jose Ramon Sandoval continues at Granada after winning three and drawing one of the four games he took charge of the past season, while Depor's young manager, Víctor Sanchez, seems to be looking toward greater creativity. Fede Cartabia, Cani, Faycal Fajr and Luis Alberto have all arrived.
Levante, who eventually turned down a takeover bid in the summer, have lost David Barral, whose goals were so vital in the team's survival the past season. They have signed Deyverson, a striker from Os Belenses who spent the second half of the past season on loan at Cologne. Somehow, you always feel Rayo Vallecano will be dragged into the relegation scrap, but somehow, they never are. Getafe have been in the first division for more than a decade and, with Fran Escriba, expect to stay there.
Espanyol might struggle. As coach Sergio Gonzalez put it after the departure of Sergio Garcia, Lucas Vazquez and Christian Stuani: "We've lost 29 goals and 20 assists." They have also lost goalkeeper Kiko Casilla to Real Madrid. All three of the promoted teams -- Sporting Gijon, Real Betis and Sporting Gijon -- could be pulled into the battle for survival, particularly Sporting. Even being in the top flight is a huge achievement for them.
How pleased are we that you're back?
Short answer: very. Sporting, Real Betis and Las Palmas are all back in the first division, and the first division is better for it. They are big clubs with big, noisy fan bases. Collectively, they have 80,000 season-ticket holders. Betis have spent a reasonable amount of money -- €7 million -- and there is excitement about the arrival of Rafael van der Vaart, whose grandmother is from down the coast in Cadiz. Fitness might be an issue for the Dutchman, though.
Sporting have the oldest ground left in Spain and a team made up largely of youth products, with just one new signing added. Manager Abelardo Fernandez is a former Sporting and Barcelona player, a very close friend of Luis Enrique, and he has impressed hugely so far in his short coaching career.
As for Las Palmas, under the universally respected Paco Herrera, they're back in the top flight 13 long years later. In 2014, a late playoff goal denied them promotion; a year later, another won them promotion. Juan Carlos Valeron is back in La Liga at the age of 40, but more important will be Sergio Araujo.
Sid Lowe is a Spain-based columnist and journalist who writes for ESPN FC, the Guardian, FourFourTwo and World Soccer. Follow him on Twitter at @sidlowe.