Barcelona shed summer fatigue to win UEFA Super Cup in impressive fashion
There were nine goals and almost twice as many conclusions to be drawn from this match which gave FC Barcelona their fourth title in less than three months.
The first is that no one -- not the most rabid Barça fan, not Xavi sitting in Qatar and not Pep Guardiola in deepest, darkest Bavaria -- will have taken more pleasure from how this herculean match unfolded than Athletic Bilbao, their coach Ernesto Valverde and the Basque players who lost the Copa del Rey final to the Spanish and European champions last May.
This Friday in the Spanish Supercup first leg (yes, it's that soon), Athletic will face a Barcelona side stripped of Neymar and Jordi Alba, unable to field Arda Turan or Aleix Vidal, and staffed by players whose body clocks don't know whether it's New Year or New York and whose legs and lungs must think their owners have suddenly joined the Marines or the SAS.
The second conclusion is that poor old Unai Emery now needs to take a leave of absence of about 24 hours every time a team of his faces this Catalan club. Because if he didn't win this one then frankly, he is never, ever going to.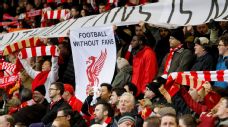 The context for that tongue-in-cheek suggestion? This was Emery's 20th attempt as a coach to defeat Barcelona with four different clubs. When it went to 4-4 and Luis Enrique's mob believed their boots were encased in rock-solid concrete, or when both Coke and Adil Rami missed absolute stick-on goal chances that would have given Sevilla a 6-5 win, this should have been the night.
But, no. Emery is jinxed. He has smashed a thousand mirrors. A black cat didn't just cross his path; it walked under a ladder carrying an albatross and set Emery's stock of lucky white heather on fire -- all on Friday the 13th. So, amigo mio, forget it. Forever.
Of course, there are many more conclusions. One is that Barcelona do not -- repeat do not -- have defensive problems. If you were in Tbilisi, Georgia, you will have seen this game live and will have judged on what your own eyes told you. But wherever else you were in the world, and your commentator or your summarizer was snickering at the flood of goals and eagerly pointing out that this game proves that Luis Enrique's side can't defend, then I'd suggest you were listening to someone who saw little of Barça last season.
In the face of this remarkable flood of goals, and despite the sloppy defending during these 120 minutes, my argument needs explanation and support.
Last season (admittedly with Jordi Alba in the starting XI), Barcelona conceded only six times in seven straight European knockout games against the champions of England, France, Germany and Italy. Their La Liga defensive record was, by far, the best in Europe -- and thus, pound for pound, the best in the world.
Still doubting me? Bayern conceded only three fewer goals (18 in total) having played four fewer league matches than Barcelona and in a championship in which their nearest rival was 10 points behind, compared to Madrid, who were two points behind Barca at the end of the season. In like-for-like terms (a 38-match season), Barça's tally of 21 goals against compares with Juve's 24, Chelsea's 32 and PSG's 36. For good measure, Madrid were 17 goals worse off than the Blaugrana.
Entertaining as it was for the neutral and dramatic as it was for everyone, what you saw in the European Super Cup was a situation in which elite footballers had one of their elite tools ripped out of their hands, and were then asked to build a facsimile of that same beauty as usual without an essential element.
Notwithstanding their great individual players (including Lionel Messi), two things in particular set the treble winners apart last season. First, their extraordinary quick interplay and movement of the ball which, literally, bewildered some teams out of their wits. Second, their relentless, intelligent and effective pressing when not in possession of the ball.
Both of these facets require absolute sharpness of mind and body, along with vast quantities of energy and stamina. But thanks to their own club organizers and directors, Barcelona have logged well over 30,000km in this summer's preseason, have crossed several time zones and have endured overnight flights rather than flying by day and either sleeping or simply resting at night.
Results aside, Barcelona's players have felt jaded, disappointed and generally underwhelmed by the locations, planning and execution of their money-making U.S. tour. They are far from unique among the modern elite group of players in feeling this, but in Tbilisi, we saw clear evidence of what infuriates superstar footballers who are expected by the paying public (and their paymasters) to be at their robotic peak 24 hours a day, 365 days a year.
It's not possible, chaps. It's also unfair and damaging to ask.
More importantly, I think the concept of choosing this particular moment in preseason for a matchup of two major European clubs (it's pure coincidence that it happened to be these two), a round trip of several thousand kilometres and a game in stifling heat until just after 1 a.m. in Tbilisi is to lack respect for the athletes without whom we'd have no elite football, no huge television contracts, no devoted fans and no mighty drama.
In short, what we saw was a Barcelona side eminently capable of toying with a Sevilla under construction -- no Carlos Bacca, no Aleix Vidal, no Stephane Mbia, Grzegorz Krychowiak in central defence rather than midfield, new signings scattered across the team and the bench -- so long as the European champions felt fit, fresh and their best XI was on the field.
From 1-0 down to 4-1 up, there was an odyssey of clever, determined, technical, gutsy football from Barca that we shouldn't really expect to see in early August, almost two weeks before La Liga starts.
From 4-1 up to all square at 4-4, what we saw was a group of players who didn't relax or forget how to defend but who were physically and mentally flagging and who, in substituting Iniesta, suddenly didn't keep the ball anything like as well as they had been doing.
At times, Barcelona resembled the Tata Martino version of 2013-14: they went from running the game and keeping Sevilla at bay to not only failing to press, track and keep the ball, but beginning to have to run after the ball. They looked decent and difficult to beat, but vulnerable and prone to lacking the cutting edge in decision-making, chance taking and basic positioning, all of which makes the difference at this level.
It wasn't a lack of will, defensive ability or complacency. Rather, my friends, it was the kind of overwhelming, full-body and mental tiredness that makes the great sufficiently less great. It can also help the merely "good," determined and fresh opponents not only feel equal, but capable of edging ahead.
You want to know why Barcelona suffered and Sevilla surfaced in the second half? Try Barcelona to Pasadena, California; to Santa Clara, California; to Washington; to Florence, Italy; to Barcelona and to Tbilisi, compared to Sevilla to Germany to France to England to Greece to Sevilla and to Tbilisi: their preseason tours in direct comparison.
I'm sad to conclude that the tiredness, dehydration and mashed-up body clocks that will result from this epic match will likely to contribute to muscle aches, strains, pulls and tears for both teams over the coming weeks. Iniesta and Javier Mascherano were both withdrawn as protective measures while various Sevilla players (like Vitolo) were either grimacing in pain, hobbling or down on their haunches as the game drew to its conclusion and even after it had ended.
For anyone who wasn't clear about how much difference it makes to have virtually an injury-free season, consider how the Blaugrana played from January to May: all zest, pace, electric decision-making and "automatic" understanding all over the pitch. And then consider how they faded in the last 35 minutes of normal time against Sevilla.
By that stage, Barcelona were without Neymar, Alba, Iniesta, Mascherano and, of course, the departed Xavi. Thanks to the Copa America, they also had players who weren't sufficiently advanced in their preseason fitness training to be exposed to this kind of physical onslaught.
But if anyone doubted that between them, Luis Enrique and his team have generated a brutally determined work ethic, a ravenous hunger for self-sacrifice and the elixir of trophy wins, then Tbilisi provided the counter-evidence. That's a clear conclusion, too.
Messi managed only to walk through nearly an hour of this match, yet was still hungry and determined enough to create the winning goal with two moments when he was suddenly electrically quick, winning a free kick and striking the follow-up shot which Beto couldn't hold.
Pedro seemingly wants to leave but loves winning enough to risk injury (and his move to Manchester) in scuttling toward goal to pick up the rebound and poke it past Beto for 5-4.
(By the way, the city of Manchester, whether red or light blue, is now getting a forward who has started a winning World Cup final, scored the winning goal in two UEFA Super Cup finals, scored in a winning Champions League final and scored in a winning Copa del Rey final.)
I swear I heard Messi yell out "the next goal wins" as the ball spun loose and Pedro prepared to pounce. I swear I did. After all, it was reminiscent of schoolyard football. After the match, Suarez danced around the pitch with his fellow winners before seeking out Alba, who was injured and thus stripped of "winner" status, so that the Uruguayan could remove his own medal and drape it around the full-back's neck.
The spirit is strong in this group. All of the Barcelona players and staff knew what victory was threatening to cost: a rough night and even a defeat at the San Mames this Friday, possibly putting the Spanish Super Cup title itself at risk.
Injuries, form, tiredness, international caps if they picked up a strain (the next round of matches is barely three weeks away), aching limbs, disrupted sleep patterns all threatened. But they refused to succumb; they sucked in liquids to compensate for the sweat-drenched shirts that denote dehydration. They chased and ran and clung on until they won a trophy once considered irrelevant.
Unlike Sevilla, Athletic Club have played competitive football this summer and are sharp, toned, rested ... and are waiting. They'll expect to run Barcelona's legs right off them, leaving their lungs ragged, raw and burning.
Frankly, I suspect Athletic will now expect to win on Friday night. Perhaps they will, perhaps they won't. But we have to conclude that this Barcelona bunch doesn't just consist of superstar, multimillionaire dilettantes who won the treble last season and now fancy a gentler, "I've done it all" approach to this term.
That was certainly the case the last time Barcelona and Sevilla met in a UEFA Super Cup back in 2006. Rust set in so quickly and corroded more rapidly still. But that was nine years ago in calendar terms, many millions of light years ago in terms of the European champions' current intensity, self-discipline, hunger and relentlessness.
Friday may just make them look like they are carrying a hangover from Tuesday night's party, but by Monday at the Camp Nou, in the Spanish Super Cup second leg, you should expect to see the same naked will to win, gritted teeth and champion's mentality from the Spanish and European champions.
That's a solid conclusion.
Graham Hunter covers Spain for ESPN FC and Sky Sports. Author of "Barca: The Making of the Greatest Team in the World." Twitter: @BumperGraham.