Dejan Lovren stars as Mourinho, Arsenal, Spurs let themselves down
Football is back and it was an action-packed weekend in the Premier League. Iain Macintosh reviews the opening weekend of the campaign.
HEROES
It might have been Philippe Coutinho who scored the winner, but the real hero for Liverpool this weekend was further back. Dejan Lovren, who endured a debut season so miserable he's lucky he wasn't exiled to the naughty step with Mario Balotelli, was a rock in the centre of defence. And yes, that felt very strange to type. Granted, Lovren could easily have been sent off for a clumsy elbow on Mame Biram Diouf, but that typified his performance. Liverpool looked disjointed up front, but at the back, for one game at least, they looked pretty solid. Has the aggressive, uncompromising Lovren finally arrived at Anfield?
Christian who? There's a new hero at Aston Villa and he goes by the name of Rudy Gestede. He's built like a gunship, and he's devastating in the air. Poor Bournemouth worked so hard and so well to keep Gabby Agbonlahor, Jordan Ayew and Scott Sinclair at bay, but they had no answer for Gestede. He came in like a wrecking ball to dispatch Ashley Westwood's second-half corner. Eyebrows were raised at his signing, but Villa manager Tim Sherwood might be on to something here.
Far from sacrificing their principles to secure their position in the top flight, Bournemouth and manager Eddie Howe have only reinforced their devotion to stylish football. They start their moves at the back, they pass and move with great pace and, in Matt Ritchie, they have themselves a player of exquisite quality. They were unlucky to lose to Villa, but they won't lose every game. They're good enough to hold their own in this division and they have every chance of survival.
When this column was 16, it was playing "Sensible Soccer" on the Atari ST and trying to pluck up the courage to speak to girls. It certainly wasn't strolling around a Premier League stadium with Mesut Ozil in its back pocket. Reece Oxford was magnificent on his West Ham debut; intelligent and composed in the face of what should be one of the best attacking midfields in Europe. He still has much to learn, and there will be those who overhype him now only to attack him later when he falters, but he can be proud of his efforts at the Emirates.
Take that, critics! It's Claudio Ranieri time. Leicester City were tipped for relegation by almost everyone, including this column, but they issued an emphatic retort on Day 1, eviscerating Sunderland 4-2 at the King Power. Admittedly, eviscerating Sunderland is only marginally more difficult than eviscerating a bowl of warm jello, but let's not be sniffy about four goals. Leicester have started where they left off last season and no one saw that coming. So have we all underestimated Ranieri?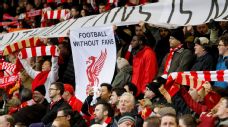 VILLAINS
Two bad results in a week and what does Jose Mourinho do? He throws down a smoke bomb and runs away. It's all his medical team's fault, apparently. They put Chelsea in jeopardy with their impetuous decision to go and treat an apparently injured player. How dare they? Ignore the smoke. Don't fall for the nonsense. Chelsea were poor against Arsenal in the Community Shield and they weren't good enough against Swansea. Mourinho is better than this. His excuses and distractions won't do them any good if they don't improve next week at Manchester City.
Speaking of not being good enough, what on earth was that from Arsenal? Two clangers from Petr Cech didn't help, but it was the lack of clear-cut chances at the other end and the timidity of their so-called fight back that really set the alarm bells ringing. They're going to have to do a lot better than that if a title challenge is anything more than a fantasy. There's no crisis -- there are still 37 games to play -- but everyone concerned needs to throw cold water in their face and wake up. That was an unacceptable display.
It's always exciting to see the line-ups for the first day of the season. Unless you're an Everton fan, of course, in which case it's basically the same team as last year. Tom Cleverley was the only new face on display, and the fans are growing increasingly agitated at the lack of reinforcements. And no wonder. Watford were supposed to be relatively straightforward opposition and they certainly weren't supposed to nearly beat Everton. The atmosphere at Goodison Park is worsening. Something needs to change.
Suspicions that Tottenham just don't have it in them to be a force were given more credence this weekend. Spurs were all over Manchester United in the first 20 minutes, dancing through Louis van Gaal's side in a manner that suggested this season might get very interesting very quickly. And then Kyle Walker nervelessly slid the ball past his own goalkeeper and Mauricio Pochettino's side went into power-saving mode. What happened? What was with you this weekend, North London?
On your first day in a new job, you want to do everything by the book. Thus, you can feel a little sympathy for embattled rookie referee Simon Hooper. Well, unless you're a Norwich supporter after Hooper disallowed Cameron Jameron's spectacular overhead kick on the ground of dangerous play. Technically, his boot was high and in the proximity of a defender, but then so was Wayne Rooney's when he scored his extraordinary overhead kick against Manchester City in 2011. So are countless boots in countless overhead kicks. It might have been better to let this one stand.
Iain Macintosh covers the Premier League and Champions League for ESPN FC. Follow him on Twitter @IainMacintosh.