Arsene Wenger and Jose Mourinho's mutual antipathy will continue
LONDON -- What the imminent Premier League season requires is a rivalry at the top, a battle between managers to take the stakes higher still. At Wembley on Sunday, the Community Shield suggested that a grudge match from the past continues to bubble over.
It was made quite clear that time has not thawed relations between the managers of Arsenal and Chelsea, Arsene Wenger and Jose Mourinho. In the 12th year of their acquaintance, they again behaved like teenagers who cannot acknowledge each other's presence.
With a 1-0 win, Wenger celebrated his 14th time lucky by finally beating Mourinho's Chelsea, though only in a glorified friendly, even if there was a glittering prize to be collected by the Gunners from the top of the Wembley steps.

Arsenal

Chelsea
Game Details
To follow the sequence of events that followed last season's curtain-raiser when Manchester City were beaten 3-0, Arsenal have a psychological fillip to play with. In February, Arsenal travelled to the Etihad and soundly beat Manuel Pellegrini's side 2-0 with a performance to suggest Wenger's team might at last challenge the Premier League's contenders.
Between those two meetings, though, Arsenal's form was spasmodic, and this season, an opening sequence will be required that is better than the two wins from nine games with which Arsenal opened 2014-15 in the Premier League.
Sept. 19, when Arsenal visit Stamford Bridge and Chelsea cannot be as expected to be as underpowered as they were at Wembley, will be the true test of the Gunners' credentials.
Still, on Sunday at least, the excuses were left to Mourinho to deliver for a change.
"The pitch was a disaster," he said. "The weather didn't help, too." However, the Portuguese's main reasoning took the form of jibing his opposite number by using the type of criticism he has long received as Chelsea's boss, and sometimes from Wenger.
"The best team lost," said Mourinho, willfully ignoring the evidence of the previous 90 minutes. "The defensive team won, the team that leaves their philosophy in the dressing room. They had 10 players behind the ball and played the second half with nine players in front of the box."
Predictably, Wenger did not accept that verdict. Arsenal had simply replicated the approach that delivered them some decent results last season, while Alex Oxlade-Chamberlain's first-half winner was the type of individual class he trusts his players to supply.
"We abandoned nothing," he said. "We defended. Our game is based on togetherness and solidarity, on defending well and attacking well."
Mourinho was a constant presence on the touchline, suggesting the result mattered to him even as his players looked lethargic in the London summer sun. His team played as if undercooked, reflective of their manager's casual, dressed-down attire of tracksuit bottoms and a t-shirt.
"A lack of sharpness is normal," Mourinho said in reference to his team only returning from their offseason tour in midweek.
Wenger, meanwhile, made only rare sorties from his bench, possibly to avoid the type of contretemps in which he and Mourinho became involved in last October at Stamford Bridge. In any case, the Frenchman was much more able to relax, as his team played far better football while Chelsea chugged on with a scant sign of spark.
So studied were the pair's attempts to ignore each other that they both headed in different directions after Mourinho sportingly congratulated each of Arsenal's players on their way down from the trophy presentation before throwing his medal into the tier above the tunnel for a young Arsenal fan to receive.
Neither were looking to make too much of that kiss off. "You only miss me because you want to miss me," Mourinho said. "That's not a problem, that's not a story, that's not the end of the world."
"I shook a few hands today after the game," Wenger said. "There's nothing special there."
Nor was Wenger drawn into overplaying the end of Mourinho's hoodoo, either. "Honestly I would say it didn't play on my mind at all," he said. "There's an extra satisfaction because we won a game between two very good teams and as well against the offensive potential that Chelsea has we didn't concede a goal."
Chelsea looked most mortal, via a combination of their own flatness and the determination of their opponents. The tone of the afternoon was set in the opening seconds when Nemanja Matic was caught by a rampaging Aaron Ramsey.
Mourinho's side never remotely pinned Arsenal back with the boundless power that has blown away their London rivals so often down the years. Eden Hazard was unusually quiet, with an uncharacteristic second-half miss. Last season's player of the year's usual habit is to place his finishes, but this time, his over-amped power took the shot into a stand containing amused Arsenal fans.
In the first half, repeated long Chelsea throws launched by Branislav Ivanovic and Cesar Azpilicueta were redolent of Tony Pulis. Later, when Ivanovic made a blocking manoeuvre on Arsenal goalkeeper Petr Cech ahead of Oscar's 69th-minute free-kick -- the ex-Chelsea man eventually made a good save -- there were shades of the tactics of Sam Allardyce.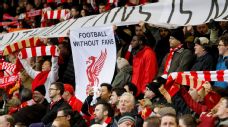 There was not much more to Chelsea than that, with first-half striker Loic Remy collecting only offside rulings and half-time replacement Radamel Falcao looking even less dangerous. The Colombian's one moment of looking like a true replacement for Diego Costa, hamstrung again to his manager's obvious irritation, came in a storming run to get involved in a late melee that followed a couple of scything tackles on Matic.
For such reasons after an underwhelming display, Mourinho chose to turn his attention back toward Wenger afterwards.
"I have never had a psychological edge," he said with mischief. "I never have. What happened before is not normal. I never paid attention to that. When a game is one game, it has no relation to other games. Thirteen games is an eternity -- it is too much."
Wenger chose to look forward. "Confidence wise it's good, it's positive," he said. "Now starts the championship."
If this opening chapter is anything to go by, a pair with such shared history, but who now barely acknowledge each other, can provide real zest to the new season.
John Brewin is a staff writer for ESPN FC. Follow him on Twitter @JohnBrewinESPN.