Rivalry returns as Wenger and Mourinho set for Arsenal vs. Chelsea
The Premier League returns next week and to get us in the mood, it's Arsenal vs. Chelsea in the Community Shield on Sunday. It's a chance to lay down a marker for the rest of the campaign as Arsene Wenger and Jose Mourinho do battle once again and ESPN FC bloggers Tom Adams (Arsenal) and Mark Worrall (Chelsea) take us through what to expect.
How's your summer been so far compared to Sunday's opponents?
Tom Adams: Let's put it this way: win on Saturday and Barcelona's reign as Europe's most recent treble-winners is over. In all seriousness, it's been a pretty good summer with victories in the Barclays Asia Trophy and the Emirates Cup against half-decent opposition. While John Terry has spent his preseason getting elbowed by Zlatan Ibrahimovic, Mikel Arteta has picked up a couple of pieces of silverware and Arsenal's performances have been impressive too, particularly the 6-0 demolition of Lyon.
The natural retort to this is that preseason results don't actually mean anything. And that is correct: they surely don't. But still, the summer's events have been cause for optimism. In terms of transfers, signing one of Chelsea's most beloved players in Petr Cech, and against the wishes of Jose Mourinho too, was tremendously enjoyable. Especially when Chelsea's own summer maneuvres have largely amounted to signing his replacement and little else of real consequence.
Mark Worrall: Like for like, compared to the all-conquering Gunners, the Blues' preseason has been poor. After going all those seasons without winning a trophy, Arsenal supporters have every right to be enthusiastic about the coming campaign having won the Barclays Asia Trophy and the Emirates Cup.
Joking aside, Arsene Wenger's men finished last season strongly and recent friendly results suggest Arsenal have kept the momentum going through the summer and are ready to mount a serious bid for the Premier League title. In the wake of losing to New York Red Bulls and drawing with Paris Saint-Germain and Barcelona, Blues boss Jose Mourinho succinctly summed up the feelings of the majority of Chelsea supporters when he said, "Preseason is fake, for good and bad. If you're bad, it's fake, and if you're good it's fake." Preseason is all about fitness and bonding. If there was evidence of a stronger dressing room at the Emirates, or anywhere else, then I'd be worried.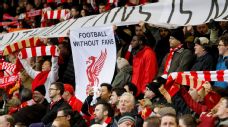 What can this match tell us about what to expect this season?
TA: Given Arsenal beat the reigning champions Man City 3-0 in this fixture last season and then went on to win just two of their opening eight league games, it's fair to say the Community Shield has little bearing on what might actually happen in the Premier League. But that is not to say the occasion is not significant, and no conclusions can be drawn from it. The result itself could be a sign of what is to come, or could at least influence the psychology between the two managers in a meaningful way.
As we are reminded every time these two teams play each other, Arsene Wenger has never beaten Jose Mourinho. If that changes on Saturday, the dynamic alters slightly. If it doesn't, then Arsenal's sense of fatalism in the face of Chelsea will only persist and deepen.
MW: As it stands, Mourinho's first choice starting XI is going to be the same as last season's, so don't expect to learn too much about Chelsea that you didn't know already. The Blues under the Special One are all about craft, guile and indomitable spirit. Expect the same at Wembley on Sunday, irrespective of the fact it's a showpiece game.
As Tom says, the key point of interest going into any game between Chelsea and Arsenal is the "duel" between Mourinho and Wenger. The Portuguese is the Frenchman's nemesis and there seems to be no end in sight to Wenger's torment. Psychologically, it would be a paradigm shift in positivity for the Gunners' manager to finally lay this intensely personal ghost to rest -- but then Mourinho would soon find another way to tease Wenger.
Who makes your combined Arsenal-Chelsea XI?
TA: Courtois; Ivanovic, Koscielny, Terry, Azpilicueta; Matic, Cazorla; Sanchez, Ozil, Hazard; Costa.
MW: Courtois, Ivanovic, Cahill, Terry, Azpilicueta, Matic, Fabregas, Cazorla, Sanchez, Hazard, Costa.
Where will this be won and lost?
TA: It is two-and-a-half years since Arsenal even scored a goal against Chelsea: Theo Walcott's consolation in a 2-1 defeat in January 2013. Mourinho has proved remarkably adept at suppressing Arsenal's attack so the key to this match will be whether Wenger can finally find a way to unlock the Chelsea defence. A key to that endeavour will be Mesut Ozil, who has had a whole preseason for the first time at Arsenal and has enjoyed himself in the No. 10 role. If Nemanja Matic can shut him down, Arsenal will struggle.
Another key battle at the other end of the pitch will be the potential vulnerability of Hector Bellerin up against Eden Hazard. Bellerin's attacking thrusts have become a feature of this Arsenal team and Aaron Ramsey offers useful support on the right wing, but if the Spaniard over-commits and leaves space in behind for the reigning PFA Player of the Year to attack, Arsenal could be opened up. The thought of Hazard and (although he's an injury doubt) Diego Costa teaming up against the sluggish Per Mertesacker is a daunting one.
MW: I think if you look at the two "best combined Arsenal-Chelsea XIs" that Tom and I have drafted, you have some decent clues to answering this question. Chelsea's defence is both stable and imperious. Even allowing for Wembley's wide-open spaces, they have the robust capability to keep the most potent attacking sides at bay.
For me, Sanchez is by far and away the Gunners' best player -- and he won't feature in the game as he is still recovering from his exertions with Copa America winners Chile. Chelsea, by comparison, will have fleet-footed star man Eden Hazard primed and ready to terrorise the Arsenal backline. The outcome will really depend on both managers and how they interchange their players and tactics. With up to six substitutes permitted, there could be some interesting maneuvres. Falcao and Costa having a go at Mertesacker and Koscielny could prove interesting.
What's your aim for the season?
TA: Nothing less than taking the bus parkers' title away from them. Or at least try. Successive FA Cup victories have ended all that "specialist in failure" talk from Mourinho but in truth, many hope they come to be seen as the prelude to greater feats. For Wenger to really reassert his fading greatness, he needs another league trophy and that means overhauling Chelsea and Mourinho.
Chelsea will probably win the league again. They have the best manager and arguably the best players. So real progression for Arsenal means a sustained title challenge which actually lasts until the final straight -- not a long spell at the top of the table before form crumbles in the spring, a la 2013-14, or like last season, a fantastic second half of the Premier League campaign that was rendered meaningless by the dross which preceded it. They might not win the league, but Arsenal need to be in contention all the way.
MW: Retaining the Premier League has to be the priority. It's achievable, but there is no doubt that the competition will be tighter this year and Chelsea will need to be bang on the money week-in-week-out if they are to see off the threat posed by the usual suspects in Manchester City, Arsenal and Manchester United.
This is a pivotal season for Mourinho as it is likely to be the last complete campaign to be played by Chelsea's captain colossus John Terry. During the course of the next 12 months or so, the Blues' boss will need to find a man to fill Terry's boots -- that's a Herculean task and, winning trophies aside, a massive priority for the Stamford Bridge club. Get it right, and also win the league, and the "Special One" will live up to his moniker once more.
Prediction
TA: Chelsea 1-2 Arsenal. Wenger's side look the more fluent at the moment and are bursting with confidence. That could be enough against a Chelsea team who are still rusty.
MW: Chelsea 3-1 Arsenal. The Gunners and their supporters may be in an ebullient mood at the moment -- but there's nothing like a game against the Blues to bring the harsh realities of life back into view.