Bundesliga fixture meddling could well upset the travelling fans' traditions
Ten days ago, news broke that the German Football League (DFL) is toying with the idea of introducing Monday evening fixtures, as well as an additional Sunday game. This has triggered, or rather rekindled, a national debate about the scheduling of league games.
Many fans, especially those organised in supporters' pressure groups, are highly critical of the plans, and DFL chief executive Christian Seifert has been forced to defend his ideas in public.
To briefly outline the situation: At the moment, Germany loosely follows the French model of scheduling, with one game on Friday, the bulk on Saturday and then usually two matches on Sunday. The DFL's plan would make the Bundesliga resemble Spain's Primera Division instead, where matchdays often begin with one game on Friday and end with a fixture on Monday, with the rest of the matches distributed over Saturday and Sunday.
While nobody really seems to care about these things in Spain, it's a question of national importance in Germany; the monthly publication 11Freunde has called the DFL's suggestion "a nightmare."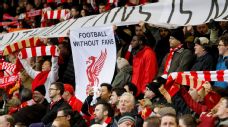 To explain this, let me take you back to a day in May 1998, when I was in Munich because somebody from the British Film Institute (BFI) was presenting rare football footage at a nice little arthouse cinema. I can't recall the man's name; all I remember is that he supported Blackburn Rovers. The cinematic adaptation of Nick Hornby's "Fever Pitch" had been theatrically released in Germany a few months earlier, and so we got to talk about Hornby and his seminal book. To my surprise, the BFI/Rovers man was underwhelmed.
"When that book came out," he said in a bitter voice, "all my friends urged me to read it because, they said, it was about a real football fan. So finally I bought it -- and it turned out the guy isn't a fan at all!"
"You don't consider Hornby a football fan?" I asked. Whereupon the Rovers supporter replied: "Of course not! That guy only goes to see the home games!"
I'm not sure if travelling with your team is still such an integral part of fan culture in England as it used to be back then. I have reason to doubt this because less than two years ago, the Football Supporters' Federation (FSF) started an initiative meant to battle dwindling travelling support.
Premier League chief executive Richard Scudamore was quoted: "In the past five years we've seen a 10 percent decline in away attendance." The FSF says the reason for this are the costs involved, which is why they want to get clubs "to agree an across the board price cap on away match tickets of £20 (£15 for concessions)."
Last week, Swansea made the first steps in this direction by promising to subsidise all away tickets so no adult pays more than £22.
However, with the Bundesliga's more moderate ticket prices, travelling with your team is still popular and a vibrant pastime. We already looked into this German obsession back in 2013, when Eintracht Frankfurt set a Europa League record by taking 12,000 supporters to Bordeaux.
But the Teutonic wanderlust is not restricted to games in Europe. On any given league weekend, roughly 25,000 fans traverse the country with their respective teams. And it's a big country, too. When the new season opens with a Friday night fixture on August 14, Hamburg fans will go on a 500-mile journey to support their team in Munich. It means they will have to take this day off work. And even if they manage to catch a late train back, they won't be home before eight o'clock in the morning.
Now imagine this match being played on a Monday. The away fans would have to take two days off, or stay home. And while the English FSF indeed worries that ticket prices may kill a central aspect of traditional fan culture, the German supporters' alliance ProFans is more concerned about the scheduling. Spokesman Alex Schulz says that introducing Monday fixtures in addition to all the midweek games, either in the DFB-Pokal or in Europe, "forces fans to miss [some of] their clubs' games" because sooner or later their holidays will be used up.
German fans do have considerable experience with the effects of Monday fixtures. Since October 1993, there is a game every Monday evening in the 2. Bundesliga. The first-ever such match pitted St. Pauli against Bochum. For the away fans, it meant a 220-mile journey and it was just about possible for some of them to take only half a day off and still go to Hamburg with their team.
The DFL promised to take fans' concerns into consideration when scheduling those games but it isn't always possible. Last season, Ingolstadt vs. 1860 Munich was a Monday game, reasonable because it's just a one-hour drive for the away fans. Yet St. Pauli vs. Greuther Furth was also played on a Monday. We're talking about a six-hour journey here if you have a fast car. And away fans generally travel by train or coach.
Before the formation of the Bundesliga, scheduling was never a big subject. Games were normally staged on Sundays because the players were only semipros. But since the multi-tiered top flight was made up of regional divisions, you could easily travel with your team because the distances were rarely taxing.
Saturday only became German football's day of choice in 1963, when the Bundesliga began. However, as early as November, a match was played on a Friday. Due to a harsh winter and many suspended games, the first Monday and Thursday fixtures were staged in March 1964. One month later, in April 1964, Hertha met Bremen on a Wednesday. In other words, before the new league's inaugural season was over there had already been games on six different days of the week. (The first Sunday match came fairly late, though: Oberhausen vs. Cologne in November 1969.) Throughout the 1970s and 1980s, Friday was a normal day for a fixture, with as many as three games played at the same time.
Nobody complained because nobody would have listened. The fans' worries were of no concern until the 1990s, when supporters began to organise themselves. The first national German fan alliance, BAFF, was formed in August 1993. (We've covered parts of the BAFF story a few years ago.)
At around the same time, the league began to schedule games according to the demands of private television. In 1992, the German public-service broadcasters lost the Bundesliga rights and the new television contract demanded regular Sunday games to be shown live on Sat.1, the oldest privately owned station in Germany. As we have seen, one year later regular Monday fixtures were introduced in the 2. Bundesliga, to be broadcast on a sports-only station called DSF.
This development has led to what people in Germany call "salami matchdays" -- the games come in slices instead of in one piece. There are now five different kick-off times on three different days. If the DFL's plan becomes reality, there could be seven times on four days.
The details were leaked only a few weeks after the Premier League announced its record-breaking broadcasting deal. However, in an interview with newspaper Die Welt, DFL chief Christian Seifert denied that the league is trying to maximise profit in order to close the gap.
"A Bundesliga game on Monday is surely more valuable in terms of marketing than a 2. Bundesliga game," he said, "but that wouldn't be the main reason for this kickoff time." Instead, he added, the DFL was trying to help "our teams active in Europe by relieving them of 10 games they don't have to play on Saturday afternoon."
There have indeed been some unfortunate cases in the past, with German clubs having to play on Thursday in the Europa League and then, less than 43 hours later, in the Bundesliga on Saturday. "Other leagues choose the easy way out," says Seifert, pointing towards Spain. "There are 10 different kickoff times for 10 different games," he says. "I don't have the impression that anyone there cares about the away fans."
Of course not. Travelling with your team just isn't an element of Spanish fan culture. Three days before the Madrid derby in September, the Daily Mail reported that "Atletico have sold just 30 tickets for their visit to the Santiago Bernabeu."
It's just different in Germany. Very different. I know a member of an ultras group who got married almost 400 miles away from his team's ground on the day of a home game. (There are family reasons why the wedding had to take place during the season.) I asked his wife why they didn't pick a weekend with an away game. "He will not miss a home game unless there is a very convincing reason," she said. "But no matter what, he will never ever miss an away game."
Somewhere out there is a Blackburn Rovers fan who understands.
Uli covers German football for ESPN FC and has written over 400 columns since 2002.