Copa del Rey final venue, Barcelona's Camp Nou, not decided without a fight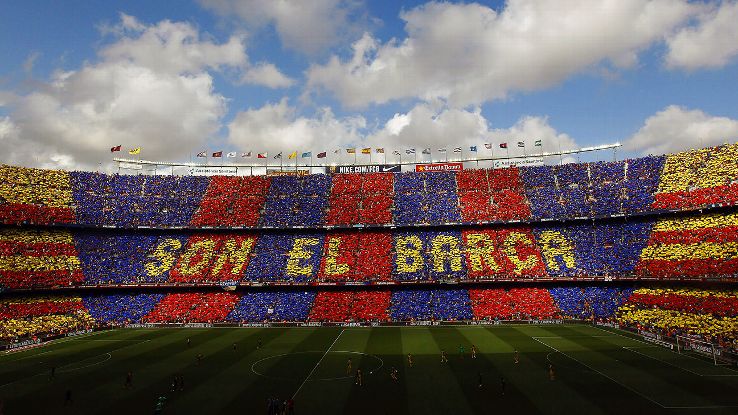 And so the soap opera comes to an end, and what fun it was. So much fun, in fact, that we'll do it all over again next year. Same time, same place. Or should that read "different time, different place" instead? Not long after one Seville-based sports newspaper announced that the Copa del Rey final would be held at Real Betis' Benito de Villamarin stadium, the Spanish football Federation announced that the Copa del Rey final will be held at FC Barcelona's Camp Nou stadium on May 30.
Athletic Club de Bilbao and FC Barcelona will meet for the third time in six years, in the third different city and in the third different stadium. None of them have been held in the stadium the teams actually wanted it to be held in. They agreed that they wanted to play at Real Madrid's Santiago Bernabeu but Real Madrid didn't want them there (although they never publicly said that they didn't) and so everyone had to think again. Which in truth, they always knew they would; there was something rather phoney about the insistence on going to the Bernabeu, like they wanted to stage an argument rather than actually win one.
AC/DC were playing at the Vicente Calderón; that was Atlético's ground ruled out, although the Atlético president Enrique Cerezo did propose playing there, albeit on another date. Barcelona had originally been reluctant to play at home but by the time Wednesday's meeting came round they offered their own stadium. Meanwhile, Athletic volunteered their San Mamés home, something that (according to El País) prompted Barcelona to insist that they would only accept if they got a bigger share of the tickets, as if that somehow made it fairer.
Candidates included Mestalla, the Benito Villamarin and the Cartuja, the latter two both in Seville. On the meeting went until eventually, late on Wednesday evening, it was announced at the RFEF's headquarters in Las Rozas. "They wanted Mestalla and the Camp Nou; we wanted San Mamés and Seville," said Josu Urrutía, the Athletic Bilbao president. In the end, Barcelona got their way. Sort of. The Camp Nou won by 26 votes to 18.
The Real Madrid president Florentino Pérez did not turn up to vote. The former president of Barcelona, Joan Gaspart, did. He is also the president of the hotel group HUSA. "I feel sorry for Madrid's hoteliers," he said, mischievously. "They are missing out on 20m or 30m euros." By choosing the bigger stadium, the RFEF also ends up with 19,000 tickets. The two clubs get just short of 40,000 each.
And so the Camp Nou follows Mestalla in 2009 and the Vicente Calderón in 2012 in hosting the Copa del Rey final between Barcelona and Athletic, the two teams with more Cup wins than anyone else.
DURING THE DICTATORSHIP, the final was always played in Madrid unless Franco was out of town, in which case it was moved so that he could attend. Since the return of democracy, there have been 38 finals in 10 different stadiums: 22 in Madrid (13 at the Bernabeu, 9 at the Calderón), 7 at Mestalla (Valencia), 3 at the Romareda (Zaragoza) and 2 at the Cartuja (Seville). There has only been one at the Camp Nou before, between Sevilla and Atlético in 2010 -- the same number as there have been at the Martínez Valero (Elche), the new Zorrilla (Valladolid), and Montjuic (Barcelona). This will be the Camp Nou's second final.
Advantage Barcelona? Probably, but don't count on it. Playing at home does not guarantee winning the cup. Barcelona have played at the Camp Nou twice in 1957 and 1963 and won both, winning the trophy a total of five times in the city... but it doesn't always work out like that. Just ask Real Madrid, who lost the final two years ago to Atlético Madrid at the Santiago Bernabeu, the first time they had lost to their rivals in fourteen years. In fact, Madrid's cup final record at home, where they have played more often than anyone else because of that custom during the Franco regime, is not good at all. Madrid have played 10 finals at home, winning just two; one of them was against Castilla, their own B team.
Famously, Madrid even lost the final at home on their 100th birthday, going down 2-1 to Deportivo in March, 2002. In the end, perhaps the pressure was just too much. A trophy that then-midfielder Steve McManaman previously said had all the importance of the Worthington Cup suddenly became vital; the chance (nay, the obligation) to celebrate their centenary in style. And no one doubted for a minute that they would win; other clubs, in fact, grumbled that it had been set up for them.
Instead "it was set up for us to lose," McManaman admitted in "El Macca," his fascinating autobiography of his time in Spain. "It was like we were celebrating before we had to play the game. Bad psychology. That kind of pressure is sapping."
In the week before the final, he told his co-author Sarah Edworthy: "Imagine if we didn't win it -- if we got beaten, at our ground, on our centenary." And that was exactly what happened. Defeated at home, they withdrew to a silent dressing room while in the north stand Deportivo's supporters sang "Happy Birthday To You."
"BARCA!" SHOUTED the headline on the front of Marca above a picture of the crowd, hundreds of Catalan yellow-and-red striped flags filling the page. It was June 29, 1997, the last time that Barcelona played the Copa del Rey final at the Santiago Bernabeu. They won 3-2 in extra time against Real Betis; an 88th minute equaliser from Pizzi and a 115th minute winner from Luis Figo had taken the trophy on Bobby Robson's last game as manager of Barcelona. "This is a lovely way to go," Robson smiled as his team paraded round the pitch with the cup.
For many Barcelona fans it was just as special, not so much because of what it was as where it was. As the players did a lap of honour, some sang: "Madrid is burning down!" Sergi Barjuan, a Catalan brought through the club's youth system, described it as the rehostia, the absolute business. "To win at the Bernabeu and see the ground full of Catalan flags is as good as it gets," he once said.
Joan Gaspart was Barcelona's president that day. "That was a double victory," he remembers. "And after the game, I did something I wouldn't have done if the final had been at any other ground: I made them play the Barcelona hymn over the loudspeakers... five times."
All of which helps to explain why Real Madrid wanted to avoid the cup final being played at the Bernabeu this year. Beyond the talk of national anthems and the Bernabeu becoming the stage for a call to independence, the idea of Barcelona lifting the trophy in their own stadium was hard to take. For Barcelona fans, the idea of winning the trophy there and parading it round the pitch, dancing the night away at Madrid's home, was a provocatively attractive one too.
That much had been revealed before when Pep Guardiola's side had progressed towards the final of the 2010 Champions League, due to be held in Madrid. The relief was huge when Inter beat them in the semifinal; it was the day that Jose Mourinho rode to Madrid's rescue and sailed through his audition for the manager's job.
"Disaster" had been avoided but far from seeing it as an honour to host the event, the board and the president were furious with the previous regime, led by Ramón Calderón, for requesting the final in the first place and running that risk. It won't happen again.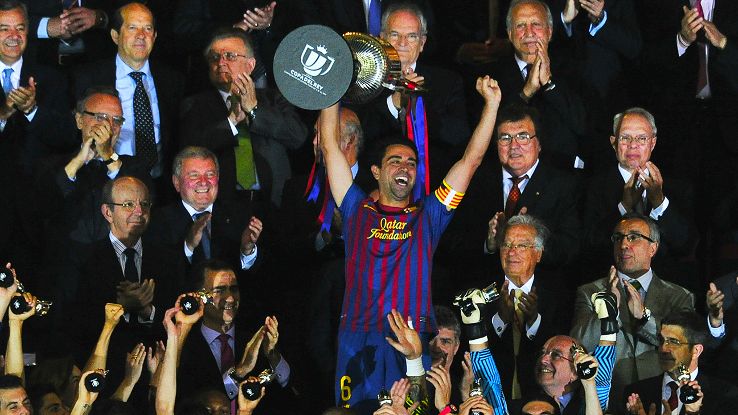 THE LAST TIME Athletic Bilbao and Barcelona were due to meet in the Copa del Rey final in 2012, Real Madrid said that they could not host the final because there was work being done on the stadium toilets. This time, they didn't even offer up an excuse. The only thing that Florentino Pérez said publicly was that the Bernabeu had not been offered and "we haven't refused anything." End of story.
In theory, the reason for not choosing a venue at the start of the season is to wait and see who the two finalists are and then play somewhere that is mutually beneficial, somewhere that can host both sets of fans and does not provide either team with an unfair advantage. That's the theory; in practice, it is a shambles.
Both finalists publicly insisted that the Bernabeu was the best option: located in the capital, a roughly similar distance from both cities and easily the biggest available neutral venue, maximizing the number of fans that could attend. They even wrote a joint open letter, requesting that Madrid host the final; again, Madrid said nothing. But Florentino Pérez did reportedly say to the Barcelona president, Josep Maria Bartomeu, that "you don't do that to a friend." Presumably you do, though, close your doors to a "friend."
For the most part, Madrid's fans did not welcome the idea of the final being played in their stadium and Madrid is a club "owned" by its fans. They are not to be consulted on every issue, but nor are their opinions to be ignored.
One of the key issues, at least in terms of the debate if not actually the underlying reason, has been the probability that the Spanish national anthem will be whistled by Basque and Catalan fans. Some politicians could hardly wait to have their say while others wriggled out of it, hoping it would go away: no director from either club has called on the anthem not to be whistled nor expressed their hope that it will not be. Others talked about how football should remain apolitical, and did so to gain political capital.
Some Madrid supporters insisted, understandably enough, that they did not want to host two sets of fans who would then whistle their national anthem, the symbols that represent them. Curiously, though, the debate was framed in such a way as to imply that somehow whistling the national anthem is not a problem in any other stadium: you can't hold the final at the Bernabeu because they will whistle the national anthem, whereas you can hold it at Mestalla or the Calderón where they have whistled it.
Some in Madrid think that Athletic and Barcelona were not truly that bothered and just adopted a passive aggressive attitude to make Madrid look bad instead. They could have called their bluff. Instead, they allowed trenches to be dug deeper, the whistles often feeling like an excuse as much as a reason, the standoff deepened with perceived slights and mutual (though never actually articulated) accusations.
Madrid are entitled to cede their stadium to whoever they want, and just as entitled not to. Until such a time as the RFEF rules change -- and frankly pretty much every aspect of the Copa del Rey should change, including the shambles of selecting the venue for the final each season -- it is the club's decision and it is right that it should be that way. The reasons that they did not (although never expressed) are understandable, but not doing so does feel like a pity. A lost opportunity.
Greatness is expressed in many ways; Madrid are proud of their greatness and their señorío, or "gentlemanliness." This was an opportunity to prove that. There is a frustration at the Bernabeu at the way in which they believe Barcelona are portrayed as being morally superior; here was a chance to invert that, to rise above it all. To step beyond it and thus oblige their invitees to do otherwise, to take the lead in normalising relationships and diminishing tension, passing the reasonability to others. It was perhaps a chance to make a statement; instead, there was no statement. Not even to explain their decision.
IN THE END, there was no perfect solution and Urrutía was unimpressed with the imperfect solution that won out. Not for the first time, he felt that the RFEF had maneuvered Athletic into a corner and then decided something that went against their will. And all that despite the fact that the president of the RFEF, Ángel María Villar, is a former Athletic Bilbao player.
There was one fundamental statistic that stood out above all others, and why this may have been the best decision in the circumstances when all the other considerations are stripped away to what truly matters most: 98,787, the Camp Nou's capacity. Of Athletic's 44,000 members, 39,500 will get tickets.
For fans who scrambled like mad for tickets for the last two finals at stadiums that hold 55,000, with many of them missing out, paying a fortune for tickets from touts or devising ingenious ways of wangling their way in, that is a huge relief. Almost all of them will be able to go.
Or will they? It will not be cheap. No sooner had the venue been announced than travel costs rocketed. For Barcelona fans it will cost 1.20 on the metro. For Athletic fans it will cost somewhat more. Flights from Bilbao to Barcelona were soon nudging 700 euros... on "low-cost" airlines.
IN THE BARCELONA dressing room, the players' names are written on the front of red lockers, the lists growing over the years. Every time Gerard Piqué gets changed, for example, a quick glance reminds him of the men who changed their before him: Santiago Ezquerro, Javier Saviola, Pep Guardiola, Steve Archibald, Diego Maradona. The positions don't change, either. Messi sits alongside Adriano and Dani Alves; to the other side of them is Neymar, using the locker Eric Abidal and Ronaldo used to use.
Over the weeks and years, things pile up and get personalised. Shoes gather underneath the lockers or get dumped on top, pictures and notes and messages get stuck on the doors. One player's door carries a quote from the bible, Corinthians 9:24: "Do you not know that in a race all the runners run, but only one gets the prize? Run in such a way as to get the prize."
For one day only, those personal touches may have to be packed away, the lockers emptied. Athletic Bilbao were founded before Barcelona, meaning that they are officially the 'home' team and will occupy the home dressing room.
---
SO, SEE YOU next year? Same time, same place, same old arguments. Or will someone actually put an end to this pantomime? After all, it's not exactly difficult.
Ah, right. See you next year.
Sid Lowe is a Spain-based columnist and journalist who writes for ESPN FC, the Guardian, FourFourTwo and World Soccer. Follow him on Twitter at @sidlowe.