Serie A: Why We Watch Football
With the latest international break coming to a close and the frenzy of the club season about to resume, we asked some of our writers to chronicle what they love, both past and present, about the leagues they follow. It's #WhyWeWatchFootball. Here's James Horncastle on the history and class of Serie A.
Where it all began
For me, it was a goal I saw on Channel 4's cult TV show Gazzetta Football Italia. Specifically, an outside-of-the-foot volley Alessandro Del Piero hit to beat Fiorentina 3-2 in 1994.
Juventus had been 2-0 down entering the final quarter-hour. Gianluca Vialli got the Old Lady level before her Golden Boy won it in the 87th minute with a piece of skill that marked him out as truly special.
I was 10 at the time, Del Piero was 20; I just remember being captivated by what I'd seen and what else the future held for this youngster who had impressed Juventus so much that they were willing to sell Roberto Baggio, the 1993 Ballon d'Or winner.
He wasn't the only one to capture the imagination. Francesco Totti had already made his debut for Roma. Gianluigi Buffon would soon make his -- and what a debut it was -- for Parma against Milan, aged just 17. Alessandro Nesta would also emerge at Lazio after first coming to fame as the kid who broke Paul Gascoigne's leg in training.
The 1990s were exciting times. The world's best strikers -- Ronaldo, Gabriel Batistuta, George Weah, Ivan Zamorano and Marcelo Salas -- took on the best defenders: Franco Baresi, Alessandro Costacurta, Paolo Maldini, Giuseppe Bergomi, Lilian Thuram and Fabio Cannavaro.
Artists in midfield like Manuel Rui Costa and Zinedine Zidane painted with their feet. And all of them played in these beautiful shirts: the blue and black. The red and blacks, the black and whites, the purples, browns, red and yellows, and the most glorious of them all, Sampdoria's blue/white.
It was the era of the "seven sisters" when Juventus, Milan and Inter, Roma and Lazio, Parma and Fiorentina were all duking it out for the Scudetto and European honors. The grounds were packed. How can you not be beguiled by San Siro, the Scala del Calcio, nor the Curve around Italy when they are full and illuminated by lit flares and exhibiting a grand choreography.
Is it any wonder they called it il campionato piu bello del mondo -- the most beautiful league in the world? That beauty might have faded. Look hard enough, though, and it's still there.
Because it's where football really came from
Zvonimir Boban, the former Croatia and Milan midfielder, was musing about this only the other day. He took a step back and reflected on the outstanding contribution Italian football has made to "living and thinking about the game."
What he's referring to is how players should look after themselves and prepare. The culture of work, method of training, development of tactical concepts and collective play right from Vittorio Pozzo's W-W system -- the alternative to the W-M perfected by Herbert Chapman -- and the catenaccio of Nereo Rocco and Helenio Herrera to the revolution brought by Arrigo Sacchi's pressing game. That's not to mention the approach to recruitment and a strategy coordinated by a director of sport.
"[Italy] continue to teach the world," Boban told La Gazzetta dello Sport, "because the thinkers of Italian football by now live everywhere and work in many different roles." And its intellectual property is so sought after that it's practically a leading export.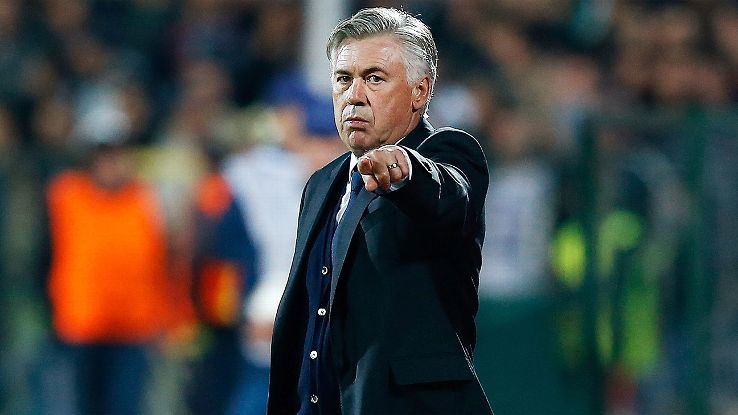 Italian coaches, like Carlo Ancelotti, Roberto Mancini, Fabio Capello and Giovanni Trapattoni, have won the league in England, Spain, Germany and France. Only this summer did Madrid match Milan as the city with the most European Cup wins (10) and Germany reach Italy as the most successful European nation with four World Cup triumphs.
Football as we know it has learned a lot from Serie A and the tradition of calcio. Not for nothing is it often described as the "university of the game," one that can still enlighten.
If you want to win, buy Italian
Serie A isn't what it once was, granted, but if you judge it by its past it will inevitably compare unfavourably because no league has ever been as dominant -- and in all likelihood, never will. It has so often been the benchmark and no more so than through the mid-1980s to the early 2000s.
For instance, Real Madrid have broken the world transfer record the last five times -- Gareth Bale in 2013, Cristiano Ronaldo in 2009, Kaka in 2009, Zinedine Zidane in 2001, Luis Figo in 2000 -- but of the 27 occasions prior, Italian clubs had smashed it 18 times, including seven times in a row between 1952 and 1968 then six consecutive times between 1984 and 1992.
Never has a league had so much talent and so much depth than Serie A did then through the mid-1980s and 90s and into the early 2000s. Consider this: Zico briefly played for Udinese! And in 1984 Diego Maradona joined a club in Napoli who'd finished in the bottom half of the table the season before he arrived and had never won anything other than the Coppa Italia. They then won two scudetti in the next six years.
It used to be that in order to be rubber-stamped as a great player you had to test yourself in Serie A. Of those who were awarded the Ballon d'Or between 1980 and 2007, all but two -- Igor Belanov and Michael Owen -- had played, would play or were playing in Italy.
It was also the most competitive league the world has ever seen. In the two decades between 1983 and 2003, Serie A clubs made the European Cup final 13 times. Six lifted the trophy, eight were runners' up. In the decade between 1989 and 1999, its representatives reached the UEFA Cup final on all but one occasion -- four of which were all-Italian affairs -- taking the trophy home eight times.
Rich history but even richer future
Serie A has the ability to turn even the most Panglossian observer into a cynic.
There's a lot to make you despair: the largesse of the boom years which left the league over-exposed when things went bust, the neglect of their youth systems in favour of spending on inadequate foreign players, the scandals that have tarnished its credibility and the politics of self-interest among its key decision makers that appear to be holding it back from any meaningful reform as evidenced in the election of Carlo Tavecchio as head of the FIGC this summer.
But there are green shoots among the weeds. Juventus and Roma are driving the modernisation of Italian football, setting an example with their investment in team infrastructure and globalisation of their brands. Acknowledging he'd have to sell Inter to move things on, Massimo Moratti did just that to the Indonesian businessman Erick Thohir last year; even though there's scepticism of what he can achieve, it has brought the realisation home to the Berlusconi family that, unwilling though they are to sell, they have to get creative about raising new revenue.
Serie A is also still rich in talent. Buffon and Samir Handanovic are among the best goalkeepers in the world. Juventus and Roma boast Europe's most wanted midfielders in Arturo Vidal and Paul Pogba, Kevin Strootman and Miralem Pjanic. The league also has universally admired strikers like Carlos Tevez and Gonzalo Higuain, as well as top young players in Mateo Kovacic, Juan Cuadrado and the skills of Mauro Icardi.
And how about the sensational Domenico Berardi, who scored three hat-tricks last season including a poker against Milan?
Although there's no new Gianni Rivera nor Roberto Baggio -- and, more worryingly, no new Franco Baresi nor Paolo Maldini -- a promising new generation of Italian players is coming through. Italy's Under-21s reached the last European Championship final a little under 18 months ago, losing to Spain, and more starlets like goalkeeper Mattia Perin and winger Federico Bernardeschi have emerged since then.
All are worth keeping a close eye on.
Flair and drama every week
The King of Rome isn't dead. Francesco Totti plays on and every moment should be savoured. As should the twilight of Toto Di Natale's career at Udinese. His next goal -- so many of his have been incredible -- will be his 200th in Serie A. Only five away from Roberto Baggio on the all-time list despite never playing for one of Italy's heavyweights, that's worth putting the retirement on hold.
There's the unfulfilled potential but undisputed genius of someone like Antonio Cassano, who continues to alternate magic moments with temper tantrums and wild autobiographical details.
The coaching scene also remains vibrant. Roberto Mancini and his scarf are suddenly back at Inter. Rafael Benitez continues to lend his Champions League and UEFA Cup winning expertise to Napoli. And what of Rudi Garcia and the style he's got Roma exhibiting?
Great former players like Pippo Inzaghi, Sinisa Mihajlovic and Vincenzo Montella now occupy the benches at Milan, Samp and Fiorentina. There are bright, innovative tacticians like Udinese's Andrea Stramaccioni and wily ones like Genoa's Gian Piero Gasperini. You honestly think three-at-the-back came back into fashion because of Louis van Gaal's Netherlands this summer? Think again. Gasperini has been playing it since 2007 and more or less the rest of Serie A since 2011.
And we haven't even got to the owners, from the blue blood of Andrea Agnelli and the lively American James Pallotta, who jumped into the swimming pool at Roma's training ground fully dressed on one of his first visits to meet the players, to the mangia-allenatori -- or "manager-eating presidents" -- who go through coaches like they do plates of pasta, and in the case of Palermo owner Maurizio Zamparini, once threatened to cut off some very specific body parts of his players and "eat them in a salad."
Samp's new custodian Massimo Ferrero has even used his post-match interviews to ask out Sky Italia presenter Ilaria d'Amico and described Barbara Berlusconi in il Giornale as "beautiful like the sun. She seems like a dragonfly when she walks."
Dull, Serie A most certainly isn't.
James covers the Italian Serie A and European football for ESPN FC Follow him on Twitter @JamesHorncastle.