Pep Guardiola denies Bayern Munich players' morale has deteriorated
Bayern Munich boss Pep Guardiola has rejected reports that his relationship with his players has worsened in recent weeks.
Several German media outlets reported this week that the atmosphere at the club has deteriorated, with kicker citing one unnamed player as saying it is "not good."
Guardiola, who confirmed in December that he would be leaving Bayern at the end of the season, told reporters at a news conference on Friday: "The morale is good.
"You can't win in the first half of the season, only losing one match, when the morale is not good."
The Catalan said unhappy players are part of the game "here, in Timbuktu, in Australia, everywhere."
He added: "When a player does not play, he's a bit sad, disappointed. But that's normal. The morale is good."
Kicker had also reported that Guardiola accused players of being overweight in front of the entire squad.
The former Barcelona boss, who earlier this month said that he does not like the German winter break, confirmed the report in parts.
"Some players always return with two, three extra kilos after the winter break -- one, two players," he said, adding that all the players have now returned to their old weight.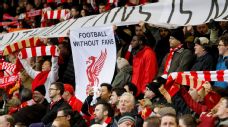 Addressing the "mole" feeding the journalist, he said that he does not know "who the anonymous player is."
"Where does this 'anonymous' play?" he asked.
The 'mole' issue had also been a problem for Guardiola early on in his time in charge of the club and he said: "It happened in the first year. I realised that.
"I don't have any friends among the journalists. I don't have phone numbers. I don't go out for dinner with them."
One reporter then jokingly asked Guardiola out for dinner but he replied: "No!"
The former Barcelona coach later admitted that he had endured worse experiences with reporters during his time in La Liga.
"It's nothing compared to Spain," he said. "It's cosier here."