Philipp Lahm could see more time at full-back this season - Pep Guardiola
Bayern Munich's trio of new midfielders -- Arturo Vidal, Joshua Kimmich, and Pierre-Emile Hojbjerg -- may lead to Philipp Lahm's return to the full-back position, coach Pep Guardiola has said.
Bayern have signed two holding midfielders during the summer transfer window in Juve's Vidal and Kimmich, with the 20-year-old joining from RB Leipzig. Denmark international Hojbjerg, 19, returned from a six-month loan at Augsburg as Germany captain Bastian Schweinsteiger left for Manchester United.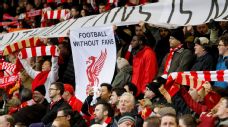 All three new arrivals have in the past played in holding midfield, where Guardiola can also bank on Thiago Alcantara, David Alaba, Sebastian Rode and Javi Martinez, once the Spaniard returns to full fitness.
While Bayern have loaded their midfield with several of the most complete players in German football, they have failed to reinforce their full-back positions, partially because Guardiola's free-floating interpretation of modern tactics has seen Bayern play with a three at the back and two wing-backs on more than one occasion last season.
But should need be, the midfield riches could see club captain Lahm, 31, return to his accustomed position at right-back, Guardiola told reporters in Munich on Friday.
"We only have one right-back, Rafinha," Guardiola said, adding that Lahm "will play in midfield one day, but also compete with Rafinha the other."
Guardiola also stressed how crucial Lahm is to Bayern's success.
"I have said it many times that Lahm is our most important player. He is one of the most intelligent players I have ever coached.
"I am delighted to see him play in midfield. He reads the game well. But he has a lot of competition in midfield."