Jurgen Klopp: Liverpool must be better vs. Man United after Arsenal draw
LIVERPOOL -- Jurgen Klopp has challenged Liverpool to improve on their display against Arsenal when Manchester United visit Anfield on Sunday, but denied that his team only show their best in big games.
The Reds manager admitted he had "enjoyed" Wednesday's 3-3 draw against Arsene Wenger's Premier League leaders, but said better would be needed against United after defensive errors against the Gunners.
And they must produce it without centre-back Dejan Lovren, who has had to admit defeat in his bid to be fit in time.

Liverpool

Manchester United
Game Details
"From the performance against Arsenal, we have to improve -- see what we can do similar, what we can do better, what we shouldn't do again," Klopp told his prematch news conference on Friday.
"If we take the right information, we can do better -- and we will need to do better. I enjoyed it against Arsenal but I think we can do better. Everyone who was in the stadium on Wednesday, if he or she could get a ticket, let's do it again."
Despite the defensive concerns, holding the league leaders continued the pattern of Klopp's time as manager, in which the better performances have come against expected title chasers.
Liverpool have mixed wins at Chelsea and Manchester City with feeble displays in losses at Watford, Newcastle and West Ham, but Klopp insists there is nothing in this.
"Winning is always important -- the problem is, if it was so easy to win against Man City, Chelsea, or draw with Arsenal, everyone could do it," he said. "All these games were completely different.
"Confidence is important but it's not only that you can get it in 'big' games. You can't decide which games you want to win and which not; you have to take all the points you can.
"We have been not too bad in games like this, but we could have done better in all these games."
The manager added he was prepared to be patient while Roberto Firmino, who starred against Arsenal as the spearhead of the Liverpool attack, develops as a player.
But Klopp disagreed with the suggestion that the 22-year-old, who scored twice on Wednesday, cannot thrive as a striker or false No. 9 against opponents who sit back, saying: "Chelsea not defensive? Arsenal too -- I saw a lot of players between Roberto and the goal when he scored the [second] goal.
"Now it's a good moment for him, but he was also good at Stoke, so he's not only a 'big team player.' He's young enough to do much better. It was good [against Arsenal], so we can go on and try to be better. He's learning: when to go where.
"But he has not played there for 500 games. We're always working on it but there's not enough time between games to always see a big change. Everybody needs time, and Firmino needs time. He's been playing very often, with no chance to recover."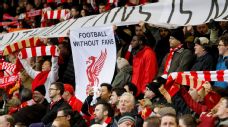 The players who had made comebacks from injury against Arsenal had all come through unscathed, Klopp said, although he joked that veteran centre-back Kolo Toure was "still in the ice bath."
That means that Jordan Henderson (heel), Mamadou Sakho (knee), Jordon Ibe (hamstring), James Milner (calf) and Toure (cramp) are expected to continue in the side on Sunday, while Lovren must wait to make his return at centre-back from a hamstring tear.
Klopp did not confirm or deny rumours that Liverpool had struck a pre-contract agreement to sign Schalke centre-back Joel Matip on a free transfer this summer, adding: "There is nothing to say about it. If and when something is fixed you will be the first to know."