Mauricio Pochettino should ignore Man United rumours and stay at Tottenham
There is so much to admire about Mauricio Pochettino's work at Tottenham, it's difficult to know where to begin.
Take Saturday's 1-0 battering of Watford. Afterwards, a seasoned member of the press was asked by another for his man of the match. He chose Kieran Trippier, which was derided as a "safe pick" (Trippier scored) by an advocate of Christian Eriksen. Someone else chose Mousa Dembele; Ben Davies and Eric Dier were also suggested.
Tricky, because Pochettino has created a Spurs team that is greater than the sum of its parts, routinely rendering post-match player ratings articles redundant.
Try to remember when a Spurs player was significantly better than his teammates. Eriksen at Swansea, perhaps? Dele Alli at Crystal Palace? (Nope, the teenager was quiet before his seminal moment of brilliance.) Dembele weekly, maybe? (Spurs seem to win when the Belgian is fit and draw when he's not.) Harry Kane at Bournemouth? Erik Lamela versus Man City?
Even in defeat, Spurs' players are on a level. The 2-1 home loss to Newcastle, their only wretched display of the season, was uniformly bad.
Pochettino's team is a well-licked machine with replaceable parts. It's impossible to name Spurs' first choice full-backs or say which attackers are best behind Kane. If you squint hard enough, Kevin Wimmer becomes Jan Vertonghen.
The individual improvements, too, have been remarkable. Dier and Alli -- shoo-ins, you'd think, to be among Roy Hodgson's midfielders at Euro 2016 -- started the season as an out-of-position centre-half and a League One rookie. Dembele and Lamela were supposed to be expensive flops, Davies and Trippier inexpensive back-ups.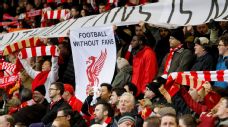 Leicester City's remarkable title charge -- increasingly resembling a Football Manager save with a glitch -- is the story of the season but it's impossible to ignore Pochettino's work.
Which brings us clumsily to Manchester United, who apparently aren't ignoring it.
Tottenham laughter at suggestions that United want Pochettino has an anxious edge because, despite the clubs' opposing trajectories, there's a hierarchy and United remain above Spurs.
In this case, however, position in the food chain shouldn't be enough alone, because it's difficult to guess what Pochettino would gain by swapping London for Manchester.
More money? Yes, but Pochettino is due a new contract at Spurs and given his work he can demand a significant pay-rise from club chairman Daniel Levy.
A significantly bigger transfer budget? Yes, but Pochettino has repeatedly stressed that his "philosophy" is not to sign new players, but to promote from the academy, a policy at odds with Ed Woodward's brand-building Galactico-desires.
A better squad? No. Pochettino is a striker, a centre-half and a defensive midfielder away from having a Spurs squad wanting for nothing, whereas United's is as mismatched as any in the Premier League.
A better structure? No. Pochettino recruited Paul Mitchell from Southampton as Spurs' head of recruitment and has great faith in academy chief John McDermott, a gruff Yorkshireman who rejected the chance to move to United last month. United are still looking for their McDermott and have no effective link between the manager and Woodward.
Better prospects? Not really. Spurs have a reputation as a selling club but there is nothing to suggest that their gems will leave this summer. Eventually Kane and Alli may be lured to Real Madrid, but so was Cristiano Ronaldo. In the immediate future, Pochettino can look forward to his young squad getting even better -- a frightening prospect for the rest of the Premier League.
There's also the likelihood of Champions League football next season, while United slog it out in the Europa League. There is also the construction of a new stadium to rival the finest in the world and boost Spurs' global reach and brand (areas where United are significantly ahead, admittedly).
Pochettino is ambitious and he jumped ship at Southampton at a similar stage. Only after Pochettino's recruiter, former Southampton chairman Nicola Cortese, had departed did it become clear that Saints' squad was facing decimation. Pochettino's Spurs may be contenders for the title, but his project is unfinished and at United he would have to start from scratch, using time and transfer windows to rid the squad of the unwilling and unable, while instilling his methods.
While Jose Mourinho remains the front-runner, Pochettino is a great fit for United. After the appointment of David Moyes, Sir Bobby Charlton, the embodiment of United's values, said the club had "secured a man who is committed to the long-term and will build teams for the future as well as now...and recognises the importance of bringing young players through and developing them alongside world class talent."
That describes Pochettino to a tee. The Argentine frequently says he is working for both the future and the present, and has spoken of his "perfect mix" of youth and experience at Spurs.
Pochettino at Old Trafford would be fascinating: Would he spend? Would he discard Wayne Rooney? Yet while Tottenham remain the smaller fish, they are swimming faster and more gracefully.
Pochettino should chose football over finance, and stay put.
Dan is ESPN FC's Tottenham correspondent. Follow him on Twitter: @Dan_KP.