Premier League neutrals on whether they want a Leicester title win
Leicester's incredible rise from the relegation zone last season to leading the Premier League 12 months on is one of the most remarkable situations in modern football history.
Claudio Ranieri's men have captured the imagination across the world for their blistering counter-attacking style and they face a title showdown this Sunday away to Arsenal, who are five points behind.
Arsene Wenger recently claimed Leicester are the neutrals' choice to win the Premier League. Do you agree? While you can guess what our Leicester blogger said, we asked our remaining 19 Premier League correspondents on whether they're backing the Foxes -- and with some exceptions for those in the title race, the feeling is pretty clear ...
Arsenal
Tom Adams: Leicester emphatically deserve to win the league, they have the two outstanding players in Riyad Mahrez and Jamie Vardy, they play a fearless, exciting brand of football and if they pull it off, in the era of the super club, it would be the greatest feat in the history of English football. From a neutral perspective, how can you not want them to win the league?
Verdict: Yes
Aston Villa
Kevin Hughes: A new champion keeps the Premier League fresh and prevents it becoming predictable. If either Leicester or Spurs win it, I'll be happy.
Verdict: Yes
Bournemouth
Steve Menary: Leicester winning the title and Bournemouth winning the FA Cup would be brilliant for football.
Verdict: Yes
Chelsea
Mark Worrall: Forgetting supporters of Arsenal -- although fair play to Tom Adams here -- Spurs and perhaps Manchester City, I can't think of anybody who loves football that doesn't want Leicester to win it; certainly given the connection with ex-Chelsea manager Ranieri, all Blues followers are behind them.
Verdict: Yes
Crystal Palace
Jim Daly: Ranieri winning it with this side would give all fans of clubs outside the traditional top four hope they can do it one day.
Verdict: Yes
Everton
Luke O'Farrell: However this ends, they deserve immense credit for proving that money is not everything and you can bridge the gap in other ways, yet their rise to the top also underlines how Everton have failed this season.
Verdict: Yes
Liverpool
David Usher: Leicester winning the title would blow away the notion that success can only be achieved by spending ridiculous amounts of money, and also expose the hierarchy at the likes of Arsenal and Liverpool who have long blamed a lack of spending power as an excuse for being unable to win the title.
Verdict: Yes
Manchester City
Simon Curtis: Although City might still find it in themselves to win the title, Leicester have clearly won the hearts of a nation with their fearless, attacking football.
Verdict: Yes
Manchester United
Musa Okwonga: Assuming that United are out of the running, then it would be great to see Leicester do it, given that they are a perfect example of how excellent scouting and superb tactics can bridge the financial gap.
Verdict: Yes
Newcastle
Lee Ryder: I'd love to see Leicester win it because this is a story Hollywood script writers would struggle to conjure up. It would be great to see the underdogs get one over the so-called bigger teams.
Verdict: Yes
Norwich
Paddy Davitt: Leicester's rise is a great story but Tottenham have been fantastic home and away this season with a young, exciting core of domestic talent that bodes well for both them and England.
Verdict: No
Southampton
Alex Crook: Leicester winning with a first XI that costs around £22million would make many clubs rethink their outdated transfer policies.
Verdict: Yes
Stoke
James Whittaker: The dream of a "smaller club" upsetting the established order and winning the title is what football is all about!
Verdict: Yes
Sunderland
Colin Randall: Anyone with a shred of romance and not supporting a team also in contention should rejoice at the prospect of Leicester as champions.
Verdict: Yes
Swansea
Max Hicks: Leicester winning it would give every club outside the elite something to aspire to, other than the odd cup run.
Verdict: Yes
Tottenham
Ben Pearce: If Leicester win the title it would surely be one of the greatest surprises and achievements in the history of sport -- but Tottenham are also chasing their first league crown since 1961 so there would certainly be an element of frustration and the feeling of a missed opportunity if they are pipped by a team that were bottom of the table this time last year.
Verdict: No
Watford
Michael Moruzzi: Whether Leicester's intrusion at the top of the table is a sign of things to come remains to be seen, but if nothing else it enables smaller clubs to dream.
Verdict: Yes
West Brom
Matthew Evans: It is a breath of fresh air to see an unfashionable team competing against the top clubs, particularly a side with such an all-action style, epitomised by the way Vardy has played this season.
Verdict: Yes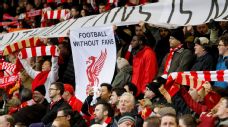 West Ham
Peter Thorne: Everyone loves an unlikely fairy tale and Leicester winning the title would be a huge boost to the Premier League by proving a well-organised, enthusiastic team managed by a pleasant, unpretentious manager can sometimes be enough.
Verdict: Yes