Tottenham's Dele Alli shouldn't be compared to past England greats
Dele Alli has a penchant for memorable moments. His astonishing game winner against Crystal Palace is just the latest, jaw-dropping example of a seven-month stretch since being called up to the England national team which has included a 30-yard rocket and an array of "Vineable" nutmegs and tricks that would make anybody this side of Lionel Messi and Ronaldinho jealous.
At the tender age of 19, Alli is starting to get the full star treatment, with comparisons to the likes of Frank Lampard and Steven Gerrard beginning to pour in. And really, who else would you compare to a precocious goal-scoring English central midfielder?
The comparison is a rite of passage that all English midfielders go through. It has happened to Ross Barkley and Jordan Henderson, to Jonjo Shelvey and Fabian Delph. Heck, it has even happened to Jack Rodwell. That's quite a disparate group of players in talent, skill level and style, and of course Gerrard and Lampard themselves were distinctly different players. What they all have in common, though, aside from being English, are games that defy precise positional labels.
Midfielders get labeled by shorthand. Call a player a defensive midfielder and it comes with a set of assumptions. Their positioning is conservative. They operate as a shield for the back four to make sure opposition attackers have neither the time nor space to run at the defence. Often they are required to distribute the ball, but it may not be their forte. Range of passing is a bonus, defence is a necessity.
Call somebody an attacking midfielder and the opposite is true. Similar to calling a player a No. 10, it conjures up images of creativity, clever reverse balls for lurking strikers, a deftly executed dribble leaving two defenders sprawling in their wake, a tiny pocket of space turning into a perfectly curled effort into the far corner of goal.
Then there's the box-to-box guys, the midfield try-hards. Less skilled than attacking midfielders, they make their contributions simply by getting into the box to make up the numbers. They contribute not by beating the defender tasked with guarding them, but simply by getting into position before their opposite number can. Equally they contribute on defence by getting back into position before attackers get down the field. They are, in effect, a walking, talking set of lungs.
How players, especially midfield players, get labeled has a huge impact on how their game is perceived. Lampard and Gerrard defied those labels, and so when young players like Alli break through and show promise, but are also hard to label, the easiest thing to do is compare them to other players who defied labels. It's understandable, it's also a giant disservice to all of the players involved.
For starters, Gerrard and Lampard weren't particularly similar players. Lampard's most notable strength was obviously his goal scoring, that ability to show up with a late run in the box at exactly the right moment to finish off a move. Beyond that, he was an underrated passer, and an understated one, a midfielder more able to manage the game while on the ball than crack it open. Defensively he was ready, willing and able to effectively handle a number of different roles, from advanced pressing to shielding the back four, and do them all competently.
Gerrard was the exact opposite in some ways. At his peak, asking Gerrard to fill a specific role was a waste of his talents. Rather, by constructing a team that freed him of specific responsibilities, mainly by putting behemoths Xabi Alonso and Javier Mascherano behind him, Gerrard had the freedom to use his dynamic skill set to change games. Lampard could fill any role needed. Gerrard would regularly change games provided he wasn't encumbered by those roles. Storming runs with the ball, pinpoint long-distance passing, wrecking-ball defense -- when he wasn't leashed to a position, Gerrard could do it all. Both were great, both scored tons of goals, both defied traditional positional labeling, but both were different.
The reason Alli is drawing the comparison now is that, like Gerrard and Lampard, he's scoring a lot of goals from a nebulous midfield position. Six goals in the Premier League translates to a rate of 0.32 non-penalty goals per 90 minutes. That puts him 21st overall in the league, and sixth among midfielders (though players like Alexis Sanchez, Raheem Sterling and Andre Ayew all technically get classified as midfielders ahead of him).
That gets the comparison started. Gerrard frequently created goals for himself, both from distance and by bursting into the box with the ball. Lampard had his trademark late runs into the box to finish. However, Alli's go-to move is something else entirely. Spurs rely on Alli to make long runs into the box without the ball. Striker Harry Kane drops deep taking concerned central defenders with him and Alli crashes into the space he leaves to get onto the end of balls over the top. It's a crucial leg of Spurs' attack, especially when teams try to crowd them and take away their midfield space.
And the further you dig into Alli's game and his role with Spurs, the less he looks like those two midfielders who continue to cast their shadow over this generation of English midfield talent. Alli is not an integral part of Spurs' build-up play. Among regular Spurs midfielders only Eric Dier (a young English midfielder who fits very comfortably under the defensive midfield label) takes fewer attacking-half touches.
While Spurs are moving the ball down the field, Alli is doing more work away from the ball than on it. His role on Spurs is simply not one which prioritizes picking passes. That's not a criticism. In a team which frequently features Christian Eriksen and Erik Lamela -- both of whom can and do provide creative spark -- Alli's job, at least so far, is to take advantage of it. Imagine saying that about Gerrard or Lampard, or even Ross Barkley or Jordan Henderson.
Defensively Alli is unique as well. He's a critical part of a Tottenham team which presses aggressively. Alli averages the 13th-most defensive touches in the Premier League per 90 minutes, but he's only third on his own team, behind Mousa Dembele and Lamela.
Alli, who had developed a reputation for liking to mix it up while still in League One, walked into a system which asks him to channel his aggression into an energetic press. And so far it seems like Mauricio Pochettino has managed to harness that aggressiveness to a purpose. Unlike Gerrard, who could be a pit bull when he was freed from a system, Lampard could play a number of different roles within a system. Alli so far seems to be benefiting from playing in a system to which he is naturally suited.
So far, the rising Tottenham and England star has been better than anybody could have hoped since he has come into the Premier League. It's natural to get excited about both how good he is right now, and how great he could be for the coming decade. But comparisons to Gerrard and Lampard are self-defeating. In fact, the unlikelihood of any young talent achieving the heights those two stars did makes the question itself self-defeating. Part of the reason that Gerrard and Lampard became so iconic was their stylistic distinctiveness, the fact that the way they played wasn't easy to categorize into a predetermined role. By expecting young players to follow in their footsteps and play like they did, it inhibits them from developing their own style, and doing the very thing that made those two players great.
It's difficult to divine Alli's path to stardom at such a young age. Maybe as he ages he'll drop deeper on the field and add a passing component to his game. Maybe his already impressive physical presence will mature further, and he'll turn himself into an aerial threat in the final third as a way to contribute more goals, pushing further up the field from his midfield role, rather than dropping further back.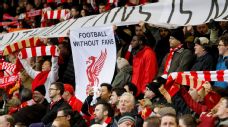 Eventually as the years roll on he'll probably play in a less-structured, less-aggressive defensive system. Perhaps he'll have added responsibilities that will take away from his aggressiveness, or he'll have fewer and have the freedom to hunt the ball all over the field.
Perhaps his defensive instincts will become so sharp that a defensive scheme will be built around him, or conversely his finishing might become so potent that schemes are designed to lighten his defensive load and let him conserve energy to score and create goals. Or maybe none of that will happen. Maybe his career will plateau and he'll just be a pretty good player who had a couple of amazing highlights early in his career. He's 19, and the future is vast and unknowable.
The point isn't to predict what Alli will become only 23 games into his Premier League career. If Alli (or any other young English midfielder) is ever going to accomplish what Frank Lampard and Steven Gerrard did, he won't do it by being the next Lampard or Gerrard. He'll do it by being the first Dele Alli.
Mike L. Goodman is a Washington, D.C.-based soccer writer and analyst covering European soccer, the U.S. Men's National Team and more. Follow him on Twitter @TheM_L_G.