Why Liverpool vs. Man United is one of football's greatest grudge matches
The last thing Louis van Gaal needs is a Sunday afternoon at Anfield. The Manchester United manager's position is precarious. The Dutchman might not survive a loss to Liverpool. Losing is one thing. Defeat to United's hated rivals is quite another.
Forget the Clasico. This is one of the greatest grudge matches in world football. It is a fixture as intense as any of the game's big rivalries. Anfield is always at its most ferocious when United come to town -- and Old Trafford provides reciprocal animosity when Liverpool visit.
It is not about results or league positions. The enmity between the teams and the cities is more deep-seated than that. Its roots are cultural and historical and all the more satisfying for it.
United's badge is an affront to Merseyside. It features a three-masted sailing ship -- as Manchester City's does, too. Manchester is landlocked and 35 miles away from the coast. This inland mill town built a ship canal to circumvent the port of Liverpool. The ghost of economic conflict in the 19th century surfaces every time these teams play.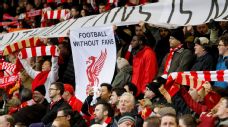 There are fewer similarities than you might expect in two conurbations located so close to each other. The accents could not be more distinct. The humour is very different. There is a theatrical mistrust between the two communities. Gary Neville told a United fanzine a decade ago that he disliked Liverpool. "I can't stand the people," he said. "I can't stand anything to do with them." Sanctimonious commentators were appalled. Many Scousers recognized Neville's honesty and appreciated it. They felt the same way about Mancunians.
The cities, barely more than a day's walking distance from each other, feel remarkably different. They judge their achievements -- in music, fashion, politics, arts and literature -- in comparison to those of their neighbours. Merseyside can take the upper hand in music, courtesy of The Beatles, and can claim to have invented terrace fashion. Manchester has produced better literature, was majoring in groundbreaking politics when Liverpool was still an establishment city, and has a more vibrant artistic scene.
Football, though, is the main battleground. The two dominant clubs in the Northwest have come to symbolize the aggressive pride of their respective home towns.
Do modern players and managers understand the roots of the rivalry? Almost certainly not. However, the enduring antagonism is infused into the DNA of both clubs. Liverpool's approach to the Luis Suarez-Patrice Evra racism incident almost certainly would have been different if any other team except United had been involved. Kenny Dalglish was fixated on not backing down before Sir Alex Ferguson and Old Trafford. Reactions become irrational when these sides face off, on or off the pitch.
United became a global club earlier than Liverpool and can still boast a bigger fanbase. The Munich Air Disaster in 1958, when eight players and three staff members were killed in a plane crash along with 12 others, brought Old Trafford a worldwide wave of sympathy that transcended football. When Matt Busby, a former Liverpool captain, took the club from the ruins of Munich to win the European Cup a decade later, United were well-established as the best-supported team in England. It was a remarkable achievement but Busby's team stagnated quickly after that high point in 1968.
The goodwill toward United remained even as the club went into deep decline in the early 1970s. They even spent a year in the second tier after they were relegated from the top flight in 1974.
Liverpool's rise was concurrent with Old Trafford's fall from grace and resentment festered on both sides. At Anfield, they wondered why United received so much positive publicity when success eluded the Manchester side -- they went 26 years without winning the title. United were media darlings even though Liverpool won 11 titles and four European Cups before their rivals won the league again.
Everything changed in the 1990s. By then, Liverpool had been destabilized by their own tragedy, at Hillsborough in 1989. United were way ahead of their peers in exploiting financially their huge fan base and they became the dominant side in the newly founded Premier League after 1993.
Under Ferguson, they ruled the domestic game. Yet they trumpeted their achievements in relation to their main rivals. "My greatest challenge was knocking Liverpool off their perch," Ferguson said. The unedited quote contains a percussive and explosive obscenity that illustrates how bitterly the Scot felt toward Anfield. The deep, ingrained antagonism flared up anew as Liverpool embarked on their own 25-year title drought -- one that is still racking up the years. In that time, United have won the Premier League 13 times and added two Champions Leagues.
The weight of history hangs over this match. It will be visible on Sunday. The tackling is more intense, the pace more frenzied and the disappointment of defeat more painful. Liverpool's derby against Everton and United's versus City are keenly fought, but there is an extra edge to this game.
Steven Gerrard's sending off last season, less than a minute after being introduced as a substitute at half-time, typified the mood of the game. The Liverpool captain could have been sent off for a challenge on Juan Mata before he went on to earn his marching orders for a stamp on Anders Herrera in his 38 mad seconds on the pitch. Like Neville, Gerrard is a local boy infused with the history of the fixture. Neither player would give an inch in these games and both tended to go too far for a referee's satisfaction in the heat of the moment. They were loved on the terraces for that quality.
Perhaps the intensity will go out of the matchup as the balance of both clubs' fan base edges more toward global than local. It is the same on the pitch. United's 3-1 win at Old Trafford in September was the first time in Premier League history when neither side had a Mancunian or Scouser playing for their team.
It would be a shame, though, if the vendetta faded. The rivalry brings out the best -- and occasionally the worst -- in both sides.
On Sunday, there will be plenty at stake. But Van Gaal will merely be a footnote in the long tradition of this fixture. The three points are almost tangential. The pride of two cities is on the line, the mood of a region will depend on the result. The game is about more than football. That's what makes it so important to both sets of fans.
Tony Evans has been a sports journalist for more than 20 years. He writes for ESPN FC on the Premier League. Twitter: @tonyevans92a.