Leicester City don't need luck in race for Champions League places
Everybody's still waiting for the clock to strike midnight on Leicester City's remarkable season. Nothing has been able to slow the Foxes down. Sure, they endured a 373-minute scoreless streak in the league, but Robert Huth's late winner against Tottenham Hotspur at White Hart Lane not only ended that streak, it also propelled Leicester back to the top of the table level on points with Arsenal.
The Foxes went more than four games' worth of minutes without scoring and yet still, somehow, didn't suffer for it in the table. The season is now 21 games old and everybody else is quickly running out of time to chase down the league's biggest surprise. When it comes to qualifying for the Champions League, time is decidedly on Leicester's side.
How hard will it be for other contenders to catch Jamie Vardy, Riyad Mahrez & Co.? The easiest way to start answering that question is looking at how many points they'll need to assure themselves of Champions League qualification. In the past five seasons, the fourth-place finisher has had an average of slightly less than 72 points. Leicester City, with their 43 points from 21 games are obviously a good deal of the way to that total already. To get to that magic number, they'd only need to take 29 points from their remaining 17 games. That gives them a bunch of wiggle room.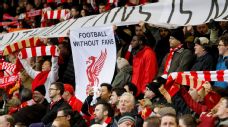 Right now they're accruing 2.05 points per game, on pace for almost 78 points over the course of a season. Down the stretch, they could play at a 1.7 points per game average (a rate that over a season gets about 65 points) and still clock in at 72 points. In effect, that means that even if they play like a Europa League side for the rest of the season, they'll get enough points to expect to qualify for the Champions League.
That 72-point figure is only a rough estimate, though. Two years ago, for example, Arsenal finished fourth with 79 points but that figure gave them a seven-point cushion over fifth-place Everton. And over the time frame we're looking at, the fifth-place team has finished with as few as 62 points (Tottenham in 2010-11). It's not just about what arbitrary point total Leicester need to get to, it's about how likely it is that the teams behind them will catch up. And breaking the numbers down that way paints an even rosier picture for the Foxes.
In order to not qualify for the Champions League at the end of the season, Leicester would need to finish behind Arsenal, Manchester City and two other teams; there is at least a theoretical chance that Leicester and either Arsenal or Manchester City could plummet down the table in the next few months, but the chances of that are vanishingly small enough to ignore at the moment.
Right now, a quick look at the table shows a chase pack of Tottenham, West Ham and Manchester United, seven eight and nine points behind Leicester. If they kept their current pace, those teams would finish the season on 65, 63, and 62 points respectively. If everybody played the rest of the season at the same level they have so far, Leicester could finish third with 66 points, a total that would demand only 1.35 points per game from them over the remainder of the season -- a 51-point pace. In this scenario, all Leicester would need to do is play like a midtable team the rest of the way and they'd finish third.
Looking at their remaining schedule, it's extremely easy to chart a path to the 23 points they need to get to 66. They have an easy slate of home games remaining against Norwich, West Bromwich Albion, Newcastle, Southampton and Swansea, and away games at cupcakes Sunderland and Aston Villa. Win those seven and the team would only have to draw twice against the trickier set of opponents like Everton, Stoke, Liverpool and West Ham at home or Watford and Crystal Palace away.
Take care of business in those matches and it would become a moot point that away matches against Arsenal, Manchester City and Manchester United remain on the schedule. Leicester can perform quite averagely over the rest of the season and still coast into a top-four spot if the teams behind them don't improve dramatically.
So, just how much better do the likes of Spurs, West Ham and Man United have to get in order to knock Leicester off their unlikely perch? Well, in order to get to the average fourth-place total of 72 points, the one that Leicester can arrive at by playing like a Europa League-caliber side, Spurs would need to play at an 80-point pace from here on out, West Ham at an 83-point pace and Manchester United at an 85-point pace. In other words, two of those three teams will have to start playing like title contenders to even push Leicester City to the point where they'd have to play like a fifth- or sixth-place team the rest of the season.
It's possible to do these types of calculations with the rest of the Champions League hopefuls as well. Liverpool, for example, would need to play at a 92-point pace the rest of the way to finish with 72 points, or a 78-point pace to finish at 66. The Merseysiders would basically need to play as well as Leicester have so far this year while having Leicester turn into Everton in order for both teams to finish at the same place in the table. Stranger things have certainly happened, like perhaps Leicester sitting on top of the table in the first place, but not a lot of them.
Even if Leicester City are fortunate to be where they are in the table, it's no longer enough for the teams chasing them to hope that luck evens things out. The Foxes have taken the fifth most shots on target in the league and conceded the sixth fewest. Looking at expected goals, they're an elite attacking side (despite the recent drought) with the third most expected goals in the league with 37 and a bang average defensive team with the 11th most expected goals conceded at just under 30.
Those are the numbers of a team that is definitely lucky to be sitting on top of the league, and would be somewhat lucky to be in the top four, but not one that would be at all lucky to be hovering in fifth or sixth. And if Leicester play like that the rest of the way, it's hard to imagine two teams catching them.
Usually when an unlikely candidate surges to the upper echelons of the Premier League table, time is not on their side. The grind of a 38-game Premier League season inevitably wears lesser teams down as the usual favourites reel them back in. This year, that script has flipped.
Leicester are far enough ahead, late enough in the season, that even if things go back to normal the rest of the chasing pack will need luck on their side to catch them in the race for the top four. With 17 games remaining the gap between Leicester and the likes of Spurs, West Ham and Manchester United is just too large to expect two of those three teams to overcome it without a heaping plate of good fortune along the way.
Usually it's the underdog that needs to get lucky. This season, if the Foxes are going to finish outside the top four, it's everybody else.
Mike L. Goodman is a Washington, D.C.-based soccer writer and analyst covering European soccer, the U.S. Men's National Team and more. Follow him on Twitter @TheM_L_G.