Pep Guardiola's arrival will make 2016 the year of the manager in England
It took less than 48 hours for Jose Mourinho's intentions to be revealed after he was jettisoned by Chelsea. "He will not be taking a sabbatical, he isn't tired, he doesn't need it, he is very positive, and is already looking forward," read a statement from representatives Creative Artists Agency last Saturday lunchtime. "Jose will remain living in London."
No return to Portugal for anything other than a family break, no lobbying for a lucrative contract in Turkey at Christmas and only the faintest whisper of a return to Real Madrid to succeed favourite foe Rafa Benitez.
Instead, Mourinho will remain in the country that, in the age of the superstar coach, has become the place to be. If he is to prove that the last four months, where Chelsea slid from champions to relegation battlers, were but a blip, then England -- the place that during his six-year absence at Inter Milan and Real Madrid he would regularly describe as his "natural habitat" -- is where he would like to show it.
The English Premier League's pretensions of being the best league in the world are being ruined by its clubs' performances in the Champions and Europa Leagues, and the absence of the likes of Lionel Messi, Cristiano Ronaldo and Neymar. Still, 2016 looks like being a year where the management game's elite make their homes in England.
The money is good, as a multi-billion-pound TV deals flow in, and the competition is stronger than anywhere else. No English champion has defended their title since Sir Alex Ferguson's Manchester United made it three in a row in 2009. Winning a title in England is a much-desired addition to a football manager's resume.
Pep Guardiola, his departure from Bayern Munich confirmed for the summer, holds the key. At Manchester City, clear favourites to land Guardiola's signature, even current incumbent Manuel Pellegrini has admitted that he wants the former Barcelona coach to succeed him "because I love this club."
And Guardiola's potential availability may well have slowed United's haste in sacking the struggling Louis Van Gaal and turning to a freely available Mourinho. ESPN FC sources suggested that United officials have "upgraded" their contact with the Guardiola camp.
Down in London, football's rumour-mongers have increased the chatter that Arsenal are considering joining the chase if either Arsene Wenger decides to step aside this summer or Guardiola takes a sabbatical, as he did after leaving Barcelona in 2012 before heading to Germany the next year. That timeline would fit in with Wenger's retirement schedule.
Though Wenger has been critical of the Guardiola announcement and its possible side effects on his fellow managers, he did not spare his admiration for the Catalan's genius capabilities. "He wants his team to play football in a positive way," Wenger said. "I respect that highly."
Meanwhile, Chelsea have Guus Hiddink temporarily in charge as options are considered. Owner Roman Abramovich has tried to lure Guardiola to Stamford Bridge before. The club's transfer business of the summer of 2012, in which ball players like Eden Hazard and Oscar were added to lighten the touch of a previously muscular team, looked like an act of attempted seduction, as did the employment of two stop-gaps in Roberto Di Matteo and Rafa Benitez, yet Guardiola chose Bavaria. The newspaper talk is of a "money is no object" bid from Abramovich this time.
Guardiola will end up disappointing three such suitors, perhaps all four should he instead look to recharge his batteries. Whatever his choice, the big names see England as the promised land. "The important managers always want to work here in the Premier League," Pellegrini said this month. "It is impossible not to want to work here -- especially if you have experience of working in other leagues."
Setting aside triple Champions League winner Carlo Ancelotti -- Guardiola's replacement at Bayern who did a two-year stint at Chelsea from 2009 to 2011, it is possible that the jigsaw puzzle could place big-name coaches at each major English club. Jurgen Klopp is already at Liverpool. His October appointment had the look of pre-emptive opportunism, as Liverpool shunted aside Brendan Rodgers to make sure that they got to the two-time Bundesliga champion first.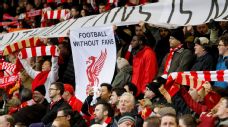 Mourinho's refusal to dig out Manchester United in the fashion he has derided other opponents has long pointed to a reluctance to offend the brass at Old Trafford. Should Louis van Gaal's collapse in credibility force the club to make a decision, then the Portuguese looks in pole position, Pep permitting. The chance of Mourinho and Guardiola rivalling each other in one city looks like box-office gold.
"We don't know what will happen in the future, but now there is no agreement," said Mourinho's agent Jorge Mendes this week, hardly quelling speculation by doing so. There have been revived links with Paris Saint-Germain since Mourinho's sacking, but the French capital has the look of a fall-back.
For Mourinho's former post at Chelsea, another Mendes associate is widely rumoured to be on the shortlist. Diego Simeone's links with Atletico Madrid, a club where plenty of Mendes clients play, are strong and may take considerable persuasion to be broken. But the Argentinian's aggressive philosophy and rebel stance rather reminds of the first iteration of Mourinho at Chelsea from 2004 to 2007.
Should Simeone stay on in Spain, Antonio Conte, currently managing Italy and holder of three Serie A titles with Juventus, is another possible candidate. He, like Simeone, does not speak fluent English, but the lucrative lure of English football might soon change that.
With or without them, 2016 looks like being the year when England becomes home to the football world's coaching A-list.
John Brewin is a staff writer for ESPN FC. Follow him on Twitter @JohnBrewinESPN.