The rise of Leicester City duo Riyad Mahrez and N'Golo Kante
Five years ago, N'Golo Kante was playing for Suresnes, a small club in the suburbs of Paris, in PH, France's eighth division. The furthest he would go for a game on a Sunday afternoon would be a few miles east but still in the Paris area.
A year earlier, Riyad Mahrez, he, too, a pure Parisian boy and also born in 1991, was at Sarcelles in DHR, France's seventh division, a tier above than Kante.
On Monday night, Kante and Mahrez brought Chelsea to their knees with two incredible performances that would have made people in Surensnes and Sarcelles smile a lot. The two Parisians are ruling the Premier League with Leicester, top of the table after 16 games.
It's a proper fairytale story. Kante was born in Paris' 10th arrondissement, just by the Gare du Nord where the Eurostar departs for England. His parents are from Mali and he was one of nine siblings. Football was always everything to him. When he joined Suresnes, he was fast-tracked through all the youth teams up to the senior team where he played at 19.
Mahrez was born in Sarcelles, a deprived city just a few miles north of Paris. His father arrived from Algeria and his mum from Morocco a few years earlier. Again part of a big family, football was also at the centre of everything. He made his debut for the Sarcelles first team at 18.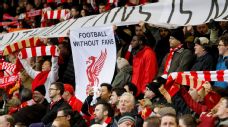 They are very different characters. Kante is the quiet one, hardly talks and is very religious. Mahrez is the louder one. Kante is the hardworking midfielder who never stops running, a machine of a player despite his small size. There is nothing that scares him. Mahrez is the magician, with a "hand in place of his left foot", as is said France. There is nothing he can't do with a football.
They also have a lot of similarities. The Paris link is obviously huge. They talked the same way, understand things the same way, grew up the same way. Both come from a council estate and are street footballers. They used to play for hours down their blocks with their mates from the neighbourhood. They developed their talent by playing against bigger kids, in all conditions, in small spaces. Kante has always compensated for his lack of technical ability by more work and more running. Mahrez was skinny growing up so he added in skills to what he lacked in physical strength. They always faced adversity. Kante was apparently too small (5-ft, 5-in) to make it while Mahrez was too lightweight and "only" technical.
But they never gave up. It's interesting to note as well that they never went through an academy, unlike most of the professional players. PSG, for example, showed interest, especially in Mahrez but nothing ever happened. Like Franck Ribery, Mathieu Valbuena, Laurent Koscielny or Leicester's own Jamie Vardy, they had to do it the hard way. Kante went to Boulogne, in the north of France to play first with their reserves in CFA2, France's fifth division, then with their first team in National, France's third tier before finally moving to Caen, in Ligue 2 and later in Ligue 1.
Mahrez left Sarcelles for Quimper, in the west of the country to play in CFA, France's fourth division before joining the Le Havre reserves also in CFA and then finally making it in Ligue 2 with the club's first team.
On Sept. 27th, 2013, they faced each other in Ligue 2. Caen won 1-0 thanks to a late goal on penalty. That evening, Leicester had a scout in the stands at the Stade Michel d'Ornano. Mahrez arrived in January 2014 and Kante followed last summer. And what a pair of great coups they have been for Leicester.
At 24, they are both a key part of the Foxes' success. Kante is the engine of the midfield. As manager Claudio Ranieri said after Monday's win against Chelsea: "He is amazing. He recovers all the balls, in this stadium, the other stadiums, everywhere!"
Mahrez is already a big contender for player of the season. In 15 Premier League matches, he scored 11 goals, one against Chelsea, and gave seven assists, including one against Chelsea. He has been unstoppable all season, except against Arsenal, the only defeat suffered by the Foxes this season.
And in Ranieri, another former French football employee who he spent two good seasons at Monaco (2012-2014), Mahrez and Kante have found the perfect manager. The Italian has given Mahrez all the freedom he needs to express himself. And tactically, he has already taught Kante a lot. His approach, like the 4-4-2 formation he played against Chelsea for example, suits the two players very well. He knew them from his time in France. He faced Mahrez in Ligue 2 in his first season at Monaco, from which he also followed Kante's progress.
Leicester's rise to the top of the Premier League has been astounding, and it is even more incredible to think that the base of that success in Mahrez and Kante, all started in the French lower leagues.
Julien Laurens is a London-based French journalist who writes for ESPN FC and Le Parisien. Follow him on Twitter: @LaurensJulien.