Are Man United, Liverpool, Arsenal's famous atmospheres in decline?
For a moment, Jurgen Klopp dragged his attention away from the pitch and looked around Anfield in disbelief, his side losing 2-1 to Crystal Palace with time running out.
Across the stadium, seats flipped up and people filed toward the exits. With 12 minutes left to play, there was still a chance that Liverpool might fight their way back into the game, but they would have to do it without the support of those who had apparently seen enough. Klopp, accustomed to the extraordinary support he experienced at Borussia Dortmund, said afterwards that in that moment he had felt "pretty alone."
It was something that Jay McKenna, chairman of supporters' group Spirit of Shankly, had seen coming weeks ago.
"I've been genuinely scared about what Klopp's going to think of Anfield," he told ESPN FC. "We've sold him on this idea that Liverpool are the Borussia Dortmund of English football and he must have turned up, listened to the Kop and thought, "Really? Are you sure? Have you put them all on mute?"
McKenna is not the only supporter concerned about the atmosphere in the Premier League, nor is Liverpool the only club that has seen its supporters shuffle out early after a quiet afternoon in the stands. English football has a long-standing reputation for generating noise, but many games are played out to an insipid soundtrack, particularly on Saturday afternoons.
"It's been a traceable decline since the terracing went," Barney Chilton, editor of Manchester United fanzine and website Red News, told ESPN FC. "My issue with Old Trafford, and it's clearly a problem elsewhere, is that the average age of season-ticket holders has crept up to farcical levels. Without a lower average, human nature dictates there will be more moans than bouncing about."
The Premier League say that the average age of a match-going supporter has held steady at 41 since 2010 and that an average of 3,937 junior fans attended every game last season, paying an average ticket price of £10.
So perhaps we must look elsewhere to determine why grounds aren't as exciting as they used to be. Ticket pricing is a major concern for supporters across the Premier League, primarily because of the impact it has on the wallet, but also for the effect it has on the identity of the crowd. The fastest contracting age group in surveys is the all-important, noise-generating 16-24 bracket. A BBC study in October 2015 found that most ticket prices had either dropped or remained the same, but the cost is still high for many.
The cheapest matchday ticket at Chelsea is an eye-watering £52. The cheapest season ticket at Arsenal is just over £1,000. A Guardian survey in 2013 revealed that the cheapest tickets in the Premier League were the most expensive in the major European leagues, and more than double those in Germany and Italy.
At Tottenham Hotspur, season tickets cost between £765 and £1,895. Many supporters feel that they are being priced out and there are concerns that the only people who can afford to buy tickets are not always the kind of people who can be relied upon to sing and shout.
"Just because you've got a bit of money, it doesn't mean you don't know how to support your club," Gary Flavell of the Spurs podcast The Fighting Cock told ESPN FC. "The majority of Spurs fans are well off. They have to be [and] ... the enthusiasm drops and they get disgruntled because they're spending so much money. The gap between the fans and the players has never been so wide. The more they get paid, the more we get charged. I was offered a spare ticket at face value for the game against Arsenal. It was £64! I work in London, I earn a London wage and I still can't justify that."
"I started going to Anfield when I was young," McKenna said. "I learned the songs because other people were singing them. Most of the time I paid for my tickets myself with the money I made from a paper round. It was a lot of money to me, but it was still a low-ish price to get in.
"But now, the danger is that those young people don't come through. You go to Anfield now and there are less young people in the ground. There are a few there, but with their parents, brought as a treat. It's not a regular thing for them. And if you've not picked up that bug of going to football matches as a kid, why would you start doing it when you're older?"
In 2014, a survey showed that season ticket prices at Premier League clubs had risen 189 percent above the rate of inflation since 1981. According to their calculations, the cheapest season tickets across the board should have been between £84 and £272.
The Football Supporters' Federation is keen to ensure that young fans can afford to go to games, and is equally focused on the young adult bracket.
"We'd suggest that an across-the-board 'young adult' price band would be a good thing, so that kids graduating to the adult price band aren't priced out while they're in full-time education, apprenticeships or minimum wage jobs. After all, it's often those fans who make the most noise."
However, the organisation's most visible campaign has been the Twenty's Plenty scheme that seeks to cap prices for away supporters at £20 to ensure a vibrant atmosphere at games.
"There's been some progress in recent years as supporter pressure has seen top-flight clubs introduce the £12 million Away Supporters Initiative," Michael Brunskill of FSF told ESPN FC.
"It offers help to travelling fans [often cutting prices or subsidising travel]. The FSF encourages clubs to do reciprocal 'Twenty's Plenty' deals. This has saved approximately 70,000 fans around £750,000 and Coventry City have promised that no fan visiting the Ricoh Arena will pay more than £20. We've found clubs especially willing to listen in relation to away costs as they recognise their value to the atmosphere and, ultimately, TV product."
The Premier League launched the Away Supporter Initiative for the 2013/14 season, a move that saw every club commit £20,000 per season on either discounting tickets or improving the away supporter experience. Stoke City put their money toward free coach travel to all away games. Tottenham Hotspur spent theirs chartering a plane for supporters to travel to Newcastle.
But not everyone feels negatively about the Premier League. Blogger Ed Perchard has been going to Vicarage Road to watch Watford since 1997 and he's seen his team reach the top flight on three occasions. He believes that the atmosphere has never been better.
"I'm enjoying it," he told ESPN FC. "There's a much better feeling around the club. A few years ago we had a singing group set up. Huge flags are made and handed out before the game. The [owners, the] Pozzos have come in, they've built the new stand and there's a really positive feel to the club. If it wasn't for modern football, we wouldn't have owners with fingers in pies across Europe. We wouldn't have these great players. We were in serious trouble in the past. We could easily have ended up like Blackpool, dropping down the divisions and scrounging for players."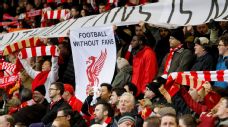 "I'm not against modern football," McKenna said. "I like being able to go to a decent toilet, I don't want to be exposed to the elements. Not all change is bad. You don't have to be one extreme or the other. Money has been invested in good stadiums. Anfield is a safer stadium, policing attitudes have changed to supporters. Progress is good. But the balance has slipped too far and it's affecting the atmosphere."
One of the reasons often cited for the lack of atmosphere is the introduction of the all-seater stadium, a response to the Hillsborough disaster of 1989 and a mandatory requirement in the Premier League. Terraces allowed supporters to congregate with like-minded and like-voiced fans, while allocated seating keeps them separated. Research in 2013 showed that many supporters were in favour of "safe standing" trials, but the Premier League remains unconvinced.
"The Safe Standing Campaign has made headway in more recent years," said the FSF. "Dozens of clubs have signed up and we're encouraging the Welsh Assembly to call for a safe standing pilot in Wales."
"I don't think the PL either cares or has the appetite to do something to actually improve the atmosphere with things like safe standing or cheaper mass junior tickets" Chilton said. "Until the stadiums aren't full, little will be done. But a downturn will come. The average age is rising and those fans are unlikely to be immortal. But will clubs have left it too late to entice the younger generations that have so widely ignored?"
"Full grounds and vibrant, passionate atmospheres are a fundamental characteristic of Premier League matches," a Premier League spokesperson told ESPN FC, "and one reason the competition is so popular at home and abroad. Premier League clubs want this to remain the case, providing offers throughout the season, especially focused around younger fans and away supporters."
The debate over the price of tickets is an old one and some responses, particularly from non-match-going supporters, are entirely predictable. It's free market economics, say many people. And if you don't like it, just go somewhere else.
Flavell, who can still describe in detail the sights, sounds and smells of the first game his father took him to in the early 1990s, is horrified by the suggestion that he could simply go to watch nearby Barnet in League Two. "Barnet?" he said, laughing. "I couldn't do that! I'm Tottenham! And this is the problem. They've got you by the bollocks. But go somewhere else? How could I? This is the team I fell in love with."
Iain Macintosh covers the Premier League and Champions League for ESPN FC. Follow him on Twitter @IainMacintosh.