Martial and De Bruyne the headline acts for United and City in derby
Manchester United face Manchester City in the derby at Old Trafford on Sunday, with local pride and a place at the top of the Premier League at stake.
Both sides tasted glory last season; City when they edged past 10-man United at the Etihad and Louis van Gaal's men thumped Manuel Pellegrini's side 4-2 at Old Trafford.
Scott Patterson (United) and David Mooney (City) tackle the 50-50 Challenge ahead of Sunday's showdown.

Manchester United
Manchester City
Game Details
Make a case for why you'll win this one
Scott Patterson: Van Gaal can never be accused of not doing his homework on the opposition, so you would imagine he has something in place to combat City's attacking threat. Whether the players can execute his game plan is another matter, but after his "surprise" over how United started the game against Arsenal, you imagine he will be drilling into the players so the same mistakes aren't made again.
In terms of United on the attack, Juan Mata has been scoring or assisting in most games so far this season, Anthony Martial isn't overawed by any occasion and Ander Herrera can make a huge difference, in terms of his ability to win the ball back as well as help getting it into the back of the net.
David Mooney: As Scott alludes to, City's attacking threat makes them a fearsome proposition this Sunday. The movement between Kevin De Bruyne, Raheem Sterling and -- to a lesser extent -- Jesus Navas behind Wilfried Bony has been superb and the amount of space it has created for the team to exploit means somebody should be able to benefit. If City can keep the ball moving inside the United half quickly and keep their passes accurate, then it could be too much for the hosts to deal with.
How important is Sunday in the context of the season?
DM: It's a tricky one, this. The Manchester derby is an important occasion and it means a lot for the fans to win it, but at this stage in the season, the gap at the top is largely irrelevant as there's plenty of time to catch up. Whether City finish Sunday five points ahead of United or a point behind makes little difference with three-quarters of the season remaining. At this stage, though, it'd be great for the fans if City started pulling away from the rest of the division. In terms of momentum, it could be crucial. It's no secret City are struggling with injuries -- so a big win could do wonders for confidence.
SP: I'd have to agree that it's hard to argue that this game will have a huge impact on the season as a whole. Going a point clear of City would be a great boost but at this stage, 10 games in, the result is unlikely to make a big difference.
Danger Men
DM: The fact the price tag for De Bruyne is rarely being talked about tells you just how well he's settled in. He's got five goals and four assists in nine games for City and has been a revelation from the moment he was introduced against Crystal Palace for the injured Sergio Aguero. United have a similar situation with Martial. His transfer fee was ridiculed to begin with, but that talk has died down since he's put in some excellent performances and scored some vital goals. He's probably got more to prove than De Bruyne, but he's certainly showing that he's got what it takes to make a good Premier League striker right now.
SP: De Bruyne, 24, has five years on Martial. At 19, the former Chelsea man was still at Genk, scoring a handful of goals in the Belgian league. That makes no difference for Sunday, of course, but United fans have every right to be excited about the Frenchman's potential. Martial is certainly United's most exciting player but Herrera could prove to be the most important. When at his best, he has a bigger impact on United's attack than any other player but the problem is, he can't always be relied upon to give those sort of performances.
I never enjoyed watching Sterling play against United for Liverpool. Even if he rarely did much damage, he always looked like he was capable of it. Playing in a better team means he could pose a bigger threat, but it's hard to look past De Bruyne as City's main man.
Key Battle
DM: This could depend greatly on how Manuel Pellegrini sets up his team. He could opt for five men in midfield, with De Bruyne in behind Bony -- moving Navas and Sterling to the wings -- or he could move the Englishman up front in more of a 4-4-2 formation. Either way, the game could hinge on how United deal with De Bruyne.
If he's in the middle, they may choose to put Morgan Schneiderlin up against him, while if he's deployed on the right then it could be how Daley Blind copes with him on the home side's left.
For City defensively, normally it would be Wayne Rooney seen as the dangerman -- but even United fans seem to be losing faith in the forward and the focus seems to have moved towards Martial. How Vincent Kompany -- or a so far below-par Nicolas Otamendi -- deals with him could swing the match too.
SP: I'm looking forward to seeing how City's backline cope with Martial, although the job will be easier if he's played out wide to accommodate Rooney again, which is what you would presume will happen. Schneiderlin will hopefully be the difference, with his absence proving so costly away to Arsenal at the Emirates.
Anthony Martial or Kevin De Bruyne?
SP: Right now, it has to be De Bruyne. He's made a fantastic start to life at City and looks like scoring every time he plays. But then you'd probably expect that from the most expensive player in the league at £54 million.
That said, Martial is head and shoulders above what De Bruyne was even a couple of years ago, when he couldn't get anywhere near Chelsea's startling line-up. It will be interesting to see just how good he is in five years' time. He is absolutely fearless, always running at defenders and having a go when he has the goal in his sight. It's unreal how cool he is on the pitch too. He's the only one who's never cared about how much United paid for him.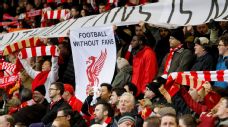 DM: There can't be any other answer than De Bruyne. He's been influential for City in all of the games he's played and has scored or assisted a goal every 74 minutes. His ability to trap a difficult ball and get it to a teammate while under pressure shouldn't be underestimated and he's added a whole new dimension to a front line that was looking tired towards the end of 2014-15.
Prediction
SP: 2-1 to United. City were battered last time the clubs met, and that was with Kompany, Aguero and David Silva in the team, so hopefully their absence will sway the match in United's favour.
DM: City have been scoring for fun in the league recently and both sides have had problems defensively, so it'll be a surprise if there's not goals galore. 4-2 away win.