Costa case reveals football's need for fairness in use of video evidence
The fallout from Saturday's Chelsea vs. Arsenal melee continued on Tuesday. The Football Association decided to retrospectively ban Diego Costa for three games while rescinding Gabriel's red card.
Because of the FA's quirks, one of the matches Costa will miss is in the League Cup, a game he would almost certainly have missed anyway, while Gabriel, despite the overturned red, could still be suspended. He faces an additional charge of improper conduct for his reaction to being shown his marching orders and not leaving the field of play immediately.
I'm not going to get into the merits of referee Mike Dean's decision here as I wrote about it on Monday. For what it's worth, in my opinion, both Costa and Gabriel should have been sent off. (If the kick-out at Costa wasn't worth a straight red as the FA's panel found, in my opinion between that and the continued yammering between the two, it's a yellow and, as he'd already been booked, he would have been sent off.)
What's really interesting here is how the decision came about. The Football Association brought in new rules this season that allow clubs to appeal against both the legitimacy of refereeing decisions and the extent of the punishment. It's a bit of a departure from years past and the age-old resistance to "re-refereeing" games after the fact with the aid of video evidence.
For years, you could only appeal in situations in which the referee made a technical error -- like sending off the wrong guy -- or when an incident was not seen by the match officials, like a punch or stamp off the ball. Now, clubs have more latitude to appeal, including situations that were obviously seen by the official. We know Dean -- or at least one of his assistants -- saw Gabriel's kick, in part because he's looking straight at the pair but mostly because he mimics Gabriel's little kick as he shows the red card.
There's a key twist here. In contesting the decision, Arsenal were able to include a piece of video evidence that was previously unseen by most of the world and all UK broadcasters. It's footage from ESPN Brasil that appears to show Gabriel raising his leg but not actually making much contact with Costa.
You may wonder why ESPN Brasil has images nobody else has. It has to do with the packages the Premier League offers rights-holders. If you own the rights, you not only get access to the "world feed" -- the pictures everybody gets, with different camera angles -- but you can also arrange to have an additional cameraman and reporter at pitchside. These are the folks who might talk into the camera before and after the game, do post-match interviews, film the crowd and so on.
ESPN Brasil had a video reporter pitchside and it so happened that he filmed the Gabriel-Costa incident from an angle that clearly shows the Brazilian defender lifting his leg to kick out at his countryman. There were 32 other cameras there from the Premier League's world feed; none of them had as good an angle.
That footage aired in Brazil. Arsenal got wind of it, requested a copy and made it a part of their appeal.
So far, so good (or bad, depending on your point of view).
But there's a pretty obvious issue if the FA are going to start to use video evidence to re-evaluate officiating decisions: it's not a level playing field.
Chelsea vs. Arsenal was a big game and it had 32 world-feed cameras, plus dozens of pitchside reporters with their own cameras. Most of the 3pm kickoffs that same day had 24 world-feed cameras and, at best, a handful of additional cameramen.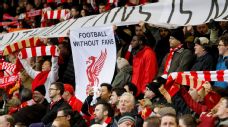 That means, simply put, Chelsea and Arsenal were subjected to far more scrutiny -- and therefore more punishment or redress -- than other teams playing in the very same competition. Does it matter? Yes, because Costa will miss games against other Premier League teams whose players don't face the same scrutiny. The same argument works in reverse for Gabriel. Had he been playing in the Stoke vs. Leicester game and had the exact same incident occurred, would there have been video evidence to exonerate him? Maybe not.
You could take the argument even further. If the FA will consider evidence like this, would they consider video coming from a random guy in the crowd with a smartphone?
Or would they consider evidence coming from a club? Imagine your team is playing Chelsea and you're worried that Diego Costa will wind up your defenders and get them sent off. What's to stop you from putting a dozen cameras on Costa from the moment he steps on to the pitch and creating your own Costa Cam, just in case? That way, when your centre-back is sent off for pole-axing him, maybe you'll find evidence of Costa misbehaviour to mitigate his actions. After all, clubs already have plenty of cameras at their grounds for their own internal use. They could easily add a few more and train them on certain opponents worth targeting.
This is not entirely unprecedented, by the way. When Italy played Denmark at Euro 2004, a Danish broadcaster requested an additional camera position because they wanted to do a tactical piece on Christian Poulsen's man-marking of Francesco Totti. That camera remained on Poulsen and Totti for the entire game. And it caught Totti spitting at Poulsen off the ball, an act that later got him a three-game ban.
What if it had been the other way around? What if that camera had filmed Poulsen spitting at Totti? Would Danish TV have been so quick to air the footage? Or, indeed, what if it hadn't been a wealthy nation with a wealthy broadcaster like Denmark? What if it was Moldova vs. Germany? Would Moldovan TV have the resources and reach to do something like that?
Another example came at the 2006 World Cup, shortly after Germany eliminated Argentina on penalty kicks. A brawl ensued between the two teams. The Italian broadcaster Sky Italia had a pitchside camera that captured German midfielder Torsten Frings appearing to punch Argentine forward Julio Cruz. That footage wasn't filmed by any of FIFA's world-feed cameras but Sky Italia gave it plenty of airtime. FIFA admitted it as evidence and Frings, a key figure in Jurgen Klinsmann's midfield, was suspended for the semifinal, which happened to be against ... Italy.
Would Sky Italia have made such a big deal of the footage if it weren't to the benefit of the Azzurri? Would they have even aired it if, say, it had been an Italy player in another game doing what Frings did? We would hope so, but the fact of the matter is we don't know.
Of course, you could argue that it doesn't matter where the evidence comes from as long as it's reliable. No sane person would argue that Totti should not have been banned simply because the images came from Danish TV and not from UEFA's official broadcasts. The same could be said for Frings.
Yet at the same time, there's an argument to be made that teams in the same competition -- one in which decisions in one game affect other games because players get suspended -- ought to be subjected to the same rules. In the same way that in the real world there are some types of evidence that are not admissible, maybe we ought to have clear rules for this as well, particularly if video evidence is going to play an increasingly large role in the game.
Broadcasters are there to narrate a game independently; they are not there to collect evidence. The official Premier League broadcasts could serve that function, but if they are going to be used in that way, every club should receive the same scrutiny. That means the same number of cameras and the same production guidelines, whether it's Manchester United vs. Liverpool or Bournemouth vs. Watford.
Every time we see replays or postgame analysis, somebody is selecting the camera angles and the incidents. An editorial decision is being made in terms of what to show and what not to show. And those decisions impact how we perceive incidents, players and referees.
There's no problem with that unless it becomes the basis for taking disciplinary action. Maybe it's time for the FA and other disciplinary bodies to have a long, hard think about this before somebody does set up his own Costa Cam.
Gabriele Marcotti is a senior writer for ESPN FC. Follow him on Twitter @Marcotti.