Coutinho absence key as Man United and Liverpool set for showdown
One of the biggest rivalries in football is renewed on Saturday, as Manchester United host Liverpool at Old Trafford. Scott Patterson (United) and Steven Kelly (Liverpool) lock horns to preview the match.
Who's in better shape ahead of this one?
Scott Patterson: Neither side looks particularly great, but United edge it. Both teams lost their last game, although Liverpool's 3-0 home defeat against West Ham was probably more crushing than United's 2-1 away defeat against Swansea.
Both clubs are on the same points, although Liverpool have been fairly lucky -- Benteke's offside goal was allowed to beat Bournemouth and Aaron Ramsey had a goal incorrectly ruled out in the 0-0 draw at the Emirates -- but form doesn't matter in these games.
At Anfield last season, nobody predicted a United win -- with Liverpool flying and United struggling -- but these games tend to be about who wants it more on the day. Neither side have many players who really understand the importance of this fixture or even players who have played in it before, so that will interesting to see.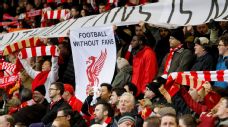 Steven Kelly: Both clubs are being written off prematurely but at least United showed some fight in their only defeat against an excellent Swansea. Liverpool fans saw plenty in the West Ham nightmare to pour cold water over any hope inspired by the opening games. United cruised through their Champions League qualifier too and Wayne Rooney will be on a high after his England record. The deadly mixture of Evertonian bitterness and United spite will always motivate him against Liverpool anyway. Steven Gerrard has departed so there's nobody in a Liverpool shirt with that regional venom that can sometimes inspire the others on the day. Given that he only lasted 40 seconds in the last encounter, that's probably just as well!
The first game after the window closed -- who had a better window?
SP: If you ignore the hysterical reaction from some United fans on social media, it's fair to say they did. United have had an issue with the midfield for far too long and Van Gaal has seemingly solved that with the addition of Morgan Schneiderlin and Bastian Schweinsteiger. Memphis Depay and Matteo Darmian have impressed and, while we've yet to see £36 million teenager Anthony Martial in action, it's understandable that supporters were disappointed that an unproven forward was bought instead of someone ready to hit the ground running.
A positive for United was the amount of deadwood that Van Gaal has shifted. With the likes of Jonny Evans and Javier Hernandez moved on, you can't argue with the decision to let a lot of the fringe players leave. The only confusing one was Adnan Januzaj, who surely had a role to play this season.
United still have David De Gea too, which is a good thing, particularly after Sergio Romero's performance at Swansea. De Gea wanted his move to Madrid but he didn't get it and now, if he wants to claim Spain's No. 1 shirt for the Euros next summer, he's got to knuckle down and have a good season.
Liverpool have brought in a few decent players but it's questionable whether any of them are of the quality that would make teams in the top four interested. James Milner gives them a bit of experience and top work ethic, which is important following the departure of Steven Gerrard; Nathanial Clyne has good potential and Roberto Firmino could be decent. But since Luis Suarez left, Brendan Rodgers has made some odd choices in the transfer window. At £32m they paid way over the odds for Christian Benteke, but he's got to be better than Mario Balotelli at least.
SK: I was happy with Liverpool's window. Even during the West Ham defeat there was little wrong with the newcomers' input apart from Christian Benteke being isolated -- hardly his fault. The work-rate has gone up but that simply shone a different light on how little creativity there is. Without Coutinho on Saturday there may be none at all.
Liverpool spent so badly last summer that the whole club's gone spinning back into a twilight zone where underachievers speak of "promise" and "transition" and major fixtures like this are made to feel curiously anodyne and irrelevant. But there was genuine hope after a summer where some of that was rectified.
For United, most of the talk seemed to be more focused on who they didn't get. Among the big spenders of the Premier League, it's often forgotten United aren't exactly paupers, although they seemed to aim too high with Sergio Ramos and made a bit of a mess of the Pedro pursuit. The successes of the last 20 years have rarely been based on buying Europe's cream though. Who'd heard of Cristiano Ronaldo before he went to Old Trafford? Ingenuity always works well for both Northern giants -- paying well over the odds [Martial] rarely does.
Where will this be won and lost?
SP: Both sides are struggling to score so it's hard to imagine there's going to be a thrashing on the cards. Wayne Rooney scored a couple on international duty but both of them were from the penalty spot and, despite his record breaking achievement for his country, he has looked poor this season for United.
Thankfully, Daniel Sturridge and Coutinho are unavailable for Liverpool as they have looked a threat against United in the past. Defensively, United have been decent enough though, and hopefully with De Gea back in goal after he got some match time for Spain, they should have enough to keep Liverpool out. It will most likely be won with a scrappy goal from United, off Rooney's backside, after Dejan Lovren makes a mistake.
SK: Liverpool fans would be happy to see the kind of energetic pressing and counter-attacking performance they saw in the first half at Arsenal. They will be less thrilled to see De Gea back in United's goal. Petr Cech showed in the Emirates match that a good goalkeeper can mean all the difference between taking a significant lead into half-time and being at the mercy of the usual defensive frailty. Brendan Rodgers swamped the midfield for a home match with West Ham so logic dictates he'll do it again at Old Trafford. Logic also dictated not replacing Simon Mignolet with Brad Jones for last season's visit but that's what happened, leaving Liverpool trying to climb a mountain with both hands tied. So expect the unusual, then.
What's your combined United-Liverpool XI?
SP: De Gea; Darmian, Smalling, Skrtel, Shaw; Schweinsteiger, Schneiderlin; Mata, Herrera, Coutinho; Sturridge. It's very United heavy, but that's a decent side.
SK: De Gea; Clyne, Smalling, Sakho, Shaw; Milner, Schneiderlin, Coutinho, Mata; Benteke, Rooney. That's based partly on the notion that, in certain positions, Liverpool could be improved by imports from almost any club.
Who will finish higher this season?
SP: The Champions League will be an added distraction for Louis van Gaal's men, but I just don't think Liverpool bought well enough to overtake United this season.
SK: The rush to condemn both clubs to a fight for the wooden spoon of fourth place is actually flattering towards Liverpool since they find themselves in the chasing position once more. Rodgers' shift in tactics may see progress come too late to challenge the expected top four and it may all depend on the return of Daniel Sturridge. But United have the edge.
Prediction
SP: A 1-0 win for United. United are just about the better side and Coutinho's absence is a huge boost.
SK: A 1-1 draw. That's more in hope than expectation and, as with last season's visit, Reds' supporters will be more focused on the performance to build confidence for future matches.