Premier League survival guide: How to stay in football's richest league
It seems silly to reiterate, but the Premier League is the biggest thing in world soccer, regardless of how you measure it. Money, branding, sponsorship, TV viewing figures or global fans, it doesn't matter: The overall scale is the same. And if you make it into the Prem, you've found El Dorado.
This year, it's the turn of Premier League debutants Bournemouth, third-time-a-charmers Watford and yo-yo club Norwich to have a turn. Through research of the past 10 seasons of failed attempts to avoid the drop, here are some handy lessons that might be of use for this season's trio.
Note that some of the below hinges on the "old" metrics by which football is measured: goals for and against, the timeless binary that broadly triangulate your place in the table. After all, you'd be surprised how many teams fail to heed the history they end up repeating. Back in 2005-06, analytics simply meant "ask Harry Redknapp."
1. Spend money on good defenders
This might seem obvious (well, these all will to some extent) but the majority of promoted sides believed they could bolster this vital role on a budget. Teams don't always get the players they want and are forced to settle, obviously, but a recurring theme throughout the last 10 years shows a hilarious amount of waste. The transfer market is a bewildering, nightmarish hellscape for every team, but no side feels this more intently than a promoted team/relegation favourite.
Rio Ferdinand (free, minus his wages) didn't give QPR some much-needed druthers last season. Reading bought Nicky Shorey, Adrian Mariappa, Chris Gunter, Daniel Carrico and Stephen Kelly in 2012-13 and conceded more goals than any other team in the league that season: Their 73 GA was matched by another relegated side, Wigan Athletic. Wolves added Roger Johnson and backup goalie Dorus De Vries in 2011-12 and conceded 82 goals.
And then there is Christopher Samba, the epitome of this pitfall. Purchased for £12.5 million in January 2013, the hapless center-back earned a reported £100,000 per week but helped QPR keep just one clean sheet in the second half of the season. And let's not forget Jose Bosingwa, or the loan of Man United's Fabio.
They have been some inspired signings. For example, though he couldn't prevent Newcastle's disastrous relegation in 2008-09, the £10.3 million spent on Fabricio Coloccini that summer proved sensible, given his reliable role in helping the Magpies get back up and stay there. He's now the club captain to boot.
2. Make sure you have one proven striker
It's seems so simple but given how few relegated teams catch it, there must be something more at play. You're going to need plenty of goals in the Premier League so don't take any risks in trying to unearth the next Alan Shearer.
The list of strikers who've been recruited to try and keep teams in the Premier League makes for grim reading and includes such names as Mauro Zarate, Ricky van Wolfswinkel, Lukas Jutkiewicz, Marlon Harewood, DJ Campbell, Aruna Dindane, Jan Vennegoor of Hesselink, Amr Zaki, Jozy Altidore, Xisco, Peter Lovenkrands, Robert Earnshaw, Tamas Priskin, Jon Stead and Afonso Alves.
All of the above were leaned on by the likes of Hull City, Burnley, QPR, Blackburn, Blackpool, Portsmouth or Middlesbrough, only to be found incapable against top-flight defenders. All of them were brought in with the combination of blind hope and exotic branding to fight the good fight. All of them cost decent money, too.
Players like Charlie Austin (18 goals) and Danny Ings (11) thrived in the Premier League last season, despite being relegated with QPR and Burnley respectively, but their roads to double-digit goals in 2014-15 are much harder to identify than the small army of recycled talent that's sunk several sides in recent seasons. Some of them were free (Lovenkrands) or a club record signing (Van Wolfswinkel) but it's an area you can rarely enhance on the cheap.
3. A coherent plan isn't always the best plan
Blackpool (2010-11) and Wigan (2012-13) stuck with the swashbuckling styles (and second-tier squads) that got them up, only to be relegated due to certain naivety at the back. But they came close to safety and earned the respect of their peers for a somewhat persistent, consistent approach.
Ian Holloway's commitment to aggressive, attacking football made a temporary hero out of Charlie Adam while the manager's post-game press quotes rarely lacked for entertainment. In Wigan's case, Roberto Martinez had complete backing of Dave Whelan and engineered a rousing cup run (more on those later), but a midseason swoon of one win from Nov. 28 to Feb. 23 proved too damaging.
Wolves felt ready for the challenge in 2011-12, buying just three players ahead of their Prem voyage. Chairman Steve Morgan wrote on the club website that "the nucleus is there" already (and yes, the page now brings up a 404 error). They finished dead last, 12 points from safety. Manager Mick McCarthy was fired with 12 games remaining.
Then there's the issue of figuring out the need for change but getting the timing wrong. Changing managers is rarely smooth unless you have the right candidate to take over. Wait too long, as Norwich did in 2013-14 before canning dour Chris Hughton on Apr. 6, and no replacement (especially not Neil Adams) could possibly engineer a turnaround.
It's entirely plausible that November is "too late" given how precious it can be to get points on the board early. QPR dumped Mark Hughes on Nov. 23 after he failed to win a single game in the league, picking up just four points from a possible 36. They finished 20th.
4. But too much change is deadly
Those teams that do decide to throw everything out and start over often fail miserably, especially if they do it more than once within the same season.
To wit, Newcastle's entertainingly tumultuous 2008-09 season that saw no fewer than five managerial changes and the club eventually going on sale once relegation was confirmed.
Kevin Keegan began the year in ebullient mood only to resign on Sep. 4 after players were bought and sold without his input. Chris Hughton began one of two caretaker stints that season before being replaced by Joe Kinnear, who lasted 20 games before a heart attack forced him to step down.
Enter Hughton again, in tandem with assistant Colin Calderwood, before the club brought in legendary striker Alan Shearer to run the final eight games of the season. He won just once and the Magpies plunged into the Championship.
Despite the chaos, they would have survived were it not for a final day defeat at Aston Villa. But there are myriad other examples of that relegation anxiety manifesting as a raft of managerial changes that still end in the drop.
Cardiff City and Fulham both cycled through three managers in 2013-14 but neither side survived, finishing 20th and 19th respectively. Such a flurry of wildly contrasting coaches (Malky Mackay, David Kerslake and Ole Gunnar Solskjaer in Wales, Martin Jol, Rene Meulensteen and Felix Magath in London) bring obvious problems, namely a brief squad churn if the transfer window's open or a rapid shift in tactics and starting lineups that fails to stop the rot.
Charlton tried Iain Dowie, Les Reed and Alan Pardew in 2006-07 but couldn't avoid finishing 19th with just 34 points.
5. Off-field problems create on-field problems
West Ham didn't undergo serious changes, but there was plenty of tension in 2010-11 involving manager Avram Grant and club co-owners David Sullivan and David Gold. The three men bickered throughout the season after Grant was hired on June 8, fresh off a valiant attempt to keep Portsmouth in the Premier League the previous season.
He was issued several "dreaded" votes of confidence, the first of which came on Nov. 16 via vice-chairman Karren Brady. "We're trying to encourage everybody that the season is not over yet, she said. "Weak-minded people press the panic button, but at the same time we didn't want to just survive this season."
Then came an ultimatum around Christmas that he needed to win one of the next three games (he did) and a report that Martin O'Neill was ready to take over in late January, only for the club to announce three days later that they were keeping Grant on.
As it turned out, the turmoil and fan unrest grew until the Hammers finished 20th, prompting Grant's firing on May 15 after losing their penultimate league game. (One paper would remark that the move came "four months too late.")
Then there is the sad plight of Portsmouth in 2009-10, going through several ownership changes (yes, owners) before significant debts and administration caused a nine-point deduction that sealed their fate. From there, there was a transfer embargo, a slew of late loanees (Dindane, Hassan Yebda, Frederic Piquionne, Anthony Vanden Borre among them), some significant sales (Glen Johnson, Peter Crouch, Asmir Begovic) and even some missed wages. They finished on 19 points.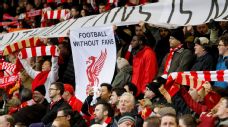 6. Whatever QPR did, do the opposite
If there's one team that is a handy blueprint of what not to do, it would be Queens Park Rangers, that side that Redknapp built.
It might be foolish to deposit too much blame on his head, the man who oversaw a 37.65 win percentage and one and a half relegations in two and a half years: 'Arry oversaw the second half of 2012-13's failure and left the job citing a need for knee surgery before their fate was confirmed in 2014-15).
The club's absurd spending on the players their many managers needed certainly never helped. In 2012-13, Redknapp finished the job Mark Hughes began. The club spent nearly £50 million on players, including £9 million on Esteban Granero (he left for far less in 2014), £8 million on Loic Remy and £12.5 million for the aforementioned Samba.
They broke financial fair play regulations in 2013-14 en route to returning to the Premier League and then poured more bad money into a seemingly brand new team: Rio Ferdinand joined on a free (but made roughly £2 million in wages), Jordon Mutch (£6 million), Leroy Fer (£8 million) and Sandro (£6 million) all signed up for Redknapp's project. Yet it simply didn't work, with makeshift formations and a slew of failed tactical switches.
The club now faces a possible fine of £58 million from their one quick season in the Championship and are hastily shedding payroll, while challenging the rulings in court, in order to prepare for a more sensible, austere future.
So, to summarize: don't spend crazy money on players who sound good but rarely are, don't break the rules and don't hire Harry Redknapp.
7. Avoid a deep cup run, seriously
This point might be the most contentious because an FA Cup run is one of the most exhilarating things in English football given the tournament's propensity for stunning upsets. It can also be a nice financial windfall for a smaller club. But in my limited decade of research, teams that went far in either domestic cup went down.
Birmingham won the League Cup in 2010-11 but went down, tied for 19th place. Wigan actually won the FA Cup in 2012-13, stunning Man City with a Ben Watson injury time goal. They still went down.
Portsmouth's case was slightly different given that they were already relegated by the time they faced Chelsea in the 2010 FA Cup final. Kevin-Prince Boateng had a penalty saved in the second half that would have put Pompey 1-0 up, only for Didier Drogba to break their hearts four minutes later as the Blues completed the league/cup double.
Broadly speaking, the Premier League's weaker teams have thinner squads and the address stress/strain of competing on multiple fronts in the second half of the season is too much to bear. It's even too difficult for teams like Tottenham and Liverpool.
8. Try and emulate the survivors
There have been notable exceptions to the teams that have failed. Swansea City and Southampton both used strong youth academies and shrewd purchases to embed in the top flight. And even when bigger clubs buy their top players (at a healthy profit, like Wilfried Bony, Adam Lallana and Luke Shaw to name just three), a strong investment in player analytics and state of the art training has helped to keep things steady.
In the Saints' case, attention to player profiling rather than potential signings who pass an old-fashioned eye test has helped to minimize season-ruining waste in the transfer market. (Though they should have known better about Dani Osvaldo.)
Meanwhile, Stoke's success story was initially built on the man who's never been relegated, manager Tony Pulis. His unvarnished, militaristic tactics won him few friends but the mix of blue-collar talent and imposing defenders (Robert Huth and Ryan Shawcross, anyone?) made them a mainstay. The elastic long throws of Rory Delap and angular forward play from Peter Crouch and Kenwyne Jones were every team's worst nightmare.
It's only now, with a stable base and Mark Hughes in charge, that the flair is emerging, with the likes of Bojan and Ibrahim Afellay brought in to dazzle amid the dirge.
James Tyler is a senior editor for ESPN FC. He can be found on Twitter @JamesTylerESPN.