Arda Turan and Aleix Vidal available for Barcelona as FIFA ban expires
Barcelona are now free to register summer signings Arda Turan and Aleix Vidal after the transfer ban imposed by FIFA expired on Monday.
Barca were prohibited from registering new signings for two consecutive transfer windows after breaching FIFA rules on youth transfers but they bought Turan from Atletico Madrid and Vidal from Sevilla in the summer with the intention of registering them on Jan. 4.
Barca had attempted to register Turan prior to the ban being lifted as a result of a long-term injury to Rafinha but the effort failed despite an appeal to the Court of Arbitration for Sport.
Both players are now available to make their debuts on Wednesday when Barca host Espanyol in the first leg of their Copa del Rey round-of-16 clash.
Barca coach Luis Enrique said: "They are players with the right personality to play in this team."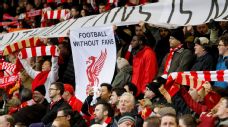 Vidal has not featured since June while Arda Turan has played six matches for Turkey since the start of the season, but Catalan newspaper Sport reports that both players are fit and ready to play against Espanyol.
Barca technical secretary Robert Fernandez said: "It has been a difficult four months as we have had two players who have been keen to play and we have wanted to see them in action.
"Still, these months have worked well in letting them get to know our style of play and the system."