Arsenal's Aaron Ramsey out for up to a month with hamstring injury - Wenger
Arsene Wenger has confirmed Aaron Ramsey will be out until after November's international break after picking up a hamstring injury against Bayern Munich.
Ramsey, 24, was replaced 57 minutes into Arsenal's 2-0 Champions League win against Bayern on Tuesday after pulling up with a hamstring problem while chasing down the ball.
Wenger said after the game that Ramsey was "very down" after realising the injury was "quite a tough one," and the Gunners boss has now ruled the midfielder out until after the international break in mid-November.
Fantastic result for us tonight, we worked so hard for it. Gutted to have to come off but was buzzing watching the lads at the end #AFC

- Aaron Ramsey (@aaronramsey) October 20, 2015
Ahead of Arsenal's Premier League clash with Everton on Saturday, Wenger said: "[Ramsey] had a scan today but he's out. I believe he will be out until after the next international break."
The Gunners face North London rivals Tottenham on Nov. 8, and are back in Premier League action after the international break at West Brom on Nov. 21.
Along with Saturday's game, Ramsey is set to miss Premier League matches against Swansea (Oct. 31) and Spurs, and well as the crucial European trip to Bayern (Nov. 4) and a Capital One Cup tie as Sheffield Wednesday (Oct. 27).
Wenger suggested that Ramsey's exertions for Wales -- along with Real Madrid star Gareth Bale, who missed Wednesday's Champions League tie at Paris Saint-Germain with a calf injury -- may have contributed to the injury.
"With the [last] international break, the fact that he played against Andorra certainly cost Bale and him as well," he said.
Wenger also confirmed that Jack Wilshere, Tomas Rosicky and Danny Welbeck are not likely to play again until 2016, saying: "For them, you can say around the New Year."
The coach added that No. 2 goalkeeper David Ospina is also out for Saturday's clash with Everton at the Emirates, and "certainly until the next international break."
Former Wales and Netherlands assistant coach Raymond Verheijen -- who labelled David Moyes a "dinosaur" in 2013 over his approach to Robin van Persie's fitness -- says Arsenal's repeated injury problems are a "big concern."
"You have to look at it from a broader perspective," he told BBC Wales Sport. "If you analyse the situation at Arsenal, you see there is this group of young players like Theo Walcott, Jack Wilshere, Alex Oxlade-Chamberlain -- Bacary Sagna and Robin van Persie when they were there -- Aaron Ramsey and now also Danny Welbeck.
"These are players who, every year, are out for numerous weeks or months and that is a big concern. There are six or seven players at Arsenal who are consistently injured for weeks or months every season.
"It tells you something is going wrong at Arsenal in terms of over-training these young players. As a result, their bodies are breaking down. If you want to know what exactly is going wrong, you have to be there every day to see what they do.
"From the outside, you can only draw the conclusion something is going wrong."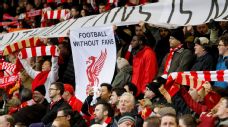 Everton manager Roberto Martinez hopes that Arsenal suffer a Champions League "hangover" for Saturday's match, but fears Wenger's side will instead find "incredible momentum" from their Bayern win.
The Toffees are seeking to improve on a poor record at Arsenal, having not beaten them away from home since January 1996 -- but Martinez doubts the Gunners will be negatively affected by a physically draining match with Bayern.
"Maybe [a hangover] is the hope," Martinez said. "But I wouldn't say a team as experienced in those European nights as Arsenal will suffer a hangover. I wouldn't say that's the case. They've played two games in a week and we've had one, so we hope that would allow us to be fresher going into the game.
"But I don't expect Arsenal to suffer any sort of negative effect, but they've got the experience and the right mentality, having been through this situation many, many times. If anything, I think they get an incredible momentum after that victory.
"They've got a big enough squad to find fresh legs if they need to. Arsene Wenger is probably the best man at doing that and at knowing his squad."
ESPN FC correspondent Mike Whalley contributed to this report.