African Nations Cup: Algeria's football team has deep French roots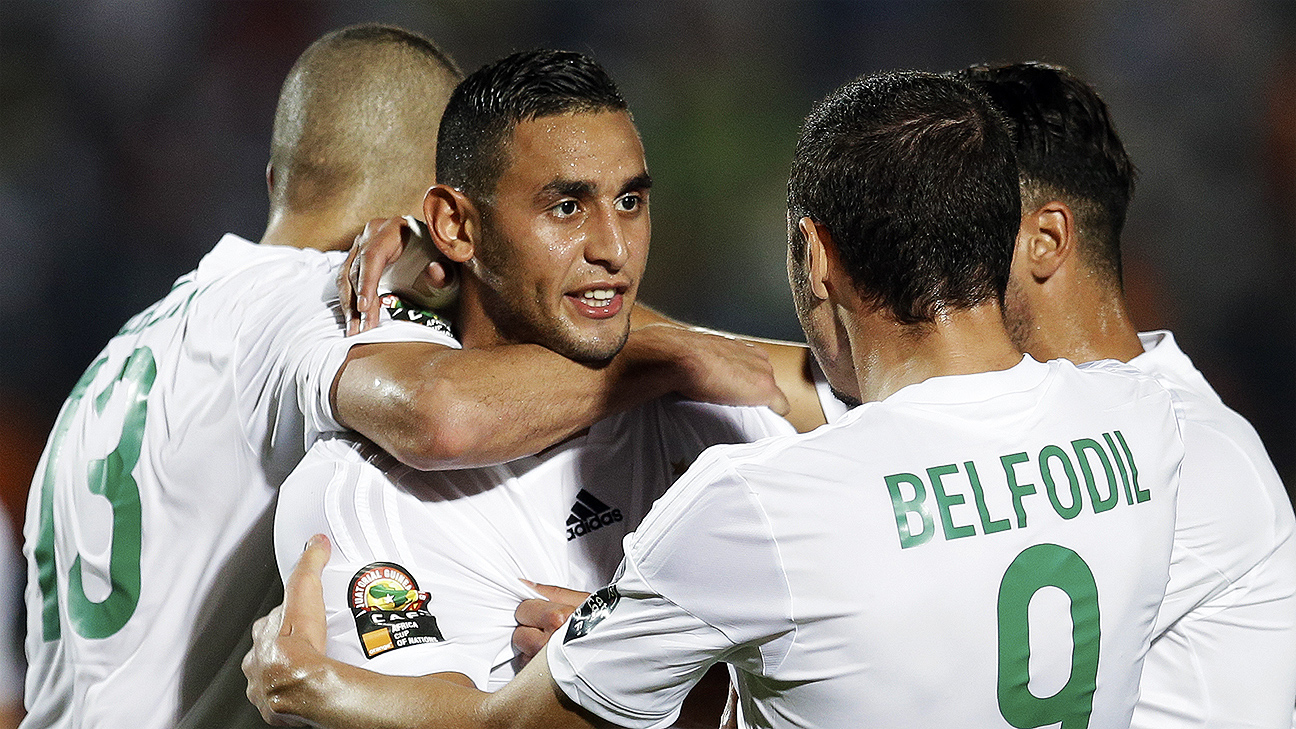 The Africa Cup of Nations is now well underway, and while the tournament is already gripping fans, the resulting player absences are being keenly felt in Europe's major leagues. Nowhere is this more pronounced than in France, where no less than 52 Ligue 1 players are participating in the tournament in Equatorial Guinea.
Reciprocally, the showpiece itself has a strong French flavour. Thievy Bifouma, born a generous goal kick away from Stade de France, scored Congo's late equaliser against the hosts in the opening match. Laval-born Pierre-Emerick Aubameyang delivered the tournament's first definitive individual performance in Gabon's 2-0 victory over Burkina Faso in the following game.
For Algeria, widely considered the best team in Africa, the French influence is especially strong. Of the team that started Les Fennecs' topsy-turvy opener against South Africa on Monday night, Islam Slimani (scorer of the third goal) and Rafik Halliche were the only players who were not born in France and did not train in French youth academies.
The footballing connection between France and Algeria is nothing new, of course, given that the latter became independent from the former as recently as 1962, but the trend of French-raised players declaring for Algeria has been steadily increasing for some years. When Algeria made their return to the World Cup in 2010 after a 24-year absence, nine of the squad were French-born.
That group of players was coached by Rabah Saadane, then in his fifth spell as Algeria coach in a period that eventually spanned more than 19 years. Apart from short periods working in Morocco, the Middle East and Yemen, his whole coaching career was spent in his native Algeria. The infrastructure from which he, and his earlier Algeria teams, grew was quite different to what exists today.
"We had a great system for bringing coaches through," he told me a few weeks before the 2010 World Cup, at the team's training camp near Nuremberg, Germany. "The base of the national team was in Algeria. From 1986, things happened in the country, notably terrorism, which led to social and economic decline, and this affected the clubs. Now we've built a team based on players that play abroad."
Saadane went onto voice his hope that the raised profile given to the team by participating in South Africa would be a platform for a renewed native infrastructure, with his homeland producing top-quality talent once again. That vision has yet to become a reality. Sixteen of the 23-strong squad in Equatorial Guinea were born in France; the same was true of the squad for the 2014 World Cup. In addition, Djamel Mesbah of Sampdoria and Parma's Ishak Belfodil moved to France as children after being born in Algeria, and came through academies at Annecy and Lyon respectively.
Despite contributing admirably to Algerian football over decades of service, Saadane was a relic in this context. He still yearned for the days when coaches and players were produced in Algeria, and struggled to make a cultural or emotional connection to many of the young French-reared players under his charge.
So why do young, French-raised players with dual nationality -- and especially talents like Valencia's Sofiane Feghouli or Yacine Brahimi of Porto -- choose Algeria? For his part, Feghouli suggested a sense of disenfranchisement in an interview given to Monday's edition of L'Equipe.
"With everything that I've experienced," he said, "I don't feel completely integrated into French society, and choosing Algeria was a choice from the heart. Our grandparents fought for France, but I don't feel there's any recognition [for that]. You always have to do double or triple to get what you deserve."
He speaks for himself, of course, rather than necessarily for his teammates or peers. What is certain is that the push to get young players with dual nationalities to commit to Algeria has been a conscious one, led over a number of years by Federation Algerienne de Football (FAF) president Mohamed Raouraoua.
Having set the plan of recruitment in motion during his first spell in office, Raouraoua stepped on the accelerator after being re-elected in 2009 -- the same year in which FIFA dropped its rule preventing a player from changing footballing nationalities after the age of 16. This would prove crucial in getting Hassan Yebda and later Brahimi on board, both of whom represented France at several different levels; Yebda up to under-19 and Brahimi to under-21.
Going forward the federation, and Raouraoua, have their sights squarely set on Nabil Fekir, Lyon's dazzling young playmaker. The Lyon-born, France U-21 star is yet to decide on his international allegiance. Algeria were keen to bring him to Equatorial Guinea, but his father Mohamed told Le Progres in November that Fekir wanted "to concentrate solely on OL."
Since Saadane, coaching policy has changed to fit the squad's changing demographic. Christian Gourcuff, the coach appointed last summer following the end of his long association with Lorient, is continuing a policy begun with the arrival of Vahid Halilhodzic in 2011, post-Saadane. Halilhodzic is Bosnian, but spent a large chunk of his playing and coaching career in France, after arriving at Nantes as a prolific striker in 1981.
Accordingly, a unity was noticeable in Algeria's outstanding performance in Brazil, as much it had been absent in a fractious atmosphere in South Africa four years earlier -- despite Halilhodzic's notoriously combustible personality. Despite the scares of Monday night's opener against Bafana Bafana, Les Fennecs hope to build from that foundation toward glory in this tournament. The world is beginning to sit up and take notice.
Andy Brassell is a writer/broadcaster/producer for BBC, Guardian, Mirror, Talksport, BT Sport, WhoScored. Follow him on Twitter @andybrassell.